You have /5 articles left.
Sign up for a free account or log in.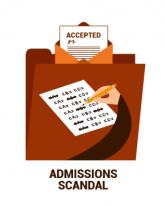 The fury over this month's admissions scandal isn't just because some wealthy families broke the rules. It's over the belief that the system itself is broken.
Regardless of how well admissions officers do their work, we need to put an end to the madness that leaves students exhausted, parents frustrated and poorer families feeling they can't compete.
It's always been true that some families have the resources and influence to pressure teachers for better grades, hire expensive tutors and create ever more exotic extracurricular filler. But today this advantage has been weaponized. It's time to cultivate and reward the virtues we truly want to see in the next generation of Americans.
It's time to ask for fewer extracurriculars from college applicants. A deep focus in one or two activities reveals much more about a student than an exhaustive list a mile long and an inch deep. Outside of the classroom, high school should leave room for things like family, faith and fun.
It's time to look for deep engagement in just a handful of advanced classes. While research shows that taking five AP courses makes a student more likely to complete college, there is no evidence that taking more than five helps you more.
The College Board and admissions professionals must send a clear message that more than three extracurriculars or five AP courses will not improve your application. If you would like to do more, that's fine, but not to get into college.
And it's time for a new approach to the SAT.
This country once had an admissions system governed almost entirely by wealth and privilege. The SAT was built to break down barriers to admit students of merit, not just those with connections and influence. With today's grade-inflation epidemic in many wealthier schools and districts, an objective measure has never been more essential.
We've heard from teachers in our AP community that the pressure on them to issue high grades would surge without the final AP exam. The same is true in admissions: independent tests are a vital check on increasingly inflated grades.
That said, no single test score in isolation should influence a student's future. Looking at SAT scores out of context ignores the very real inequalities in how students grow up today. We must face the fact that students confronting greater adversity may score lower but have achieved so much more.
The College Board is piloting a new, free system, developed with many of our college members, for weighing a student's achievements within the context of their neighborhood environment, school quality, household income and other factors that reveal adversity and perseverance. Florida State University has used this system to find substantially more Latino and African American students, and an increasing number of U.S. colleges and universities are adopting it. Our goal is to make explicit the often-invisible work of living and learning in tough circumstances, as well as to reward deeper values, such as persistence and maturity. Recognizing the strength students have shown in adversity will open our higher education institutions to more rural students and more first-generation students from all backgrounds.
The best admissions professionals have always taken a broad view of a student's life and achievements, and this new Environmental Context Dashboard offers objective, independent evidence to weigh alongside test scores and grades.
No one should have a second thought about choosing an amazing young person with lower scores because it will hurt their institution's ranking. The SAT was never designed to rank colleges and should not be used in isolation to do so. We should honor colleges for welcoming more lower-income students and launching them into the middle class.
The new dashboard builds on a movement within higher education to recruit and graduate more low- and middle-income students. New data on social mobility in higher education are finally turning the spotlight to institutions like the University of California, Los Angeles, and City College of New York that are propelling low-income students to better lives. At Yale University, for example, the number of low-income students has doubled since 2013. And national campaigns like Bloomberg Philanthropies' American Talent Initiative are working with selective colleges and universities to invest in financial aid and other services for both low-income students and student veterans.
We have much further to go. Let's ensure our outrage at the ugly behavior uncovered earlier this month doesn't fade without driving meaningful progress.
In his famous 1943 essay, "Wanted: American Radicals," former Harvard president James B. Conant called for "wielding the ax against the root of inherited privilege." Our colleges have done it before. They can -- and must -- do it again.