You have /5 articles left.
Sign up for a free account or log in.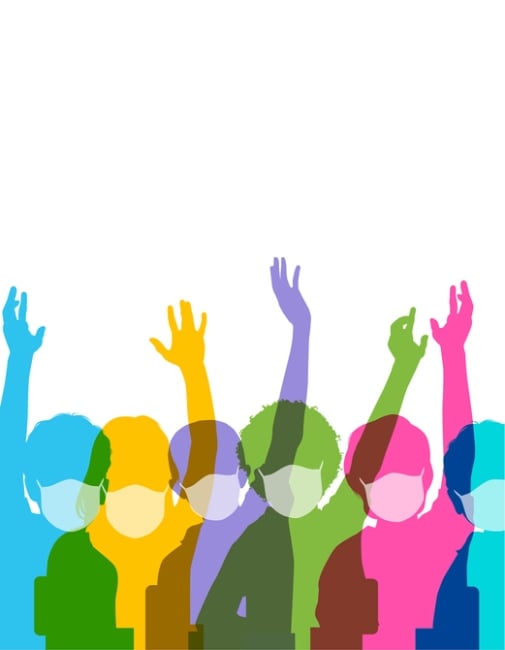 When my colleagues at New York Law School and I were planning how to support our student body this election season, 2016 wasn't far from our minds. The Friday after that Election Day, we did something higher education leaders don't often do. Rather than bring in experts to provide historical and legal context, we held a completely unstructured forum. It was an opportunity for all students -- across the political spectrum -- to offer their thoughts or feelings on the election's outcome.
While Friday events typically bring a smaller crowd, on that day, the room was overflowing. Students waited in line for the chance to stand before their classmates and express their concerns.
One after the other, women, students of color, immigrants, children of undocumented parents, victims of rape and sexual assault, and many others all got up to express their frustration, reveal their vulnerabilities and commit to a plan of action as future lawyers. It was raw, emotional and among the most unexpectedly empowering events our law school has perhaps ever held.
As deans, we cannot preplan moments like that, but we can create the kind of climate that makes them possible: a climate of inclusion, safety and unity. And we can help students channel their feelings into meaningful action.
The lessons of 2016 are even more urgent now. There is a perfect storm brewing, making this year's election unlike any other in modern memory. So how should we as educational leaders respond?
We need a framework to engage and support our students -- not just leading up to the election, not just on Nov. 3 and 4, but for the months and years afterward, no matter the election outcome and as we continue to navigate the COVID-19 pandemic.
The devastation caused by the pandemic, and the crisis in policing, have laid bare profound and systemic racial and economic inequities in the United States. Add to that a leadership crisis, deep political polarization in Washington and a contentious Supreme Court nomination process.
The stakes have become existential for our students -- far beyond political and policy differences. This election is about their individual identities and identities as Americans, the question of whether there can be a peaceful transfer of power, and their basic need for safety and security. Sadly, the pressures placed on our students, many of whom are largely learning at home, struggling for connection, have never been greater.
Responding to Difficult and Uncertain Circumstances
It very well could be the case that no clear winner emerges when the polls close on Nov. 3; that the election results in many places will be met with legal challenges informed by allegations of voter suppression, ballot tampering and fraud; that mass protests on either side of the political divide will occur; and that there is at least some chance that a Supreme Court with a newly appointed ninth justice could decide the election.
Here's what I am doing at my own institution in response to these difficult and uncertain circumstances, and what I recommend others consider:
First, develop strategic ways to deploy your administrative teams, faculty colleagues, student leaders and trusted alumni to offer student support. Given that many of us are operating as hybrids, or completely remotely, your faculty may be in the best position to check in with students, take the pulse of the institution and address key issues tied to the election. I am teaching my own class -- State and Local Government Law -- through the lens of election issues with COVID-19 response and recovery, while addressing systemic racism and the need for police reform. A number of my colleagues are doing similar work in their classrooms.
Second, check in with every student affinity group, get their ideas and inputs, and then consider appropriate outreach to individual students you know to be particularly vulnerable. Consider engaging a mental health professional if your campus doesn't have one. As an independent law school, we have hired our own clinical social worker.
Third, create ways for students to process history as it unfolds. We've designed a broad and ever-expanding slate of substantive programming on election-related topics. Events began in early October and will extend to at least spring break. We're also offering mini courses on the 2020 Census and redistricting process and on anticorruption law and government oversight. We're making poll worker and poll watcher training available to all community members, and no classes are scheduled for Election Day, giving everyone the opportunity to vote and engage, regardless of their location or political affiliation.
Fourth, give students the chance to speak their minds -- not only in their classes and in formal programming but also in a broad and open forum. We're planning another postelection student forum as in 2016, but this time, of course, on Zoom.
And, finally, adapt your long-term plans to reflect this time of rapid change. We will soon update our strategic plan, issued just last year, as well as our diversity, equity and inclusion plan, to address the new challenges and opportunities arising from the election. This includes being a key asset to New York City in its post-COVID recovery, as well as being a forceful advocate for antiracism and equity nationally.
Today's current moment is about more than just providing students an education inside the classroom. It's about coming together to support and stand up for one another when so many of the values we take for granted are at risk.