You have /5 articles left.
Sign up for a free account or log in.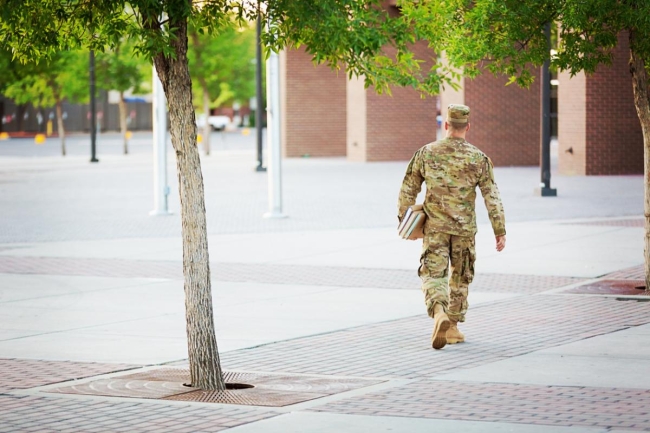 A few highlights from this year's iteration of my annual survey of veteran enrollment at selective colleges:
The University of Chicago, which did not share its enrollment numbers until last year, went from 15 undergraduate veterans in 2019 to 33 this year. As part of the welcome for military and veterans, in October Chicago admissions deans made a video call to applicant U.S. Army Specialist Nate Getahun at Camp Buehring in Kuwait. The call let Getahun know that he was the first student admitted for fall 2021. Click here to watch the video of the call.
Columbia University, again in the lead with 441 undergraduate veterans, is 47 percent of the total undergraduate veteran enrollment of 936 reported by the 38 private colleges surveyed this year.
Syracuse University is in the table for the first time this year. I took notice of Syracuse last year, after a friend sent me eloquent advocacy for veterans by Syracuse chancellor Kent Syverud. Syracuse trails only Columbia in this year's survey. When I visited Syracuse last fall, Syverud explained to me that he had "heard all the excuses" on low veteran enrollment and decided to act. While almost all of the colleges surveyed here struggle to provide the number of undergraduate veterans, Syracuse tracks all during the semester, to ensure all are succeeding.
Eighty-eight colleges joined Columbia's online veterans' fair this fall.
Most exciting to me, a coalition of colleges and nonprofits hosted open-to-all events for veteran counselors and on financial aid and on the generous but often-impenetrable federal Post-9/11 GI Bill and Yellow Ribbon program.
Cornell has a declared goal of 100 undergraduate veterans, and enrollment has risen from one in 2013 to 30 last year to 62 this year. Cornell has added a summer preparation program for veterans to ensure veterans know everything available for success at Cornell, including job hunting.
With COVID student leaves and deferrals, the 2020 total of 822 (without Syracuse) is not apples to apples with the 2019 total of 884. With Syracuse, the total is 946.
I wrote my first column in 2008, when colleagues and I noticed the emerging presence of veterans in our classes at Bunker Hill Community College in Boston. Their searing stories were beyond what I was qualified to handle. I could find no advice for teaching undergraduate veterans. I called my alma maters, Williams and Yale, for advice.
"Why are you asking us?" was the reply. "We don't have any veterans."
Why not? "Why should we?"
This made me angry. I still am. I began this survey of the self-proclaimed most highly selective private colleges. The year-to-year changes are not statistically significant versus total enrollment.
A handful of excellent nonprofit programs have gone extra miles with colleges this year, even with COVID.
Let good news be the focus this year.
In March, the Warrior-Scholar Program scrambled and put online its 10-day and two-week academic boot camps that had been planned as residential programs at 20 college campuses. Ryan Pavel, the program's executive director, said 203 service members and veterans, often at a community college but seeking a four-year bachelor's degree, attended online programs during the summer hosted by WSP and faculty members from the 20 campuses.
I visit WSP programs whenever I can. College professors give assignments they would give to regular students on their campuses -- MIT, Williams, Amherst, Princeton. The WSP curriculum focuses on the skills to read college texts and to write essays and lab reports.
I am jealous. After 10 days, WSP students from a standing start are often writing better essays than I can teach over a semester. Jesse Reising, the WSP founder, explained that the goal is to "rupture" the effacing self-confidence many of these men and women have to show that they could succeed at a selective college.
I revere how WSP shatters the low expectations I have too often seen imposed on community college students. I continue to fail to convince all community colleges to offer all entering students a WSP-level academic skills boot camp each summer.
New this fall are the one-day free online events to introduce community college students to WSP. So far, about 150 community college students have attended these free sessions, according to Pavel.
As for results for the WSP, 1,400 veterans have attended the boot camps so far. WSP reports that 90 percent of alumni have completed or are on track to complete a four-year college degree. Nineteen percent have graduated from or are enrolled at U.S. News top 20 colleges.
Applying to college can be as impenetrable to veterans as for the rest of us. College advising is difficult for veterans and those in the military to find. Service to School connects veterans and members of the military applying to college and graduate school with veterans already in college and graduate school. The veterans in school coach the veterans applying. The online coaching is free.
"Since our founding in 2011, Service to School has provided near-peer mentorship and best in class application resources to more than 12,000 veterans," said Jim Selbe, USMC (retired), Service to School's chief operating officer. "One of the more important data points in telling the story of our impact at the undergraduate level goes to the significant percentage of veterans we work with who matriculate to a college with a graduation rate of 70 percent or above."
Selbe added that so far this year, Service to School is working on fall 2021 applications with 1,700 veterans.
Two weeks ago, I visited the online college fair for veterans hosted by the Columbia University Center for Veterans Transition and Integration. Columbia reports that more than 100 veterans visited the 88 colleges that participated. A college may not be a welcoming place for a veteran. I have seen many times that a campus visit by an admissions office can intimidate veterans to skip the meeting. The online format lets veterans see colleges in private, at their desktop. The site was welcoming and easy to navigate, with admissions staff at each college ready for online chats.
WSP and Service to School this fall have collaborated with different combinations of schools for events including explanations of the GI Bill/Yellow Ribbon program and sessions for campus veteran advisers.
"The pandemic has upended our recruitment of military-affiliated students and moved everything online," Adam Sapp, Pomona's director of admissions, wrote in his survey reply. "While we've transitioned and are managing to reach students in these new formats, I am genuinely concerned that those members of our military who used to rely on programs on their base or on resources on their community college campus are going to struggle to find support in the next year."
Pomona, Williams, Amherst, Yale, Princeton, Swarthmore, Carleton and Bowdoin have been at one or more of the online events for bases and community colleges. "In total, we reached just under 1,000 students and educators," Sapp said. "It was far greater than anything we had hoped for."
The Posse Foundation Veterans Program at Vassar and Wesleyan accounts for 58 of the undergraduate veterans in the survey this year.  (Posse is also at University of Virginia, not part of this survey.   
Andrea Lewis, a spokeswoman for Chicago, said the UChicago Stand Together program, is an initiative launched this summer to support underrepresented students -- including veterans -- by lessening barriers that may prevent them from accessing college. Lewis continues that in the new Veteran Scholars program, active-duty service members and veterans receive a customized application process, dedicated career counseling and holistic campus support -- which has resulted in Chicago doubling its number of veteran students since 2018.
The culture shock for veterans and nontraditional students enrolling at a selective private college is substantial from hours a day more homework to befriending 18-year-olds. The summer program Cornell began in 2018 to help five veterans transition to college and academic life grew to include 19 this summer. The program assigns veterans to an adviser and covers all or most of tuition and fees, meal plan, housing, student health plan, books, a small travel stipend, and a small stipend for incidentals.
In addition to the summer program, Cornell this fall offered a veterans' seminar that continues focus on the veterans' transition from the military to a large Ivy League university. The seminar discusses a veteran's changing identity and vocational transition in the world of work. Finally, the seminar serves to introduce student veterans to the resources and opportunities available to them in the local community and on campus and requires them to participate in a mentorship to discover the value of a mentor.
Two of my favorite programs, the Harvard School of Engineering and Applied Sciences Research Experience for Undergraduates and the Stanford 2-4 Veterans Accelerator Summer School, were unable to open last summer. I'll hope for next summer.
The 2020 Results
| | | | | | | | | |
| --- | --- | --- | --- | --- | --- | --- | --- | --- |
|   | 2013 | 2014 | 2015 | 2016 | 2017 | 2018 | 2019 | 2020 |
| Amherst College | 8 | 5 | 8 | 5 | 5 | 9 | 13 | 16 |
| Bowdoin College |   |   |   |   |   |   |   |   |
| Brown U | 12 | 11 | 10 | 12 | 17 | 17 | 21 | 26 |
| Bryn Mawr College | 0 | 0 | 0 | 0 | 4 | 0 | 2 | 0 |
| California Inst. of Tech. |   |   |   |   |   |   | 0 |   |
| Carleton College | 0 | 0 | 0 | 3 | 0 |   |   |   |
| Columbia U School of General Studies | n/a | 360 | 408 | 375 | 422 | 443 | 477 | 441 |
| Colorado College |   |   |   | 3 |   | 0 | 0 | 0 |
| Cornell U | 1 |   |   | 12 | 24 | 27 | 30 | 62 |
| Dartmouth College | 14 |   | 17 | 23 | 25 | 36 | 34 | 33 |
| Duke U | 1 | 1 | 2 | 0 | 1 | 2 | 7 | 2 |
| Georgetown U | 25 | 74 | 58 | 65 | 64 | 41 | 42 | 26 |
| Harvard U |   | 4 |   | 3 | 6 | 8 | 17 | 24 |
| Johns Hopkins U | 23 | 19 | 30 | 17 | 18 | 2 | 5 |   |
| Massachusetts Inst. of Tech. | 2 | 0 | 1 | 4 | 10 | 11 | 12 | 11 |
| Middlebury College |   |   |   |   |   | 0 |   |   |
| Mount Holyoke College | 0 | 2 | 4 | 2 |   | 0 | 0 | 0 |
| Northwestern U | 14 | 19 | 11 | 15 | 15 | 51 | 6 |   |
| Oberlin College | 0 |   |   | 0 | 0 |   |   |   |
| Pomona College | 1 | 1 | 1 | 3 | 5 | 6 | 3 | 4 |
| Princeton U | 1 | 1 | 1 | 1 | 5 | 12 | 18 | 23 |
| Rice U | 1 | 0 | 0 | 0 | 0 | 0 |   | 1 |
| Smith College | 0 | 0 | 1 | 2 | 3 | 2 | 1 | 0 |
| Stanford U |   | 10 | 16 | 21 | 23 | 30 | 26 | 37 |
| Swarthmore College | 0 |   |   | 0 |   |   |   | 2 |
| Syracuse U |   |   |   |   |   |   |   | 124 |
| Trinity College |   | 10 | 4 | 4 | 0 |   |   | 0 |
| U of Chicago |   |   |   |   |   |   | 15 | 33 |
| U of Pennsylvania | 35 | 35 |   |   | 14 | 15 | 15 | 19 |
| Vanderbilt U |   |   |   | 1 |   |   | 6 | 3 |
| Vassar College |   |   | 30 | 32 |   | 34 | 32 | 29 |
| Washington U in St. Louis | 20 | 21 | 13 | 12 | 6 | 10 | 32 | 4 |
| Wellesley College | 2 | 2 | 1 | 0 | 2 |   |   | 1 |
| Wesleyan U | 2 | 11 | 22 | 30 | 38 | 39 | 35 | 29 |
| Williams College | 0 | 0 | 1 | 3 | 5 | 5 | 5 | 4 |
| Yale U | 2 | 3 | 4 | 11 | 12 | 10 | 15 | 16 |
| Total | 180 | 596 | 643 | 641 | 724 | 830 | 884 | 946 |