You have /5 articles left.
Sign up for a free account or log in.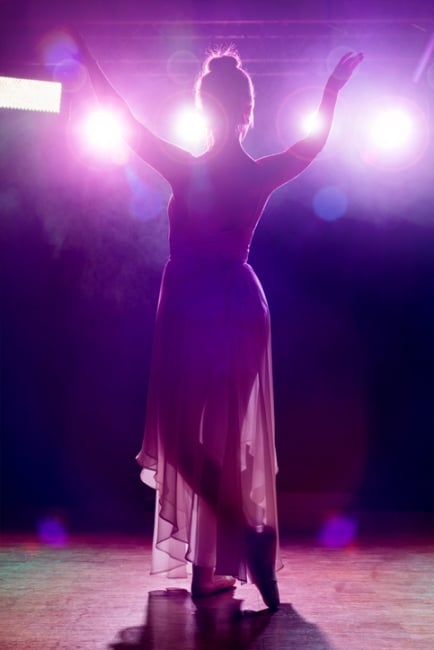 Around the globe, the COVID-19 pandemic has slammed the arts. Since March, the vast majority of arts organizations have canceled or indefinitely postponed events. In May, surveys conducted by Americans for the Arts found that 62 percent of working artists were fully unemployed. And as of August 2020, according to the Brookings Institution, the creative arts industry in the United States had lost an estimated 2.7 million jobs and over $150 billion in sales. Hardest hit are the fine and performing arts, including visual arts, music, theater, film and dance.
It would be easy to assume that on college campuses, as on Broadway, the stages are empty, with students and faculty members hunkered down on Zoom.
But at some liberal arts institutions, including Denison University, where I work, the arts are alive and well. Even now, a love of dance, music, theater, cinema, creative writing and the visual arts is bringing classes and extracurricular groups together, in person as well as virtually. Musicians are giving lessons and concerts outdoors. A hip-hop dance class is spread out across a campus plaza; another occupies two large studio spaces, linked by a live video feed. Painters have set up their easels in plein air. A musical theater troupe is performing on the football field.
The connections forged by the arts have never been more important than in this anxious time of social and physical distancing. They have been proven to contribute to students' academic success and career preparation. They are vital to the sustenance of civil society.
Yet they continue to be undermined by national policies and general public opinion. And they are under greater threat than ever before.
Colleges and universities can do a lot -- in our courses, programs, funding and career exploration -- to help save the arts. Now is the time to step up.
For decades, and especially since the 2008 recession, K-12 budget cuts combined with the effects of federal policies -- including the No Child Left Behind Act and the Common Core Standards -- have led to sharp cutbacks in school-based arts education. Millions of elementary school children lack access to music classes, and theater and dance programs have dwindled, disproportionately affecting students from historically underserved communities. The impact of those trends has rippled outward, undermining college programs and contributing to a steady decline in arts participation over all.
Such policies fly in the face of empirical evidence that shows clear benefits of engagement with the arts. A recent Brookings Institution study found that a substantial increase in arts educational experiences at the elementary and middle school levels has remarkable impacts on students' academic, social and emotional outcomes, including a reduction in disciplinary infractions, improvement in standardized writing scores and an increase in compassion for others. Data from the College Board confirm that in 2015, students who took four years of high school arts classes scored 92 points higher on their SATs than those who did not.
Among adults, arts participation is demonstrably related to behaviors that contribute to the health of civil society, such as increased civic engagement, greater social tolerance and reductions in other-regarding behavior. As philosopher Martha Nussbaum eloquently argues in Not for Profit: Why Democracy Needs the Humanities, "Humanities and arts provide skills that are essential to keep democracy healthy."
These insights have not been lost on corporate leaders. Critical thinking and a trained imagination are essential for innovation and economic growth. Yet according to a recent survey, nearly 45 percent of business executives think that Americans lack the skills needed for success in the 21st-century workforce, including communication, creativity, collaboration and critical thinking. All these are competencies strengthened by a well-rounded liberal education that includes engagement with the arts.
American colleges and universities have a more vital role to play than ever in supporting the arts. We provide stable employment to artists who teach and mentor students, with endowed faculty lines ensuring continuity regardless of enrollment trends. We offer a nurturing space and funding for new artistic work. Our residencies and performance and lecture series support visiting artists from around the globe. We enhance the culture and well-being of our local communities. We nurture key skills in a broad cross-section of majors and nonmajors alike.
In the face of the coronavirus and economic recession, colleges and universities need to double down on the arts. Here are four ways to do that.
Collaborate with the arts industry. Artists in residence and visiting artist programs, made possible by endowed funds and grants, can bring world-class performers together with students. Resident artists can interact with classes across all the disciplines, conduct workshops and master classes, and actively collaborate with students, giving them confidence that they can pursue professional careers. For example, New York-based quartet ETHEL and Chicago's Third Coast Percussion positively impact hundreds of Denison students during several weeklong visits each year.
Connect the arts across the curriculum. Integrating artistic practice with academic inquiry deepens the educational experience for arts and nonarts majors alike. STEM students benefit from their creative experiences in arts classes just as arts students gain important skills from courses in data analytics, communication, economics and more. Faculty members can be incentivized to team teach innovative interdisciplinary courses, sparking exciting collaborations. For example, at Denison, a seminar co-taught by a filmmaker and a historian studied the divided cities of Belfast, Nicosia and Berlin. And at Denison's TUTTI Original Works Festival last year, student athletes and musicians gathered to explore interdisciplinary crossovers, showcasing the connections across the liberal arts.
Actively support students' creative work. Hands-on exploration is as important in the arts as in the sciences. Higher education institutions should fund research and internship opportunities so all students, regardless of economic background, have access to them. For example, Denison's 10-week, fully funded Summer Scholars program pays students to work under the close mentorship of a faculty adviser, on or off the campus, to pursue an individual creative or scholarly project of their own design. Interdisciplinary collaborations are encouraged: recent projects have featured topics such as the physics of dance and the neuroscience of drum corps members' visual timing skills. The university also helps subsidize unpaid or low-paid internships in the arts for students.
Help students through the transition from studying to working in the arts. Students need to explore and prepare for the wide range of job opportunities that stretch well beyond traditional artistic and performance careers. Faculty and staff members should work alongside career centers to coach students through the process of seeking and applying for internships and jobs.
Denison faculty members partner with our Knowlton Career Center to help students identify and articulate the skills they are gaining in their courses and activities, translating their artistic competencies into compelling cover letters, interviews and résumés.
As the upswelling of socially distanced concerts and plays, dance performances, recitals, music lessons, radio shows, and other innovative artistic events on our campus confirms, we need the arts to help us through these challenging times. And when the pandemic subsides and the creative arts industry rebounds, as it eventually will, our students will be ready. We may all be better off as human beings, too.