You have /5 articles left.
Sign up for a free account or log in.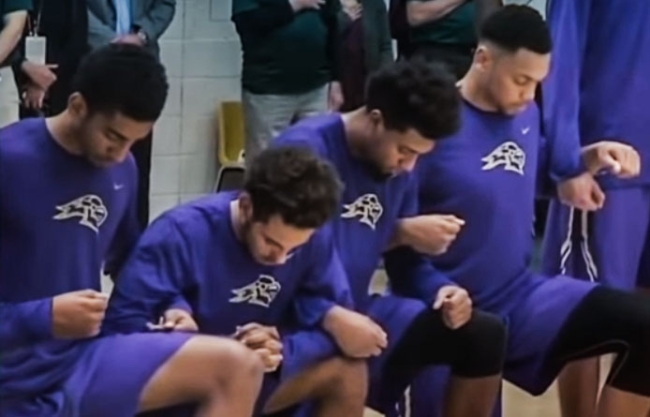 I write this as my six-year term as a college head men's basketball coach comes to a close. Two winning seasons, followed by four losing seasons, mark the end of my tenure at Saint Michael's College and possibly my complex relationship with a profession that I did not fit into.
My values as an educator were challenged within a system that was a business of winning basketball games, often compromising the overall development of student athletes as people. While our win/loss percentage was far from stellar, we have developed a distinct culture in our program where basketball has been leveraged in order to help many student athletes have meaningful learning experiences through team sport. Student athletes have graduated from our life lessons 101 curriculum with a degree that is grounded in leadership, community, critical thinking and contextual awareness. Their experiences as members of our team will allow for increased success and happiness in all aspects of their lives.
My most memorable moments as a head coach have been seeing the courageous and compassionate work that our student athletes have done in the community, especially around issues related to social justice. Our team's advocacy in the name of marginalized groups of people and its actions, which have combated oppression, are reflective of the power of sport. I have witnessed the large-scale impact that a team can have on a community in the form of countless notes, emails, social media messages and conversations in which people have expressed their gratitude and that they have been inspired by our actions.
For me, such outcomes are much more rewarding than winning a game. They are evidence that we've nurtured a true educational space that transcends the technicalities of the sport.
For the past several years, our team has engaged with each other and the community in an extensive dialogue on taking a knee during the national anthem. Student athletes have participated in panels, written essays and released statements to encourage conversation on this topic and the meaning behind it. The process has been a beautiful display of people with diverse narratives taking part in a civil discourse to provide a multidimensional picture that is as nuanced as the society in which we live. Our team has led other initiatives that shed light on systemic racism within our criminal justice system and has advocated for LGBTQ+ rights.
We did not just show up at the University of Vermont and decide to take a knee in the locker room before the game on Nov. 4, 2017. This decision was a product of the culture that had been built since spring of 2013, when I became the head coach at Saint Michael's. Our coaching staff was intentional about recruiting student athletes who we felt would thrive in a learning environment that values trust and respect over the authoritative framework that is pervasive in the world of college basketball. Regardless of our win/loss record, we maintained a nonhierarchical infrastructure, empowering all members of the team within a space with a shared voice and connected relationships. Student athletes and assistant coaches were presented with leadership opportunities when they demonstrated that they were ready for more responsibility. Our team values and expectations were the product of a collaborative process, and when those were not met, the team generated a restorative response that balanced individual needs with those of the collective group.
Our coaching staff recognized different learning styles, while assessing strengths and areas of growth, in order to apply measured support in in all areas of human development, including social, emotional, academic, athletic and spiritual. Our goal was to produce cohorts of graduates who not only were self-sufficient and prepared for successful lives after college but would also be difference makers who helped others as leaders in their communities. When members of the team took a knee, it was a reflection of our culture and not an isolated case.
Team sports offer a pseudo-family environment, often with student athletes from different backgrounds, who have a shared passion for the subject matter and who depend on each other as they pursue a common goal. I have found that most student athletes seek a coach who will see and care for them as people, not just as players. These conditions create an ideal space for teaching and learning to take place, beyond the sport that is being played.
To take advantage of this space, our team has participated in significant reflection work via retreats and other programming, where members of the team have unpacked their identities and enhanced their contextual awareness. We have had difficult conversations about race, identity, privilege and the range of experiences that exist at a primarily white institution. Our hope was that as we developed a more in-depth understanding of each other, it would also bring us together as a team. The team's ability to rely upon each other and show up through extremely challenging circumstances was evident during the following two years when we continued to peacefully protest at all of our games, while engaging with the community in an important dialogue.
Many of the student athletes' families have expressed gratitude for creating an environment where their children were fully seen and loved during a critical stage of life after they had left home and were transitioning into adulthood. Our team maintained a GPA well above 3.0, student athletes graduated and went on to successful careers, and we were well respected on campus and in the community. I believe we did our job even though there was no conference championship.
A Missed Educational Opportunity
Most college basketball coaches do not have the appropriate training to provide holistic educational experiences, where all aspects of human development are nurtured. Many coaches have obtained positions and advanced on the basis of their ability to navigate a profession where athletes are the commodity and winning is the currency. In the power conferences, where basketball is not to be confused with anything other than a professional sport, coaches are handsomely rewarded for their ability to win.
Coaches at this level are also expendable within a system that values the dollar above all else, including the development of student athletes. We are inundated with the concept of student athlete by the National Collegiate Athletic Association and institutions of higher education, but this myth is actually propaganda that redirects attention from the reality of the business in order to reap hefty profits. Colleges continue to hire coaches with dishonorable track records who have won, while coaches with integrity are systematically extracted.
I have spent the majority of my career in coaching at low-major Division I, Division II and Division III colleges, where the notion of student athlete is much more of a reality. And I've found that, while the money is far less prevalent, part of the culture of "big-time" college sports, which places an imbalanced premium on winning, can also exist at the small college level. Credibility and job security for coaches and athletic directors are often highly correlated with their ability to consistently produce a winning team or programs in their department.
A model of coaching that is driven by winning is also on display at certain youth basketball tournaments across the country, where we see coaches and parents who are seduced by competition and an accompanying superficial high, which leaves little room for life lessons and character building. Unfortunately, the fact that our youth are spending so much time in these gyms is a huge missed educational opportunity -- one that is hurting our society.
A failure to leverage the educational potential of team sports is also an injustice within a system dominated by white coaches, administrators and colleges who rely upon Black and brown bodies for the purpose of winning games, pleasing alumni and making money. At all levels, student athletes of color who help their institutions achieve their goals are exalted, while those who fail to do so are expendable. Fans cheer for players who help their favorite teams win games. But what happens when the same individuals express themselves as people and decide to engage in a controversial form of protest -- such as taking a knee during the national anthem -- that threatens ideological beliefs, institutional stability and systemic power structures?
I have found that college athletics can be a productive environment to engage white student athletes, coaches, administrators, community members and alumni in a dialogue that may help them become more aware of the concepts of privilege and institutional racism. A discussion around taking a knee can serve as a gateway for people to become allies for marginalized groups of people on our campuses and in our communities.
To do this work, coaches must be trained as holistic educators who can incorporate social justice into their pedagogies. Additionally, athletic directors must create a space that allows for those coaches to be student-centered practitioners. None of this will be possible until the system of college sports truly embraces the education of student athletes as its primary goal.
In the meantime, we will have to be courageous and amplify the voices of our student athletes who choose to use their platform and engage in social justice movements, even when the institutions we work for recoil. We must be honest, selfless and lean in to the values that we preach to our teams as coaches and leaders.