You have /5 articles left.
Sign up for a free account or log in.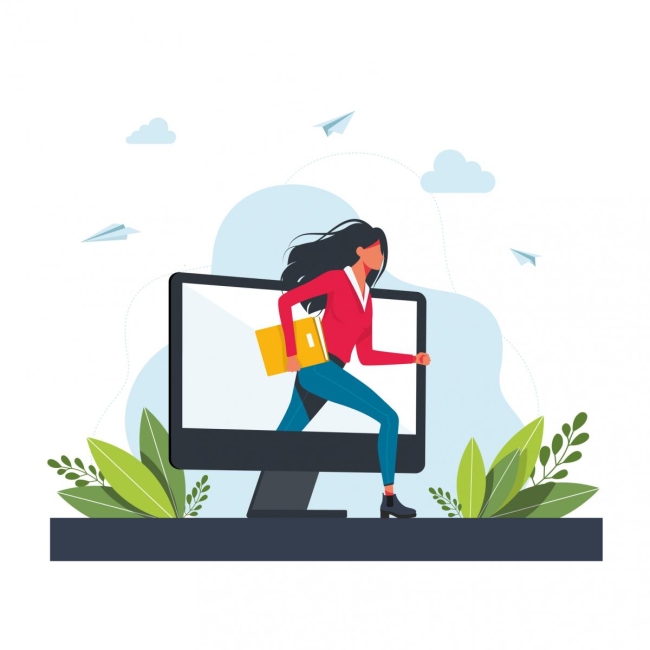 From classroom debates and lectures to student clubs and organizations to sports and other social gatherings, shared on-campus experiences form lasting memories, enrich lives and establish bonds between students and university staff that can last a lifetime. So it's understandable that as the vaccine rollout reaches critical mass and a broad reopening comes into view, many college and university leaders are eager to turn the page on the past year, to see it as a temporary disruption and to view the virtual college experience as little more than an aberration that was forced upon them.
However, there is no going back to the way things used to be. Colleges and universities must now prepare students for a world that has shifted significantly toward flexible work. Students have come to expect a flexible learning experience that takes full advantage of digital-first teaching methods. Moreover, faculty and staff are also demanding flexibility with when and where they work.
The challenge for institutional leaders is to find a balance between allowing greater flexibility for remote work while retaining the most vital face-to-face interactions that make campus life distinctively vibrant for all who work, live and study there.
Corporate America has already accepted the fact that the office-centric 9-to-5 norm of pre-pandemic life is gone for good. Leading-edge companies, such as Amazon, Dropbox and Salesforce, have announced that flexible, hybrid work will be their primary working model moving forward. Data from Slack's Future Forum show that these policies are essential to attracting and retaining talent. As many as 83 percent of employees do not want to return to working five days a week in a physical office. The majority -- 63 percent -- want the flexibility of a hybrid remote office model, while 20 percent want to work remotely full-time.
A recent virtual gathering of college and university presidents hosted by education company EAB showed promising signs that higher education is ready to embrace hybrid learning as an essential part of the student experience. A poll of more than 100 college and university presidents in attendance found that almost half, or 44 percent, planned to keep more than a quarter of classes online post-pandemic.
However, the poll also showed that most presidents aren't ready to embrace a significant shift to remote work or to a hybrid remote office model at their institutions. A majority, 56 percent, say less than 25 percent of staff will be able to work from home two days or more per week, and only 11 percent say more than half of their staff will be permitted to work from home two days per week or more. Perhaps in solidarity with their direct reports, 75 percent of presidents say they expect to work from home less than 25 percent of the time, with only 7 percent saying they will work remotely more than half of the time.
This should raise a red flag. College and university presidents must resist the urge to return to the comfort of pre-pandemic norms and instead open themselves up to the potential benefits that remote work can offer their employees and their institutions. If they don't, they will face higher staff turnover and greater institutional instability.
The future campus will be neither fully remote nor fully on-site. Here are four steps presidents can take to usher in a more flexible approach to remote work that fits this new reality.
Take a "best of each world" approach. Presidents and their staffs need to rigorously evaluate which aspects of in-person work and student life are best experienced face-to-face and which are possible, and even preferable, in an online environment. For example, a lecture series may be delivered most efficiently through online modules. At the same time, many group discussions, debates and live presentations are more dynamic when participants are physically present, so classes, gatherings and experiences that feature this type of engagement should be held on campus whenever possible. Similarly, the campus experience isn't likely to suffer when employees who work in back-office roles with limited student interaction are allowed to work remotely. And many students have become accustomed to and expect the flexibility of online learning to continue.
Take advantage of an opportunity to rethink diversity, equity and belonging. Research shows that moving away from traditional office and campus-centric experiences has significant benefits for historically underrepresented and underserved student populations. For example, the Future Forum found that Black knowledge workers had a higher sense of belonging while working remotely than they did in the office. However, institutions must confront barriers that could exclude some employees from remote work or exacerbate diversity and health goals. They must take care to ensure all remote employees have equal access to the technology and other infrastructure required to work from home comfortably.
Double down on campus culture by reimagining it for a digital-first world. Much as with leading companies, the best academic institutions have a distinct set of values, a sense of shared purpose and belief in a mission that transcends day-to-day work. Presidents have an opportunity to breathe new life into campus culture by embracing new, digital-first channels. Digital platforms now allow individuals, teams and organizations to maintain alignment regardless of where or when they are working. Building an operating model on digital channels, instead of relying solely on the physical campus, is the vital first step universities must take to move toward flexible work. In addition to connecting students and faculty, a digital-first approach offers an exceptional opportunity to connect the broader alumni network, elevating its presence in daily campus life.
Model new behavior from the top. The single best way that presidents can reinvent their institutions is to lean into remote and flexible work, hire more remote-first staff, and celebrate staff and students who come up with new ways to keep campus culture alive in an online environment.
College and university presidents must avoid the temptation to reflexively revert to pre-pandemic norms and instead reimagine campus life as something new altogether, with student needs and desires at the center. Doing so is the only way to adequately prepare students for the new distributed, digital-first and flexible world of work that awaits them upon graduation. Remote work will not kill the campus experience. On the contrary, it is vital to its rebirth.