You have /5 articles left.
Sign up for a free account or log in.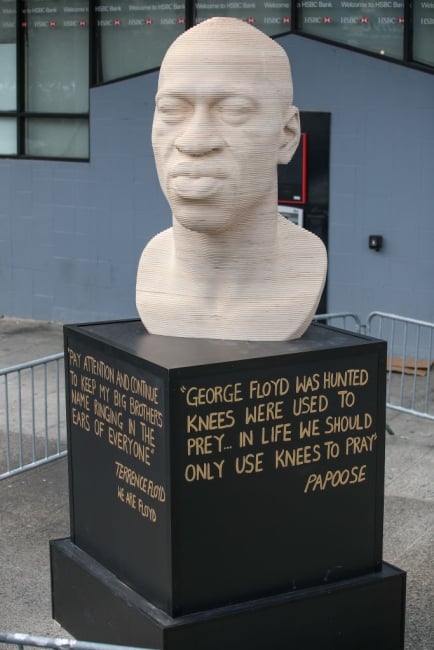 Anadolu Agency/getty images
Juneteenth arrived this year at a critical moment. After a year of pain and protest, we are now seeing an acceleration of increasingly pointed attempts to roll back long-standing efforts to build a more inclusive educational system and teach the truth about race and racism in America. The explosive debate about critical race theory is the latest example -- a reminder that progress is so often a direction, not a destination.
Juneteenth, commemorating a Union general's declaration of the end of slavery in Texas on June 19, 1865, was rightfully a day of celebration. But then, as now, it hardly signified true equality, coming as it did more than two years after the Emancipation Proclamation. Even after the Texas announcement, slavery was still legal in Delaware and Kentucky until the 13th Amendment. From that point right up to today, we have struggled as a nation to face the ugly truth about America's shameful history of racist violence.
For those of us who have worked for decades to foster diversity, equity and inclusion in higher education, this moment feels both familiar and unusually perilous. Like other American institutions, colleges and universities were called to action in 2020 by the murder of George Floyd and the outpouring of protests for racial justice it spurred. Many educators have redoubled their efforts to teach history with integrity, change systems and practices that undermine the success of Black and brown students, and build more inclusive institutions. Leaders in sports, popular culture and the news media are using their platforms to highlight important historical moments such as the Tulsa race massacre. They are helping us come to grips with our history to chart a different path to the future.
Those of us who have been at this for decades know all too well, however, that cycles of progress are too often followed by backlash. Some people are rightly skeptical that the momentum of change over the past year can be sustained.
But we mustn't let this familiar pattern wear us down. Our shared future and our nation's ability to fulfill its promise of real opportunity and true justice are at stake. Those of us who work to ensure that Black and brown students enjoy affirming educational journeys have a special obligation. We must press forward and confront this backlash head-on.
Years of research show that, by creating more inclusive educational environments and by teaching about the lasting impact of slavery and American racism, we can help today's students succeed and strengthen their commitment to racial dialogue and healing. We need to build on this research and stay the course.
Certainly, even 156 years after the first Juneteenth celebration, we know that we still are not where we need to be and that too many people are vested in preventing progress. As NPR and other news outlets have reported, Black Lives Matter protests and the landmark, Pulitzer Prize-winning "1619 Project" on America's racist past have prompted angry reactions. Legislation has been proposed in more than a dozen states seeking to limit what teachers can say about race. Nominees to high-level government posts are being challenged because they acknowledge the reality of structural racism. A bill introduced in the U.S. Senate in March would prohibit the armed forces from sharing that reality as part of their training programs because doing so would promote "anti-American and racist theories."
Though we've seen this story before, this backlash is a real and present danger -- one that flies in the face of the evidence. Critical race theory is especially a target today. An area of legal and academic study honed for decades, this scholarly effort simply charts how racism and discrimination are baked into our systems of justice, education and other aspects of life. It's a fact-based approach that helps us to chart the impact of racism historically and in the present. It helps us understand and begin to address today's undeniable realities of inequality -- in income, wealth, housing, educational attainment and practically every other area that matters.
Those who developed and practice critical race theory are part of a broad and strong scholarly community that continues to teach, study and improve our understanding of history and society. This community has thrived thanks to a distinct feature of our educational institutions. At their best, schools and colleges are powerful zones of inquiry, debate and civil discourse. But we cannot take this feature for granted. We must fight to preserve the academic freedoms needed to build curricula that tell the whole truth about our history -- not just the inspiring struggles for justice but also the shameful racist realities.
The future of our students and our democracy depend on it. While the backlash is frightening, we can take heart in the growing recognition by many people that this country does indeed have a troubling history to acknowledge and systems to fix.
The Pew Research Center last year found that 49 percent of U.S. adults say we haven't done enough to secure equal rights for Black people, up from 45 percent in 2019. It also showed that more than three-quarters of Americans believe the increased focus on racial inequities sparked by the George Floyd killing represents a change in the way most of us think about these issues.
Will that matter as state and federal lawmakers seek to control how educators talk about racial equity? It can if we continue to push back, insist on telling the truth and build broad and inclusive coalitions for change. Public perceptions rarely change as fast as we would like in matters of justice, but this is a national discussion and a moment of reckoning. Everyone has a role to play when it comes to speaking out, and those arguing for a better America won't be silenced by the divisive criticism of scholarly efforts to get it right.