You have /5 articles left.
Sign up for a free account or log in.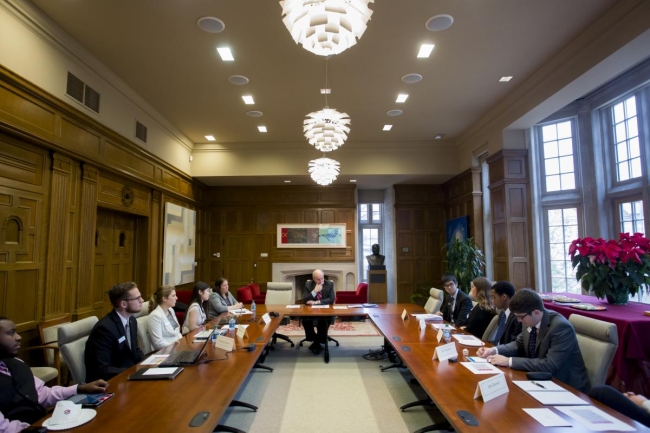 Higher education researchers and administrators have long recognized the value of integrating students into university governance structures and processes. But what is less clear is how best to do so. In practice, striking the balance between maximizing efficiency and maximizing student input across a breadth of institutional issues has typically proved a difficult task. If university leaders seek a best practice, we suggest you consider the example of the 100-year-old Board of Aeons at Indiana University Bloomington.
Since 1921, the Board of Aeons has served as a student advisory board to the university's presidents and chancellors. At times in its history, the board has been a student government-type organization or a kitchen cabinet sounding board -- depending on what the university president has needed most at any point in time -- and has had a checkered history of effectiveness.
Indiana University president Michael McRobbie, who will complete his tenure as president this year, has forged a uniquely dynamic relationship with the Board of Aeons during his 14-year presidency. Simply put, his revitalization of and investment in the Board of Aeons may be one of his most meaningful, though perhaps lesser known, legacies. It serves as an instructive case for university leaders looking to improve the quality of student engagement in university governance at their own institutions.
When McRobbie charged his first Board of Aeons in 2007, he challenged its 12 undergraduate members to raise the expectations of their work and their contributions to the university. He encouraged the Aeons to direct their energy toward developing policy recommendations that were holistic, strategic and meaningful for the institution as a whole. Most important, he also gave them the institutional resources and support required to elevate their work, ensuring that the Aeons were given high priority for administrator and staff interviews, supporting large-scale student and faculty surveys, and emphasizing higher education research best practices like peer institution comparisons.
His efforts made all the difference. Today, one would be hard-pressed to find an aspect of campus life untouched by the collaborative work of the Aeons with McRobbie and other university leaders. Under his tenure, the Board of Aeons has consistently produced pragmatic policy recommendations that have contributed to real change.
One highly visible and impactful example is the reclamation of academic space in the campus's oldest quad, known as the Old Crescent. Over a period of several decades, buildings in this historic part of the campus that were built to house libraries, laboratories, classrooms and study halls were converted for use by administrative units -- units that could be situated in less physically and symbolically important central locations. Students walked through this part of campus but rarely had any cause to visit any of the buildings.
The Aeons conducted a yearlong study that concluded that the way the university was using these magnificent historic buildings did not properly reflect the university's core missions of education and research. McRobbie and other administrators subsequently convened an Old Crescent Academic Working Group to develop a long-term plan for the return of the iconic buildings in the Old Crescent for academic purposes. After $120 million in renovation investments, these iconic buildings have now been beautifully restored, and the Old Crescent is a vibrant hub of student life.
Collaboration between the Aeons and the university's administration since 2007 has spurred many other projects with lasting impacts, including:
Technology infrastructure: conducting several redesigns of campus e-learning and student service platforms, and improving access to equipment and tech services;
Academic and co-curricular programs: increasing the number of students who study abroad, catalyzing the development of a cultural collections strategic plan, reviewing the campus honors college, informing the university's online program structures and elevating student leadership development programs;
Student services: making improvements in health center offerings and priorities as well as academic and career advising innovations;
Access and affordability: redesigning the campus tuition model, streamlining services for students with disabilities, tackling food insecurity and building networks and mentoring programs for students of color; and
Capital projects: redesigning the campus library space and improving the student union space.
Such collaboration was by no means superficial. At the heart of this effort is a sincere belief that, with information and resources and a long time horizon for change, students can be partners in university development, strategic decision making and planning. In educational terms, the Board of Aeons might be described as a high-impact, interdisciplinary undergraduate research practice. In business terms, you might describe it as an internal management consulting firm. Call it what you will, but from our perspective, serving on the Board of Aeons has fundamentally changed our experiences as students and our relationship with the university -- both while we were on campus and in the years since.
Because of this legacy of real impact, the board attracts many of the campus's best and brightest: entrepreneurial student leaders looking to leave Indiana University a little better than they found it. It is not an advisory board composed of advocates for varied interest groups, but rather it reflects a diverse set of students who work together to make well-reasoned recommendations for improving the university as a whole. Over all, 130 undergraduate students have served on the board since 2007, and these individuals have gone on to attend the most competitive graduate, law, medical and business schools in the world. They have received more than a dozen major international graduate school fellowships and have been employed by some of the most successful nonprofit, governmental, educational and corporate organizations in the nation.
Serving on the Aeons was the first time that many of us were allowed "under the hood" to gain an understanding of how the university -- or any large organization -- works. We learned how to navigate bureaucracy and get things done. We learned how to balance stakeholder opinions and negotiate consensus-based outcomes for real-world solutions. We also learned that lots of people can have input, but at the end of the day, someone has to make the hard decisions.
We learned that instead of becoming frustrated with policies or administrative decisions, we could delve deeper to understand the competing pressures of managing and improving the institution. We learned how to see our peers as a professional network. We learned that campus service does not cease when we graduate. And with virtually unfettered access to the senior leadership of every office at the university, we learned that there are thoughtful, hardworking professionals and faculty who work in American higher education and who spend their time trying to improve the lives of their students. Chief among them for the past 14 years has been Michael McRobbie.
We have learned a lot from McRobbie. On the occasion of his retirement from the presidency this year, we felt perhaps it was time that other university leaders learn something from him as well.