You have /5 articles left.
Sign up for a free account or log in.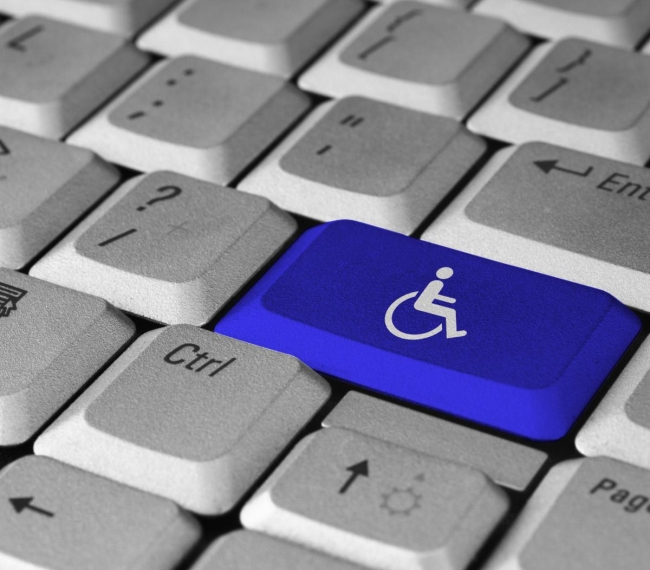 For too long, colleges and universities have waited for students with disabilities to request accommodations before deciding to remove barriers to access and full participation that existed all along. Higher education's response to the COVID-19 pandemic shone a stark light on those practices, highlighting the shortcomings of this "wait and see" approach when it comes to digital accessibility and curricular access. In the new normal, post-pandemic education institution, we must broaden our focus to create inclusive learning environments that recognize and remove barriers, creating a more equitable system for all.
The pandemic revealed a number of biases in higher education as students proved that they can learn remotely, when necessary, and accommodations previously considered unreasonable became standard practice. Attendance policies are a prime example: before the pandemic, students with disabilities had requested to attend class virtually and receive recordings of class meetings for later playback. In many cases, those requests were denied. Now, colleges and universities use typical accommodations -- virtual class meetings, recorded playbacks, captions, text-to-voice -- because they encourage the physical distancing required by the pandemic and act as tools that supplement learning. These accommodations benefit all students and lead to more flexible, responsive learning environments that are more equitable and inclusive.
The advantages of online learning for students with disabilities are evident, but many people misperceive that an online education is automatically accessible, regardless of a student's disability. In fact, while online education better meets the needs of students with disabilities in many cases, virtual learning can exacerbate certain challenges. Those challenges include the lack of accessibility of commonly used tools and resources, as well as their incompatibility with the assistive technology that students with disabilities use -- which many institutions didn't account for when they pivoted to virtual learning over a year ago.
In a survey by the Association on Higher Education And Disability (AHEAD), students with disabilities reported having more difficulty accessing the internet, obtaining technology support and training, and communicating with faculty members. Live Zoom sessions without playback options do not accommodate students who cannot watch in real time because of medical issues. Course materials, especially those in PDFs, are likely to have accessibility issues when not formatted correctly. Even moving the test-taking process online can make it difficult for people using assistive technology.
Other challenges may come from the additional stress and anxiety of attending college with children at home, holding down a job or dealing with strenuous financial circumstances. Adult students, regardless of disability, are experiencing chronic stress and anxiety at levels that could merit the same accommodations as a disability. Notably, however, students with disabilities reported greater instances of major depression and generalized anxiety during the pandemic.
And as new challenges emerge in the post-pandemic classroom, including mental health conditions aggravated by the chronic stress of the past year, student success may be further inhibited. Understanding students' distinct circumstances must become the blueprint for developing strategies that institutions can use to mitigate the impact of any disability they may have on their coursework. Faculty members also need systems in place so they can ask questions and be informed about which accommodations provide the best access.
Higher education's commitment to giving students with disabilities an equal opportunity to show what they have learned is key to student success. At University of Phoenix, we have designated disability service advisers, or DSAs, who work with students and academic counselors to provide accommodations, support and access to resources. For example, one student who is a medically retired veteran of the Marine Corps told us his DSA checked in on him regularly, ensuring he was always aware of the deadlines for requesting accommodations and extensions. He wrote, "It's hard to nudge myself to get work done when my day is filled with roller coaster highs and lows of emotion and stress." DSAs can support students both in and outside the classroom.
But these changes must not start and stop at the campuses. Policy makers should examine federal financial aid opportunities and identify opportunities to restructure federal aid to improve access for students with disabilities. Existing Title IV regulations do not provide accommodations for students with disabilities and, as a result, many of those students can potentially lose out on federal or state financial assistance. Additionally, credit-hour thresholds require students to have a certain number of credit hours to receive funding. That can lead to less flexibility and a greater need for accommodations, particularly for students with disabilities who are balancing their education with the physical impacts of their diagnosis.
Such policies, be they from regulators or institutions themselves, that are not crafted with students' needs in mind can have negative consequences for those living with disabilities and requiring accommodation. In contrast, as the pandemic taught us, updating antiquated policies that inhibit access or limit flexibility can greatly improve students' experiences and enable them to thrive. That is why we must continue to provide and strive for greater flexibility, access and support for students.
The challenges of the past year have revealed inequities in how we serve students with disabilities. While we cannot unwind the clock and go back in time, we can move forward with simple and meaningful changes to make higher education more accessible, equitable and inclusive. We have learned a lot from the pandemic and the shift to virtual learning. Students entering higher education in 2021 and beyond now know that more is possible. It is our responsibility to meet them where they are, provide them with options that fit their lives, support their career journeys for life and continue our evolution toward an accessible ecosystem that emphasizes inclusion and equity.