You have /5 articles left.
Sign up for a free account or log in.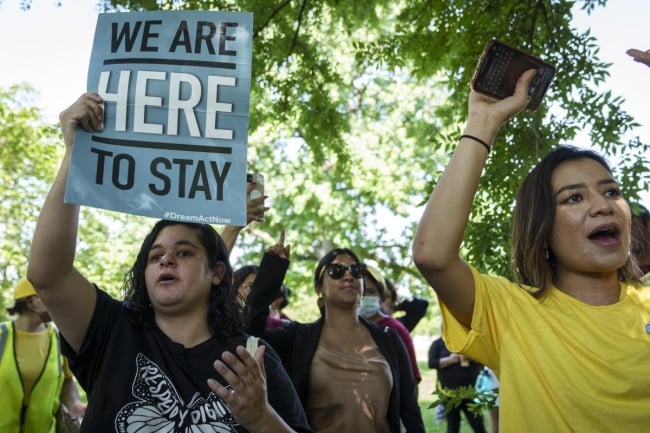 Drew Angerer/Getty Images News/Getty Images
Today, in the Fifth Circuit Court of Appeals, a panel of federal judges will hear arguments in a case brought by Texas challenging the legality of the Deferred Action for Childhood Arrivals (DACA) program, which provides certain immigrants who were brought to the U.S. without documentation as children protection against deportation and the opportunity to work legally. Hundreds of "DACAmented" and undocumented immigrant youth, students and young adults will be in New Orleans to bear witness to the hearing and call on us to take action. One of us, Jose, a DACA recipient and an intervenor in the case, has a vested interest in the outcome, as it likely will irrevocably impact his and many others' professional, educational and personal lives.
Our warning is not overstated. Legal experts anticipate that the Fifth Circuit judges will likely rule the DACA program unlawful, as they did in a 2015 case challenging the now-defunct Deferred Action for Parents program and then-proposed expansion of DACA. And, unlike in 2020, the current Supreme Court is unlikely to uphold DACA—or at least not in its current form.
The hearing comes just weeks after the 10th anniversary of the establishment of DACA on June 15, when hundreds of DACA recipients and undocumented students—together with college and university presidents and chancellors, business leaders, and immigration advocates—joined a bipartisan group of lawmakers, White House officials and agency leaders in Washington, D.C., to celebrate DACA as one of the most successful immigration initiatives in modern history, while also sounding the alarm about its tenuous future. Due to both the precarious legal future of DACA and the success of the program over its decade-long history, we need immediate, bipartisan congressional action to pass some form of Dream legislation protecting undocumented people who were brought to the U.S. as children and giving them a path to citizenship. And we need higher education leaders and institutions to join in this urgent advocacy while planning for the potential of a post-DACA world on their campuses.
Already, more than half of the 427,000 undocumented students estimated to be enrolled in higher education do not have the protections and work permits afforded by DACA. Three-quarters of undocumented students entering college are not even eligible for DACA: nearly 100,000 undocumented students graduate high school each year, but only one-quarter are estimated to be eligible for DACA, primarily due to the arrival date eligibility criteria of the program, which require applicants to have entered the U.S. more than 15 years ago.
So, what can we do? Or, to put it another way, what should campuses do now?
There are three steps that campuses can take now to prepare for a post-DACA world—and support undocumented students who already don't have DACA and the work authorization that comes with it. Remember that undocumented students are domestic students and deserve access to affordable education and opportunities to pursue their career aspirations.
First, create non-employment-based funded opportunities for experiential learning, internships and fellowships that are open to undergraduate and graduate students without work authorization. The Presidents' Alliance on Higher Education and Immigration has produced a set of FAQs on experiential and funding opportunities for undocumented students, and additional resources and guides can be found on the Higher Ed Immigration Portal.
Second, campuses should audit their program, admissions and funding criteria to ensure to the extent possible that they are inclusive of undocumented students and do not tie eligibility to holding of DACA status, and they should ask affiliated national societies and external scholarship and fellowship organizations to do the same. While state policies on tuition and financial aid for undocumented students vary, public institutions should engage in efforts to ensure that their state's undocumented undergraduates and graduate students are eligible for in-state tuition and financial aid.
Finally, administrators should take some time to review the steps they plan to take if the Fifth Circuit issues a negative decision on DACA, which could come any time this summer or later. Check out our Beyond DACA Checklist for campuses for information and resources on rapid response plans, communications and student supports.
While there are substantive improvements to DACA and protections for undocumented students and others that the Presidents' Alliance is urging the Biden administration to make, we must also press Congress to act. A final, forthcoming DACA rule from this administration is unlikely to address the concerns of undocumented students who are not currently eligible for DACA or provide greater protection to DACA recipients. For that, we need legislation.
Recently, Democratic senators Dick Durbin, Alex Padilla and Kyrsten Sinema and Republican senators John Cornyn and Thom Tillis have hinted about new openings and conversations for a targeted package of immigration reform, which would likely include Dream legislation. Prepare your campus now so you will be ready this fall to join students and alumni, campus and business leaders, advocates and lawmakers in this ongoing and urgent advocacy.
DACA's loss not only would be devastating for hundreds of thousands of current DACA recipients, but also their families and citizen children, their employers and employees, and their institutions of higher education. It is imperative for Congress to build on DACA to pass legislation that would provide permanent legal status for DACA recipients and other Dreamers. This legislative fix has long been needed, but given the precarious legal future of DACA, the time to finally deliver is now.