You have /5 articles left.
Sign up for a free account or log in.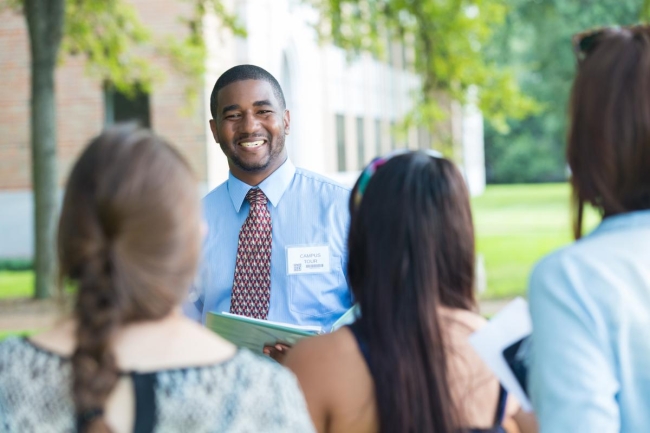 During my seven years leading facilities operations at Butler University—a private liberal arts and professional institution in Indianapolis—I had the honor of working closely with the late Tom Weede. Tom, who served as our vice president of enrollment management from 2007 until 2014, recognized not only the importance of maintaining a beautiful campus year-round but, even more importantly, the importance of making a strong first impression with our visitors and potential students during initial campus visits.
At least once each semester, Tom and I would walk the prospective-student campus tour route together to identify any issues—ranging from buckling sidewalks and dead trees to chipping paint and broken furniture. We did this regularly to ensure the facilities we included on these tours showed well. As the saying goes, you only get one chance to make a first impression, and as a small tuition-dependent institution, we were especially focused on always putting our best foot forward.
When each of my three daughters began their college search process, I found it fascinating to go on campus tours. I especially remember doing a college tour trip in the Northeast with my youngest daughter during spring break of her junior year in high school in 2015. We visited seven universities in five days: Case Western, Syracuse, Providence, Brown, Boston University, Harvard and Yale.
During these visits, I was attuned to what these other institutions chose to include on their tours and how well they showed. The newest buildings, or "shiny objects," are most often included on these campus tours. These include the new business school buildings with the latest active learning classrooms and combination amphitheater seating/stairways and the new student recreation facility with its indoor pools, climbing walls and jogging/walking track.
[block:block=176]
Showing such buildings is, of course, deliberate. As a recent Student Voice survey on campus facilities, conducted by Inside Higher Ed and College Pulse with support from Kaplan, found, 65 percent of students say that campus facilities factored at least somewhat into their decision to enroll at their college.
These findings reinforce the importance for institutions to ensure that they are maintaining the condition and appearance of their buildings and grounds. This is especially critical for four-year residential campuses, which must compete for a shrinking pool of incoming traditional college-aged students. When survey results are filtered to include only the 655 students who have never lived on campus, the proportion citing facilities as a factor in their college choice drops 10 percentage points.
Key Issues With Older Campus Buildings
In my experience, 100-plus-year-old buildings are the greatest challenge to maintain and less likely to be included on these first-impression tours. While not specifically asking about older buildings, Student Voice respondents are most likely to identify the following building problems on campus (out of 19 potential issues to choose): inconsistent classroom temperatures building to building (41 percent), unclean restrooms (31 percent), inconsistent classroom temperatures within individual buildings (29 percent) and classroom temperatures that are consistently too hot or too cold (29 percent).
Older buildings typically have been renovated and retrofitted countless times and were not designed for modern HVAC systems, ADA accessibility and active learning classrooms. These buildings have:
Two-pipe heating and cooling systems that can only be used to either heat or cool (not both at the same time) and result in many of the classroom temperature complaints, especially in the shoulder months, when it is unseasonably cold or hot after the boilers have already been shut down or the chilled water hasn't yet been turned on for the season.
Old bathrooms, which are virtually impossible to make ADA accessible, let alone gender-neutral, without violating municipal laws regarding fixture counts.
Painted plaster interior applied directly to brick or stone exterior walls without weeps or air barriers to prevent moisture build-up within the walls, causing flaking, bubbling and possibly mold on these interior walls, especially around window openings.
Grand masonry stair towers and bell towers, which, combined with flat built-up asphalt roofs, are much more susceptible to leaks and water infiltration.
One of the biggest challenges facing many college campuses is maintaining these beautiful (and some not-so-beautiful, a.k.a. brutalist), historic old buildings. And this isn't just a problem for smaller, private, tuition-dependent and less well-endowed institutions. It is also a major issue for some of the largest and most prestigious public flagship research universities in the country.
In 2022, before stepping down as chancellor of the University of Wisconsin at Madison, Rebecca Blank identified deferred maintenance as one of the five greatest challenges facing the institution. According to Blank, "The Big Ten is falling behind other schools, and we're falling behind the Big Ten. We are spending less than one-quarter what we should be spending on our facilities. This is no way to maintain the kind of campus students and faculty expect at a first-rate university."
As competition for both students and funding intensifies and the buildings on our campuses continue to age, this issue of deferred maintenance will continue to grow and make this even more costly to address.
Plus, just making a good first impression for prospective students isn't the only goal, but also keeping that good impression. As noted by one of the Student Voice survey respondents, "The pictures of campus facilities make them look way better than they are on a daily basis … I wish I would've been able to see the differences more on tours or the website."