You have /5 articles left.
Sign up for a free account or log in.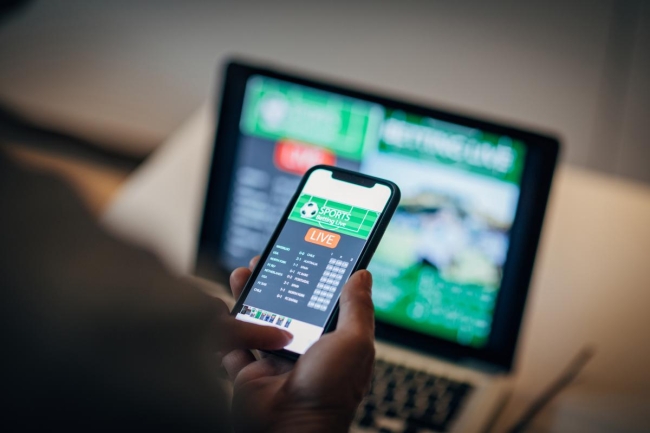 Hirurg/iStock/Getty Images Plus
When intercollegiate athletics goes from the sports page to the front page, it is big news, but not always good news. Nowhere has this been more evident than in a Nov. 23 article in The New York Times, "How College and Sports-Betting Companies 'Caesarized' Campus Life," which chronicled how universities have signed lucrative contracts with sports betting companies to promote online gambling to their students and campus communities.
The most conspicuous evidence of this new practice was the signage along the rim of the Michigan State University football stadium proclaiming, "CAESAR'S SPORTSBOOK & CASINO—OFFICIAL SPORTS BETTING PARTNER OF SPARTAN ATHLETICS." In addition to Michigan State University's $8.4 million, five-year contract with Caesars Sportsbook, seven other major universities nationwide—including Louisiana State University and the University of Colorado at Boulder—have signed internet sports betting contracts, and "at least a dozen athletic departments and booster clubs have signed agreements with brick-and-mortar casinos," according to the Times. The agreements raised questions, as the Times put it, "about whether promoting gambling on campus—especially to people who are at an age when they are vulnerable to developing gambling disorders—fits the mission of higher education."
The gold rush for online college sports betting contracts started in 2018, following the Supreme Court's decision allowing states to legalize sports betting. Over the past four years, some higher education officials and politicians have pushed back: for example, in 2020, a group of university presidents and athletic directors in Massachusetts testified before the state Legislature with the strong recommendation not to legalize college sports betting in Massachusetts. (Massachusetts ultimately did legalize sports betting—sportsbooks opened there at the end of last month—though the legislation does not allow betting on in-state college teams unless they are participating in a tournament.)
In late November, shortly after publication of the New York Times investigation, U.S. senator Richard Blumenthal, representing Connecticut, wrote a letter to Caesars Entertainment CEO Tom Reeg registering his "grave concerns" about sports betting promotions on college campuses, and calling on Caesars to "discontinue any existing partnerships with schools" and "abide by industry standards that prohibit marketing to college students."
Blumenthal's letter put pressure on the gambling industry to cease and desist in campus contracts. However, we found little evidence on the public record that higher education leaders have policed their own ranks. They did not, for example, call for fellow university presidents and boards to discuss or explain their actions in entering into sports gambling contracts. Most perplexing is that university presidents have shown little public inclination to consider rescinding their existing contracts and marketing promotions with sports betting corporations.
The result is that today we have little idea of how universities have deliberated about their actions concerning sports betting partnerships, precisely because little information has been shared publicly. We argue that university presidents have been neglectful in their failure to examine the moral risks that their sports gambling contracts have raised. In the special case of Michigan State University, it's important to note that one reason there may have been little public commentary was that the president resigned in October due to disagreements with trustees on numerous issues other than the university's involvement in sports gambling. Apart from that important exception, the silence of other university presidents is deafening.
Why is colleges' endorsement of campus sports betting activities a big deal? Historically speaking, universities' sponsorship and revenues gained from college sports gambling are surprising, because back in 1951, the National Collegiate Athletic Association gained its regulatory power from its college and university membership in the wake of point-betting scandals at college tournaments at Madison Square Garden. The aim was for the NCAA and its member institutions to root out and punish college student athletes who engaged in cheating. The corollary was that university officials also were held responsible for having allowed such student misconduct, leading in some cases to the NCAA and its conferences levying strong penalties.
One legacy of the strict NCAA regulations implemented 70 years ago is the reminder that just because online sports betting can be legal within a state today, it does not mean it should have a place in colleges and universities. A review of NCAA regulations suggests that for sports betting to be elevated to the status of being endorsed and promoted by the athletics department or any university office is especially suspect.
Current NCAA regulations make plain that any university involvement with gambling should be prohibited and punished. In particular, the NCAA's 2022–23 "Ethical Conduct" guidelines in Article 10 of its bylaws prohibit athletics department staff members—or any college official (e.g., a president) who has responsibility "within or over" an athletics department—and student athletes from knowingly participating "in sports wagering activities concerning intercollegiate, amateur or professional athletics competition."
Michigan State University, Louisiana State University and the University of Colorado, among others, appear to be in violation of this prohibition. Their contracts have raised a number of ethical and policy flags.
A college or university has a right and responsibility to determine its own campus policies on all kinds of activities. Even if sports gambling now is legal within the state where a university is located, the university still has the prerogative of deciding its campus policies and prohibitions. This has been the case, for example, where a president and trustees have either restricted or prohibited alcohol at campus events or restricted parking on campus. The university is a city-state and an educational institution. The Supreme Court's effective legalization of sports gambling does not signal the end of the moral discussion.
So why, morally speaking, should universities hesitate or choose not to contract with sports gambling companies?
First, just because sports gambling is legal does not mean it should be endorsed by a university's athletics program. Consider that smoking is legal, but university athletics departments do not contract with cigarette companies to serve as their official tobacco provider. In addition to being an affirmation of unhealthy behavior, a university endorsement would be a kind of encouragement, an embracing of the activity and a signal that the activity in question is safe and desirable. Lawsuits can be imagined for endorsing cigarette use. Universities should anticipate the same for class action suits over the encouragement to gamble. The New York Times reported that criticisms have already been raised concerning misleading and dangerous advertising about sports gambling that downplays the risks of engaging in it.
A second reason to hesitate about contracting with casinos and gambling corporations involves the danger to populations at financial risk. College students are adults, to be sure, but they are also people engaging for the first time, for most students, in the largest economic investment of their lives. Many borrow and have access to greater funds than they ever had before. The risk of not only enabling but endorsing and encouraging gambling for such a group is to target a vulnerable population already in debt and threatened with profound loss and addiction, as others have argued.
The third reason we are worried is that agreements and practices have sprung up suddenly and without much public deliberation. Such quick action calls into question how carefully these decisions could have been made with regard to moral decision-making, without which educational missions are debased.
One relevant danger of hasty decision-making concerns accreditation. Regional accrediting bodies, such as the Southern Association of Colleges and Schools, require institutional leadership to exercise appropriate control over athletics; the Middle States Commission on Higher Education stipulates that athletics, student life and other extracurricular activities are to be "regulated by the same academic, fiscal and administrative principles and procedures that govern all other programs." However, these contracts and their rapid emergence raise serious questions about genuine shared governance and transparency in institutional decision making. For example, the Nov. 23 Times article referred to the University of Colorado's $1.6 million contract with PointsBet as "blindsiding the regents." According to board member Jack Kroll, Colorado's Board of Regents didn't learn of the deal "until maybe a couple of hours before the initial announcement was made." He elaborated: "I think a lot of the regents at the time, myself included, had some concerns about the agreement and what it meant for college sports and the university to partner with a gambling operation."
A secondary danger concerns reputation. Alumni pride in their alma mater hinges on the colleges' behavior. It would be embarrassing if one's university had an official cigarette, as much as if it had an official casino running its gambling activities. University presidents need to own up to the crass, speedy decisions that they have made and set aside greed for the promotion of their students' and alumni community's well-being.
In 2013, John Lombardi, who had served as president of the University of Florida and Louisiana State, chancellor of the University of Massachusetts at Amherst, and provost of Johns Hopkins University, wrote an insightful short book, How Universities Work (Johns Hopkins University Press). Today, however, the complexities of the new campus casino contracts signal that what we need is a public forum on how universities should work. Just as companies such as Boeing have been subjected to questions about corporate ethics, we need now to have informed, systematic consideration of appropriate programs and policies involving big-time college sports at American universities.