You have /5 articles left.
Sign up for a free account or log in.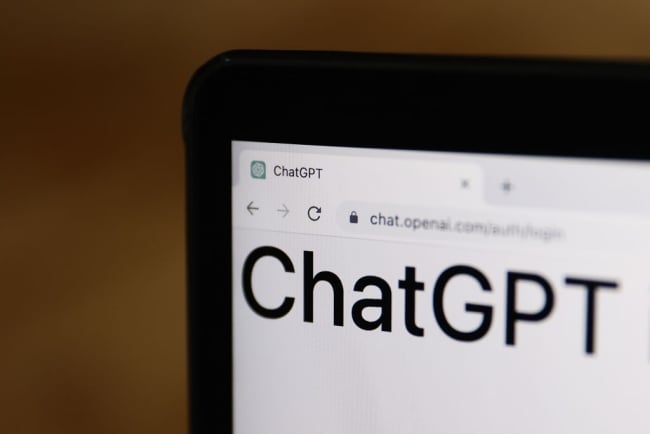 NurPhoto/Contributor/Getty Images
How could a chat bot that is causing panic in academia leave me with a palpable sense of focus and calm as a professor?
I have attention deficit hyperactivity disorder (ADHD), and ChatGPT has become my go-to assistive technology for writing and for teaching.
Assistive technologies (AT) specifically for folks with ADHD are not new. A suite of technologies address and help mitigate barriers associated with ADHD, including time management, notetaking and voice-recognition software. Other ATs, such as Freedom, support impulse control by blocking websites; I use this to block social media while working. These technologies can help with organization and focus—which can be particularly difficult for those with ADHD.
ChatGPT can also be a powerful AT for people with ADHD.
Specifically, it yields (mostly) reliable responses and presents users with a simple user interface. Users simply type in a prompt and watch the chat bot "type" a response in real-time. The minimalist design and plain white background are real benefits: I'm not overwhelmed by ads, suggested videos or bright colors.
However, my favorite part about using the chat bot is that it minimizes the need to toggle between tabs. I get distracted jumping from tab to tab and often forget what I was looking for or what I was doing. Instead of looking endlessly on Goodreads or Amazon (I know, I know) for what to read after Bad Feminist, I asked ChatGPT and I had a list of contenders in moments. Instead of digging into Google Drive for ethics discussion questions from a class I taught in 2020, I had ChatGPT devise a few discussion questions to start with. Instead of sifting through Stack Overflow, YouTube or Quora to figure out how to unclog my Ultimaker 3D printer, I asked ChatGPT.
The chat bot helps me stay focused because it offers real-time answers and the ability to ask follow-up questions for better results. My thinking and writing processes are not linear: ChatGPT affords me a controlled chaos.
OpenAI released the chat bot in November 2022. It has since then grown in popularity and in scrutiny. ChatGPT has become a synecdoche for cheating, the same way calculators, Wikipedia and word processors once were. It's a familiar outrage: reductive in nature, at times coming from folks who have yet to use the chat bot and rooted in professional and personal anxieties about being replaced. The issue is that ChatGPT and cheating have been talked about so much and in such meaningless ways that the potential of this chat bot has been eclipsed.
This unwarranted panic around ChatGPT ultimately undermines the power of this tool to support professors and students with ADHD. Over recent weeks, I've found myself pulling up the chat bot when lesson planning and writing. For example, I used ChatGPT to help me write a letter of recommendation and to assist me with crafting my lesson plan on banned books in libraries.
Here's the thing: I know how to do these things. But when confronted with writing a piece of text like an abstract (which I've done many, many times), I'm contending with an overstimulated mind, depleted executive function, inattention and decision fatigue. Typing in "How to write an abstract" into ChatGPT yields an outline that provides my mind with an anchor to focus on and return to.
ChatGPT helps me get started. It helps me move past mental blocks. It helps me return when I get distracted. Simply, it keeps me focused and moving forward.
For me, I liken the experience of having ChatGPT on my extended monitor while I work as a form of body doubling—a coping and productivity strategy used by those of us with ADHD in which we complete tasks in proximity to another person. I see someone working; I too am going to model that behavior. Body doubling is common and easily achievable when working in coffee shops, libraries, coworking spaces or even alongside YouTubers who create "Study With Me" videos as a means for virtual body doubling. Virtual body doubling is continuing to grow in popularity on TikTok, via FaceTime sessions and even through paid services where folks can hire someone to virtually work alongside them.
While it goes without saying the chat bot isn't a person, this AI chat bot extends similar benefits to me: a supportive presence and an anchor for an overstimulated mind. I encourage everyone to try ChatGPT. I encourage everyone to embrace ease and help when possible.
To be sure, there are limitations to ChatGPT. The known ChatGPT setbacks are listed clearly on the chat bot's website: it may generate incorrect information, it may occasionally produce harmful instructions or biased content, and it has a limited knowledge of the world and events after 2021. However, can I add? With the exception of the last limitation, people have these limitations, too.
I'll admit to feeling a sense of guilt using this chat bot to do some of the work with these recurring writing tasks—it felt like I was gaining an unfair advantage. However, as an academic with ADHD, I am constantly living on "hard mode," and this technology helps level the playing field in ways I couldn't anticipate.
And yes, I queried ChatGPT several times to help write this piece; this piece is better for it. I would argue that I'm better for it, too.