You have /5 articles left.
Sign up for a free account or log in.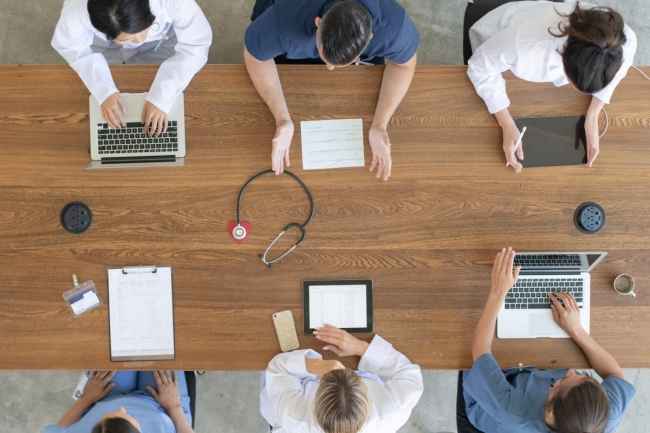 "When you have lemons, make lemonade." The COVID pandemic gave educators and students many lemons. As students (Nasir and Chen) in and co-director (Iyeke) of Hofstra University/Long Island Jewish Medical Center Emergency Department's semester-long undergraduate Introduction to Clinical Research course, we made a significant course correction to turn the realities of teaching and learning during the height of the pandemic into something positive that assists underrepresented minority (URM) students in matriculating into medical school.
Our course's students are 73 percent female and 22 percent URM (the vast majority of whom are also female). Prior to COVID, students attended weekly didactic sessions plus emergency department shifts shadowing physicians, screening patients for research projects and entering data.
During the pandemic, students weren't allowed in the hospital. We adapted the curriculum to allow students to showcase their commitment to medicine and partake in research. In doing so, we reimagined the class as a platform to assist URM premed students by providing poster and publication opportunities.
Competition for medical school admission is intense (with an approximate 40 percent acceptance rate). Students with research experience have an advantage. Those from URM and nontraditional groups (those who spent more time than a gap year between undergraduate and medical school) comprise a small percentage of practicing physicians and medical students. Such students have been relatively excluded from careers as physicians for numerous reasons, such as overt and structural racism and medical schools historically admitting direct college graduates.
Society has much to gain from greater numbers of URM physicians, as they are more likely to practice in underserved communities (generally reflecting their ethnic background).
What We Did and How Students Responded
As a class, we co-created a longitudinal research project in which students could participate remotely or in person.
Students in the first (remote-only) cohort chose a research question ("Differences in quality of sepsis care among patients with vs. without acute mental health crises") on the basis of their interest in mental health and the hospital's interest in quality of sepsis care.
Subsequent cohorts drafted/submitted the IRB application (second cohort), drafted data query requests (third cohort) and entered data (fourth cohort).
The current cohort is validating and abstracting data to fill in missing entries. This passing of the baton will continue until the project is published.
All students will be authors on posters and publications. A student will present a poster (authored by three students) based on this project at a national emergency medicine conference next month.
Student interest in this course is accelerating. Before COVID, the course had nine students; recently, over 20 applied to fill 15 spots.
And student feedback is positive: "A premed international student faces many barriers due to immigrant status and rarely finds meaningful experience in a clinical setting. This course provides equitable opportunities to all students," one said. Another responded, "This class was a great experience in the wake of COVID-19, when many students worried about the toll the pandemic would take on our applications and research experience."
Seven Reasons a 'Pass the Baton' Approach Works
Many hands make light work: Research projects are long and arduous. Distributing the work among students across semesters allows them to be involved in teamwork while reducing workload.
Promise of poster/publication: A poster or publication is very valuable to their medical school application. Our course enables many students to gain such recognition and advantage.
Engagement in real-world work: Research shows over half of undergraduates struggle to stay engaged in their college courses and retain material. One-fourth say lessons with real-world applications (experiential learning) relating coursework more closely to their future careers can help maintain their interest.
Unique approach: A longitudinal course research approach is seldom practiced. Students enjoy being part of something novel and larger than themselves.
Collaboration: Premed students have a reputation of being individualistic and competitive with one another, as the premed process encourages normally collaborative students to view one another as competition. Our collaborative project puts success in the hands of all participants, as occurs in real-life projects, allowing students to exhibit their inherently social and collaborative natures.
Individual attention: While in the emergency department, students perform research in the presence of course co-director Dr. Mark Richman, who answers questions in real time.
Democratization (students chose this project): Students are rarely given freedom to choose projects intended for poster/publication. Participation in such projects usually follows professors' interests. Student-initiated projects are generally performed for class grades only. Such freedom in this course demonstrates to them that the course co-directors take their ideas and interests seriously.
The Chinese word for "crisis" is a combination of the words for "danger" and "change point." With students' input, we adapted to the danger posed by COVID to students' education, research and medical school candidacy by seeing the "change point."
Through this course correction, we not only made lemonade from lemons, but planted a lemon tree that will produce future projects, posters and publications to help keep students (particularly URM students) engaged and increase their opportunity for medical school admission.