You have /5 articles left.
Sign up for a free account or log in.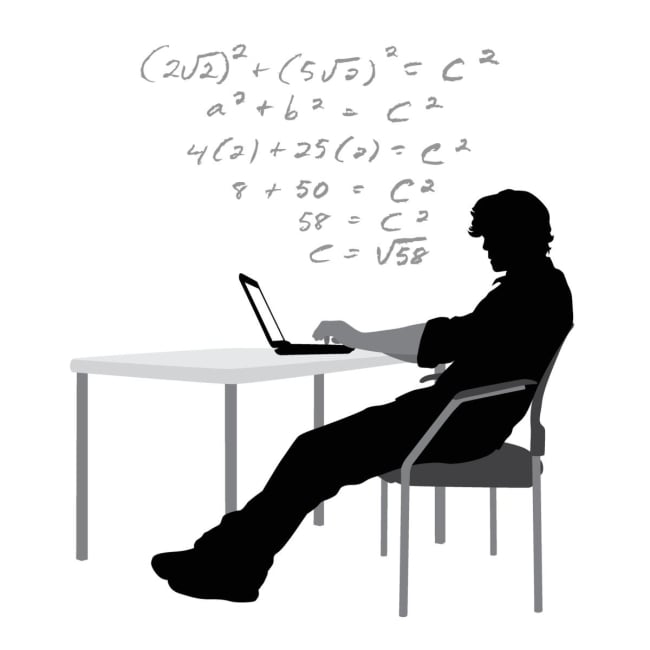 Many students worry about succeeding in gateway college-level mathematics courses needed to enter most community college degree and certificate programs. Their concern is not surprising given that gateway courses in math have traditionally had some of the highest failure and withdrawal rates at colleges, particularly for first-generation students and students receiving Pell Grants.
Gateway courses in general—including college algebra or English in the general education curriculum—are courses that allow students to advance in their majors (such as Introduction to Business in business administration or first-year chemistry or biology in allied health fields). But even these courses can be gatekeepers—rather than gateways—and lead many students to stop out.
For example, students who have nearly earned enough credits for a degree cite never getting past gateway courses in mathematics and science as a crucial factor in leaving school. At the same time, succeeding in these courses correlates with student momentum and success. A 2017 Community College Research Center research brief cites a Tennessee Board of Regents study finding that 48 percent of Tennessee community college students who passed gateway math and English courses in their first year graduated within six years, compared with 18 percent of those who did not pass these courses in their first year.
Other research indicates that full-time first-year students who completed the gateway course in their major were more likely to persist than students who failed the gateway course or those who declared a major and completed a course, but not the gateway course in their major.
The Potential of Adaptive Courseware
Research and case studies conducted by our organizations as part of the Every Learner Everywhere Adaptive Courseware for Early Success initiative show the promise that adaptive courseware—which allows students to learn at their own pace and master key concepts, and which may support better outcomes—can have on helping more students succeed in gateway courses and leading to more equitable outcomes for economically marginalized and racially minoritized students.
Colleges in the initiative—including seven community colleges and five four-year colleges in three states (Florida, Ohio and Texas)—reported on the learning technology's potential on their campuses. Community college leaders, faculty and staff involved in the pilot cited significant evidence of success, including greater numbers of students completing targeted gateway courses and higher grades within specific courses.
Looking across six participating community colleges, Digital Promise found that, for the fall 2020 semester, in 12 of 13 subjects taught by faculty who had used adaptive courseware for at least three semesters:
Students who took the gateway classes using adaptive technology either did better or not significantly different than their counterparts in classes that did not use adaptive technology during the same semester.
The results held for all subgroups, including racially minoritized students, Pell-eligible students and part-time students.
These findings are particularly encouraging because they occurred in the midst of the historic disruption of the COVID-19 pandemic, when the majority of courses were online and colleges saw significant increases in D and F grades and course withdrawals.
Interviews with faculty conducted by Digital Promise found that the use of courseware made online instruction relatively easy to implement and allowed students to interact with faculty and subject matter and hold their own at a time when many students nationwide were struggling.
Designing for Equity
The project reveals the importance of intentionally designing for equity. Institutions ensured connectivity and access to digital learning tools and kept lower-performing students from spending disproportionate amounts of time on adaptive assignments without targeted scaffolded supports.
Colleges that had significant success created collaborative, cross-functional teams to support students, including supports from instructional designers and technologists, tutors and other student services that provide a coordinated network of support for teaching and learning-based student success initiatives.
As with introducing any new technology, what especially matters to improve student success is how it is integrated and implemented to meet the needs of diverse students.
Eleven case studies and a final "Lessons Learned" report provide useful strategies that can serve as a resource for other colleges looking to implement adaptive courseware. The case studies examined implementation at each of the seven colleges and also in four disciplines (mathematics, sciences, social sciences and business, and English) across these institutions.
Integrating Tech Into Broader Redesign Efforts
To ensure that a significant percentage of students could fully benefit from the technology, institutions focused efforts on gateway courses and courses with the largest enrollments, particularly where colleges were restructuring or eliminating developmental education. In addition, faculty intentionally integrated the courseware into their classes instead of using the tools as a supplemental resource.
College officials noted that adaptive courseware integration was most effective when implementation was part of broader redesign efforts, including efforts to:
Improve success in gateway courses
Flip classroom instruction
Introduce new corequisite models
Institutions also intentionally found connections between the Every Learner implementation and ongoing work with other digital learning initiatives focused on reducing costs and supporting student success, including open educational resources (OER) or Z-degree programs (no textbooks required).
Cuyahoga Community College's psychology department, for example, redesigned its General Psychology course using OER-based adaptive courseware. Educators broke assignments into smaller pieces; interspersed them with videos, quizzes and self-checks; and used adaptive courseware to identify where students excelled or struggled. As a result of these efforts, student success rates increased by nearly 10 percent.
Selecting Adaptive Products
Participating instructors advise their peers to be agnostic about which courseware to choose until they know what they will use it for. Instructors noted the importance of selecting only those adaptive products that are most aligned with course learning objectives and student needs and that can be fully integrated with a college's learning management systems. Following are some of the decisions made:
At Houston Community College, faculty members ultimately rejected one product because it locked them into a sequence of instruction that they weren't comfortable with.
At Amarillo College, some faculty members found that adaptive content didn't align with existing syllabi and objectives, particularly in courses with OER materials or textbooks developed by different publishers.
Broward College was able to use adaptive tools in combination with OER in some classes to meet its goal of keeping textbook and material costs below $40 per semester. Broward also leveraged publisher partnerships to ensure free subscriptions to students with severe financial needs.
Cost-effectiveness for students was prioritized over all, with institutions using adaptive courseware as replacements for more costly textbooks or as part of OER, Z-course and first-day textbook initiatives that make course materials available to all students.
Faculty-Led Implementation
The initiative indicates that campuses can use digital learning implementation as a vanguard for efforts to build a culture of excellence in teaching. By letting faculty take the lead and embedding supports for faculty to implement adaptive learning technology within existing learning communities, faculty and staff were able to examine their practice, test new evidence-based approaches and support each other as learners.
Faculty were invited to be early adopters and serve as implementation leaders in their disciplines. They were encouraged to introduce products in their courses and collaborate on the selection and implementation of evidence-based teaching and learning practices that aligned with the adaptive courseware. Institutions leveraged their Centers for Teaching and Learning and other existing professional learning structures to support course redesign and provide participating faculty with technological and curriculum expertise.
Amarillo College, for example, worked with its Teaching and Learning Center to build supports for integrating adaptive technology with existing faculty cohorts involved in a range of redesign efforts and provided support from instructional designers to build capacity.
Other actions noted at participating colleges included:
Creating common master course shells that could be used by full-time and adjunct faculty instructors
Providing the same training and support to all instructors, no matter their status
Offering release time and other supports to reflect the extra time involved in the initial implementation
Monitoring student progress
Giving feedback
Onboarding and Monitoring Students
Faculty members at many colleges noted that the first step—introducing the software to students—set the tone about how well students would use it. Houston Community College developed an onboarding module integrated into courseware shells that was geared toward getting students and faculty to think about how courses, assignments, expectations and teaching are different with adaptive learning tools.
To support students outside of the courseware, faculty at some participating institutions used the product not only during class time but also offered additional supports such as aligned tutoring or lab courses.
Ultimately, adaptive courseware can be an important tool to help faculty and academic staff gain better insights into who their students are and where they are struggling and pinpoint support to individual students as well as shape in-class instruction. As one faculty member involved in this initiative noted, the courseware immediately led to more meaningful conversations about what students need—and that may be the most important takeaway.
---
This piece is based in part on a case study published by Achieving the Dream.