You have /5 articles left.
Sign up for a free account or log in.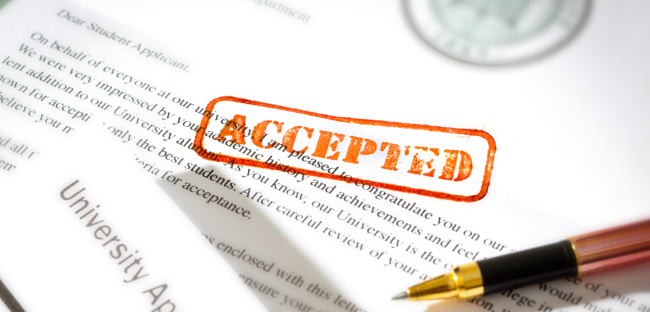 The University of Pennsylvania received 6,731 early-decision applications this year. That's up 9.5 percent from a year ago. The applicants came from 99 countries. Eleven percent identified as first-generation students, and 16 percent were children of Penn alumni.
Penn is not the only college that saw large increases this year in early applications, either for binding early-decision programs or nonbinding early action.
Yale University received 5,733 early-action applications, a 13 percent increase from last year and more than 20 percent more than where the university had seemed steady a few years ago. (A caveat is that Yale increased its class size by about 300 during that period as well.)
Lehigh University, which fills about half of its class through binding early decision, saw about a 10 percent increase in early applicants this year.
The trend is not limited to highly competitive institutions. At the University of Dayton, early-action applications are up 9 percent this year.
Institutions that haven't had early options in the past are adding them -- and finding demand.
The University of Richmond has an early option -- early action -- for the first time this year. More than 5,700 applications came in.
Gil J. Villanueva, associate vice president and dean of admission, said Richmond added the option after realizing that about half of its top competitor institutions have one.
Would-be students hear that their odds are better applying early, and there's nothing wrong with that, Villanueva said. "If their chance of gaining admission is higher and they can know well before the spring, then it's a no-brainer for them, especially with nonbinding EA programs," he said. "When my son was offered admission through EA last year, it was a big relief valve."
Much of the public discussion of early admissions options focused on private institutions, but publics are seeing big gains as well.
At the University of Georgia, nearly 15,000 students applied early action this year, and 8,000 are being offered admission. While many colleges have identical requirements for early and regular applicants, Georgia does not.
Early applicants are evaluated only based on high school grades, the rigor of their high school education and results of either SAT or ACT scores. Regular applicants are evaluated through holistic admissions, which includes the early factors and also an analysis of such factors as extracurricular activities, leadership and recommendations.
Some public institutions with much smaller early programs are also seeing double-digit increases. The State University of New York at Geneseo saw a 17 percent gain this year, to 289 applicants. Officials there attribute the gains not to New York State's new free tuition program for public higher education, which might seem the obvious explanation, but to the campus's decision to host the annual meeting of New York State's branch of the National Association for College Admission Counseling, and thus getting Geneseo in front of many more college counselors.
All of these gains -- coming at different kinds of institutions -- are notable in that early programs tend to attract traditional-age college students (populations of which are shrinking in some parts of the country). And the gains are coming on top of several previous years of gains, raising the question of whether colleges are anywhere close to reaching a limit on interest in early applications.
NACAC's State of College Admissions Report for 2017 said that in admissions for fall 2016, colleges reported a 5 percent increase in early-decision applicants, and a 6 percent increase in early-decision admits. Applications through early action were up 15 percent and admits were up 16 percent.
Years of Criticism
For many years, some educators have criticized early programs as favoring those already privileged in the admissions process. The criticism notes that those who apply early tend to be those who have access to counselors who could spend time with them, parents who could help them visit campuses and so forth.
In addition, many low-income students hesitate to apply early as they feel a need to evaluate multiple financial aid offers. Some critics say that early programs make sense for some students, but that the pressure to apply early has led more and more students to do so -- squeezing out those who can't or opt not to apply early.
In 2006, Harvard and Princeton Universities dropped their early-action programs. Some thought many other colleges would follow their lead, and the practice might end. But only a few did so, and Harvard and Princeton restored early action in 2011.
That doesn't mean the criticism has subsided.
Harold O. Levy, executive director of the Jack Kent Cooke Foundation, speaks regularly about practices at elite colleges that discourage low-income applicants -- and he includes early admissions among those practices. In an essay for Inside Higher Ed in January, he noted that research by his foundation found that only 16 percent of high-achieving students from families with incomes below $50,000 applied for college admission via early decision compared to 29 percent of high-achieving students from families with incomes above $250,000. "Is it any wonder that so many more upper-income students gain admission?" he asked. (Robert Massa of Drew University responded to Levy with an essay that said colleges can and do reach out to low-income students through early programs, and that early admissions should not be seen as exclusionary.)
Bruce Bunnick, interim vice provost of admissions and financial aid at Lehigh, said he understood the concerns of many about the impact of early programs on socioeconomic diversity. He said that they "appear to favor more wealthy prospective students."
But he said Lehigh has programs to level the playing field. The university sponsors trips to campus for low-income students and offers virtual tours for those unable to visit, he noted. In addition, he said that the university applies the same financial aid standards to early and regular applicants, so there is no financial advantage to applying one way or another.
Mark Dunn, associate director of admissions at Yale, said he "understood the concerns" about early admissions. "We are very aware of the fact that the early-action applicant pool looks different in all kinds of ways from the regular pool."
Dunn said that this is why Yale is "conservative" in making early-action admits, deferring any about whom the university isn't absolutely certain. This assures that more applicants are being considered in the regular pool, he said.
'The Age of ED or Bust'
With early applications going up, even some critics believe that the trend will continue in that direction -- regardless of whether that's good for most students.
The blogger Holistic College Mentor recently titled a post called "The Age of ED or Bust Is Upon Us." Writing from the perspective of someone who advises low-income students, the blogger says, "Most of my students are scared of early decision because of the commitment. We wouldn't blindly marry someone. Why should a student blindly marry a college? Research, visits and talking to the representative aren't enough to go on if a student is lucky enough to be able to do those things."
Addressing college admissions officers, the post seeks at least moderation in early programs. "Early decision doesn't build a diverse class. Yes, you're likely to get the best students from early decision, but you could be missing out on students who will make your program and school better. I understand the worry of filling your class, but it shouldn't be at the expense of the students."