The Myth of Black Students 'Stealing' Spots
Rejected white applicants to medical school aren't losing out because of affirmative action, new analysis contends.
(Getty Images)
Critics of affirmative action regularly suggest that minority applicants are winning competitive admissions slots that should be going to white (or, in some cases, Asian and Asian-American) applicants. This scrutiny is particularly common with regard to medical school admissions, which are hypercompetitive and which tend to be based significantly on standardized tests on which black and Latino applicants, on average, score below white and Asian applicants.
Discussion boards feature deliberation on this topic. A book published in 2016 told the story of a man who pretended to be black and was admitted to medical school with very low grades. It is also the case that medical schools, despite numerous efforts to diversify, have made only modest gains in enrollment of black and Latino students (although they have seen large gains for Asian students).
A new analysis finds that indeed black applicants have much better odds of admission to medical school than do white applicants with comparable grades and test scores. But the analysis -- published on the science and medicine website STAT -- finds that very few white applicants are actually losing slots to black applicants. (The analysis focuses on black and white students, suggesting the patterns would be the same for other racial and ethnic groups.) The analysis is by Spencer Dunleavy, a Rhodes Scholar who will enroll at Columbia University's medical school next year.
Dunleavy starts by examining the odds of black and white medical school applicants with the same grades and Medical College Admissions Test scores being admitted to medical school. The analysis covers applicants from 2013 through 2016 and uses the MCAT scoring system in place then (high score was 45), which has since changed.
The results confirm conventional wisdom that comparable black applicants are more likely to be admitted than white applicants.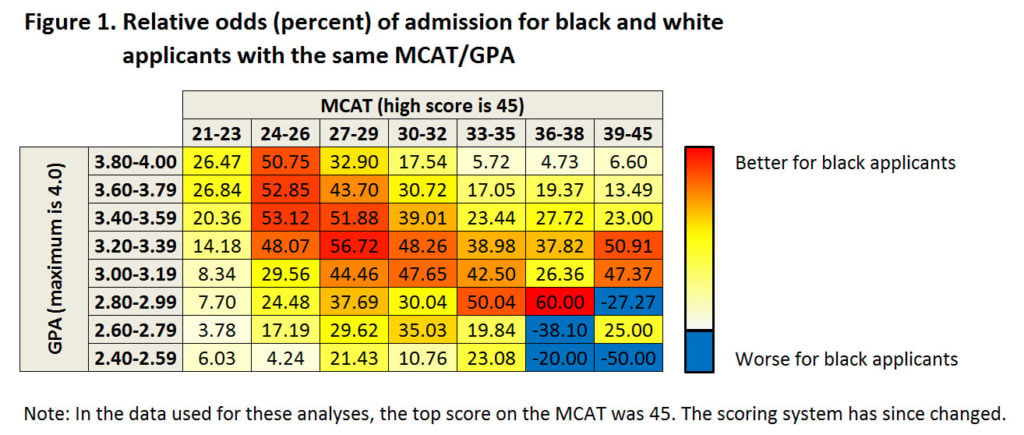 After reviewing the above data, Dunleavy writes that he "can almost hear the anti-affirmative-action readers saying, 'I told you so.'"
But he says his goal is not to show that there is no impact from affirmative action. Rather, in the context of medical school admissions, he wants to show that white applicants who face long odds of admissions face those odds because of circumstances having nothing to do -- in most cases -- with the admission of black applicants.
His argument goes like this: black applicants are receiving very few medical school spots -- only seven out of 100. If the odds of getting in were the same for black and white applicants with the same MCAT scores and grades, about half of black applicants wouldn't get in. But the other half would. Further, using AAMC data, he shows that those white applicants with the most improved chances (without affirmative action) would be those who already stand a good chance of getting in -- those with high MCAT scores.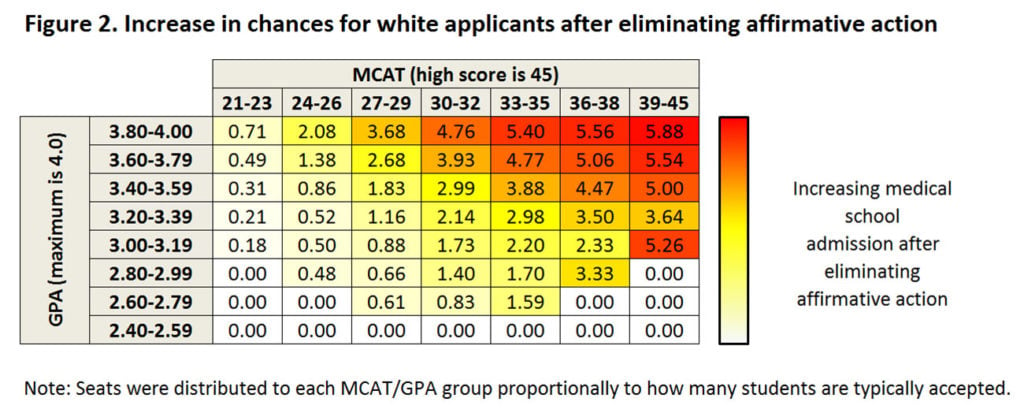 The number of black students earning admission is so small, the analysis says, that eliminating affirmative action would have only the most marginal impact on the odds of white applicants getting in. Based on their qualifications during the years studied, if medical schools stopped considering race in admissions, and every slot lost by a black student went to a white student (which is unlikely), the acceptance rate of white applicants would go up from 45.15 percent to 47.97 percent.
Dunleavy says he realizes that those who believe race should never be considered are unlikely to be swayed. But he said that part of the opposition to affirmative action comes from the idea that "minority applicants are 'stealing seats,'" so he thinks this analysis is relevant to the debate.
You may also be interested in...
Today's News from Inside Higher Ed
Inside Higher Ed's Quick Takes