You have /5 articles left.
Sign up for a free account or log in.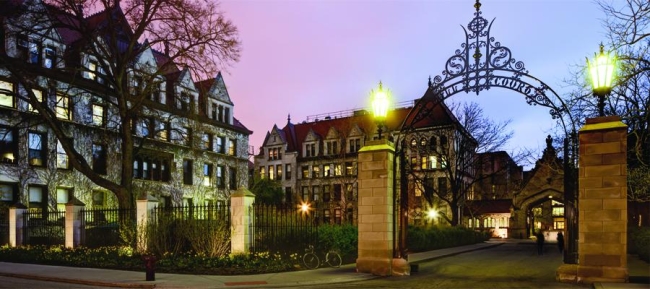 The University of Chicago on Thursday morning announced that it was dropping the requirement that all undergraduate applicants submit SAT or ACT scores.
Hundreds of colleges -- including elite liberal arts colleges -- have stopped requiring the SAT or ACT. But Chicago's move is the first by one of the very top research universities in the country. And the move is striking coming from an institution, known for its academic rigor, that has had no difficulty attracting top applicants.
For the class that enrolled in September 2017, the university received 27,694 applicants and admitted 2,419. The middle 50 percent of the range of SAT scores of admitted applicants was 1460 to 1550.
Several experts predicted that other top universities might now reconsider testing requirements.
The test-optional policy applies to all students from the United States. The university also announced an expansion of financial aid (for which the university was already on the generous side) and other new policies designed to attract more low-income and first-generation students.
Going forward the university will provide:
Full tuition scholarships for students whose families earn less than $125,000.
Scholarships of $20,000 over four years, and a guaranteed paid summer internship, for all first-generation students.
Special new scholarships for veterans and the children of police officers, firefighters and veterans.
In addition, the university announced a new program in which it will invite students to submit a two-minute video introduction of themselves. And the university will allow self-submission of transcripts to minimize the need for students to pay fees.
"Today, many underresourced and underrepresented students, families and school advisers perceive top-ranked colleges as inaccessible if students do not have the means to help them stand out in the application process," said James G. Nondorf, vice president and dean of admissions at Chicago. He added that UChicago Empower, as the initiatives are collectively being called, "levels the playing field, allowing first-generation and low-income students to use technology and other resources to present themselves as well as any other college applicant. We want students to understand the application does not define you -- you define the application."
Chicago's announcement comes at a time of renewed debate over the role of standardized testing in admissions.
In January, a new book from Johns Hopkins University Press (edited by three people with current or former ties to the College Board) argued that test-optional admissions policies have not increased the diversity of higher education or had other positive impacts. Then in April, a large-scale study -- based on data from 28 colleges and universities and 955,774 applicants over multiyear periods for each of those institutions -- found that the adoption of test-optional policies does increase the enrollment of black and Latino students and does not have a negative impact on completion rates.
For colleges that use the SAT or ACT, a major challenge has been study after study showing that wealthier students generally fare better than do less wealthy students. And white and Asian students, on average, perform much better than do black and Latino students.
Consider the following table from the most recent release of data by the College Board. The benchmarks are scores that the College Board says indicate that students have a 75 percent chance of earning a C or higher in various college courses.
2017 Mean SAT Scores, and Percentage Meeting Benchmarks, by Race and Ethnicity
| | | | |
| --- | --- | --- | --- |
| Group | Reading and Writing | Mathematics | Met Both Benchmarks |
| American Indian/Alaska Native | 486 | 477 | 27% |
| Asian | 569 | 612 | 70% |
| Black | 479 | 462 | 20% |
| Latino | 500 | 487 | 31% |
| Native Hawaiian/Pacific Islander | 498 | 488 | 32% |
| White | 565 | 553 | 59% |
Admissions officials of course note that they consider a range of factors, and not just test scores, in making decisions on applicants. But test scores are receiving increasing scrutiny from advocates for black and Latino students, who say those students are excluded by the use of test scores. In addition, some advocates for Asian-American applicants use these data to say that elite colleges should be admitting many more Asian-American applicants than they are now. This issue is about to receive attention in a lawsuit against Harvard University, joined by the U.S. Justice Department, alleging discrimination against Asian-American applicants.
While top universities have been sticking with the SAT and ACT, few have adopted the tests' separate writing assessments. And those that have used that portion of the SAT and ACT have been dropping the requirement. This month Yale University announced that it was dropping the writing requirement, three months after Harvard did the same. The University of San Diego also announced recently it was dropping the requirement.
The Princeton Review, which tracks how many colleges require the writing test, now identifies only 25 institutions that do so. Those that have already dropped the requirement include Columbia and Cornell Universities, the Massachusetts Institute of Technology, and the University of Pennsylvania.
Will Others Follow?
Robert Schaeffer of FairTest: the National Center for Fair and Open Testing, predicted others would follow Chicago's decision. He said Chicago's decision was "potentially a huge 'ice-breaker' for ultraselective institutions. Several other schools in this category are re-examining their admissions exam requirements but have been hesitant to go first."
Schaeffer is a longtime critic of the SAT. But his prediction was shared by some who have not been critics as he has.
Molly O'Connor, a senior consultant with EAB's Enrollment Management Forum, said that test-optional admissions have the most success when they are part of broad admissions strategies and not a standalone policy.
"Everyone watches the selectives on major strategic decisions such as these," she said via email. "While the impact may not be immediate, it's another boost to the momentum test-optional policies have been gaining lately, and a powerful one. More specifically, there are several reasons schools decide to hold off going test optional, including concerns about perceived selectivity and academic rigor. This may begin changing some of those conversations as well."
Don Hossler, senior scholar at the Center for Enrollment Research, Policy, and Practice at the Rossier School of Education of the University of Southern California, also said he believed the Chicago decision would have a broader imapct.
"It will absolutely influence other small and large elite institutions as well as less selective publics and privates," he said. "It will have a ripple effect across all sectors. It may be a while before all elite institutions follow this lead but for most schools their thinking will be along the lines of: 'I want to be competitive for those students and do not want to be left off of the list of schools students are considering only because we are not test optional.'"