You have /5 articles left.
Sign up for a free account or log in.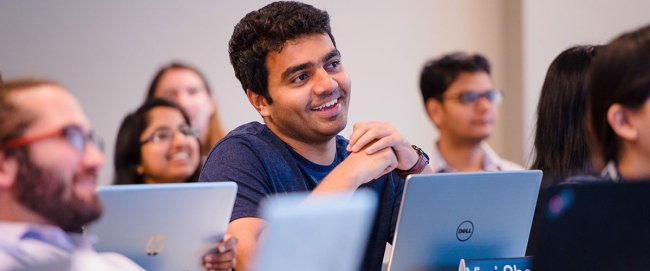 The executive summary of an annual study on M.B.A. applications opens on a seemingly positive note: "Overall application volumes to graduate business programs in 2018 are steady as regional shifts in demand continue to shape the market." But one has to read further into the report by the Graduate Management Admission Council to find what may be most relevant to business schools in the United States.
Applications in the United States are down 6.6 percent -- while they are growing in Asia, Canada and Europe.

For American business schools -- and the colleges and universities of which they are a part -- these declines represent a challenge. Many institutions have seen M.B.A. programs as a steady source of students, and of students able to pay their way or willing to borrow. While many types of M.B.A. programs in the United States are no longer seeing application growth, the slowdown is particularly evident at full-time, two-year M.B.A. programs, once the gold standard in business education.
As recently as five years ago, most of those programs were reporting application growth, but 70 percent are now reporting declines.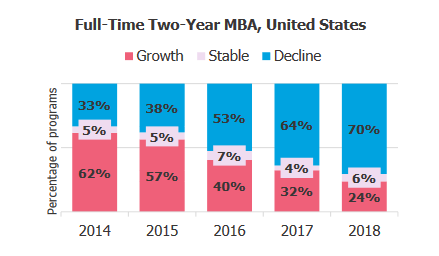 Some types of M.B.A. programs in the United States are doing better than full-time two-year programs. But most part-time and online programs (once seen as key to attracting more students) are now reporting declines, not gains in applications.

For full-time, two-year M.B.A. programs, much of the drop can be attributed to non-American applicants, who make up a little more than a third of applicants. GMAC found that 71 percent of American full-time, two-year M.B.A. programs reported a decline in international applicants, while only 46 percent reported a decline in American applicants. Just last week, the Council of Graduate Schools reported that international graduate enrollments were down for the second straight year last year, a trend widely attributed to both the policies and rhetoric of the Trump administration.
The new GMAC data are consistent with trends on the ground at individual programs. The University of Wisconsin at Madison last year considered ending its full-time M.B.A. program. While Madison abandoned the idea, the University of Iowa did not.
In addition in recent years to Wake Forest University, Virginia Tech and Simmons College have closed full-time M.B.A. program. The news from Madison prompted a Fortune article asking "What's killing U.S. business schools?" The answers seem to involve would-be students (at all but the very elite b-schools) questioning the economic payoff of attending a full-time program, or being able or willing to relocate to enroll in one.
The website Poets & Quants, which writes extensively about business schools, found significant application drops at many M.B.A. programs. Among the programs cited: Rice University (down 27.7 percent), the University of Texas at Austin (down 19.6 percent), the University of North Carolina at Chapel Hill (down 18.3 percent) and Georgetown University (down 16.2 percent).
Checking on Social Media
Kaplan Test Prep last week released new data on another trend in business school applications: the review by admissions officers of applicants' social media accounts.
The percentage of business school admissions officers who reported doing so increased from 22 to 40 percent between 2011 and 2018, Kaplan found.
But applicants may not necessarily have cause for concern, despite the constant reminders they receive about "cleaning up" their Facebook pages.
While 36 percent of the business school admissions officers reported that what they had found hurt the applicant, 46 percent reported that what they had found helped the applicant.
On the negative impact of social media, admissions officers noted not only the traditional fears (photos of excessive drinking), but also of questions raised by racist posts and/or indications that professional experiences reported to the business school may not have been accurate.