You have /5 articles left.
Sign up for a free account or log in.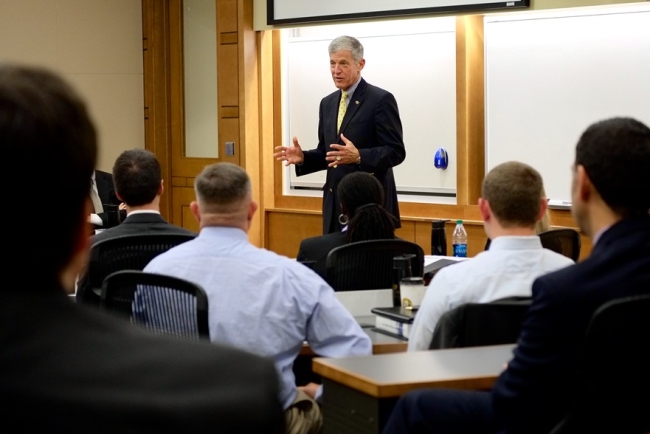 After five years of declining enrollment in its traditional M.B.A. program, Wake Forest University is shifting gears to focus on an area where it sees greater demand -- those M.B.A. seekers who want to earn a paycheck while studying.
Starting next year, Wake Forest will no longer accept applications for a traditional, daytime M.B.A. program at its Winston-Salem campus. Instead, the university will expand its offerings for working professionals  
The decision was made after studying the program this summer and considering the needs of the market of students Wake Forest is trying to serve, said Charles Iacovou, dean of the School of Business.
In the past five years, enrollment in the university's traditional M.B.A. program has dropped from 123 to 98. At the same time, enrollment in the M.B.A. for working professionals program -- which offers year-round evening and weekend classes -- has grown from 242 to 304.
"Our decision is a proactive step that will allow us to redirect resources and energy to meet the changing needs in the market," Iacovou said in a news release.
Iacovou, who started in his role as dean on July 1, said he sought feedback from a variety of people before making the decision, including faculty, deans from other graduate schools and alumni.
Employers were enthusiastic about the idea, because their employees won't have to disrupt their careers to expand their education, meaning the businesses can keep talented employees, Iavocou said.
The university will continue to offer the full-time, traditional program through May 2016, so that current students can graduate. In the meantime, the business school plans to ramp up its evening and weekend classes, and increase the ways students can access them by offering e-learning.
An online portion for courses opens access for professionals who travel, but Iacovou was clear that this shift wasn't one into the world of online MBAs. He said face-to-face interaction between students and faculty will still be a key ingredient of Wake Forest's program.
The number of online and hybrid MBA degrees has grown in the past several years, and so has wider acceptance of such programs. Some top business schools now offer online programs in addition to their traditional programs. Many business schools have also launched or grown their programs for part-timers.
But it's still uncommon for a college that has long offered a traditional full-time program to scrap it altogether.
Last fall, Virginia Tech announced it would no longer accept applications for the full-time M.B.A. program on its home campus in Blacksburg. Instead, the business school has focused resources on the more popular part-time programs offered at an extension campus in northern Virginia. Those include an evening and a professionals program.
The restructuring was fairly easy to explain, given the number of potential students in northern Virginia and other advantages such as proximity to employers, said Steve Skripak, a professor of management and director of the full-time M.B.A. program.
Skripak said in an email that he hadn't heard about Wake Forest's decision but that he wasn't surprised.
"I think our two programs may be just a little ahead of the curve in reaching this kind of a decision," he said.
Iavocou and the Wake Forest administration are hoping that a more flexible program will drive demand for their working professionals track higher than it's been.
"Even in the part-time space, the more flexible the program, the higher the demand," Iacovou said.
The announcement from Wake Forest cites a survey from the Graduate Management Admissions Council (GMAC) in which 95 percent of 2013 alumni from flexible MBA programs said their programs prepared them for leadership positions within their companies. That's the same level as for alumni of traditional programs.
Yet some industry measures don't support the view that flexible or professional programs are more desirable to prospective students.
The 2014 GMAC application trends report found that a majority of business schools (61 percent) reported an increase in applications over the past year for full-time M.B.A. programs.
The report's outlook for professional programs, which includes part-time, flexible, online and executive programs, was less rosy. For the most part, applications to those programs were flat in 2014, as they had been for several years, although the responses for lockstep programs, where students take courses on a schedule with a cohort, were more positive than for part-time programs that are self-paced.
Wake Forest's model falls in the first category. Both the university's daytime program and the evening program are completed in two years. The evening program runs courses during the summer, so that students can still complete all the courses in two years even though they're working full-time. Daytime programs tend to break over the summer so students can do internships, Iacovou said.  
"I think our situation is unique," Iacovou said. "We want to be forward-looking, and support the marketplace better than we have in the past."