You have /5 articles left.
Sign up for a free account or log in.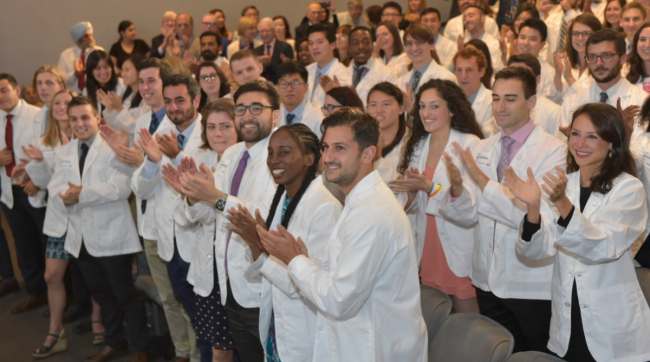 New York University's medical school in August stunned the world of medical education with the news that it had raised enough money to offer full-tuition scholarships to all students (more than 400 across classes) going forward.
While other medical schools have been moving to reduce tuition paid by students (and the debt many of them accrue), the NYU effort was the largest and most dramatic to date. With the tuition sticker price at NYU topping $55,000 (similar to the tuition of other top private medical schools), the question for many was whether NYU, already seen as a leading medical school with no shortage of applicants, would see significant gains in its applicant pool.
The answer is an unqualified yes.
Total applications to NYU's medical school increased by 47 percent, to 8,932.
But another key factor is who is applying.
After NYU's announcement, the medical school was criticized by many who said that the move would help those who are wealthy (or who with an M.D. would quickly get wealthy). An essay in Slate said, "While it's hard to fault a school for offering its students a free education, this dramatic gesture is, at best, a well-intentioned waste -- an expensive, unnecessary subsidy for elite medical grads who already stand to make a killing one day as anesthesiologists and orthopedic surgeons. It would be a pity if other top medical schools decided to imitate it, rather than use their resources in other, more helpful ways that might solve more of the problems NYU claims to be worried about."
There is no telling yet what those eventually admitted to NYU will do in medicine, but there is evidence that the shift this year is significantly increasing the diversity of the applicant pool.
NYU Med saw a 102 percent increase, to 2,020, in applications from those who are a member of a group that is underrepresented in medicine (including black, Latino and Native American students). The largest percentage increase was among those who identify as African American, black, or Afro-Caribbean. Applications from this group went up 142 percent, to 1,062.
Medical schools have pushed for years to attract a more diverse student body, and have in some respects succeeded. But the biggest gains in recent years have been among Asian Americans, and black enrollments have largely been stagnant, according to data from the Association of American Medical Colleges.
Medical School Matriculants, Percentages by Race
| | | |
| --- | --- | --- |
| Group | 1980 | 2016 |
| American Indian and Alaska Native | 0.4% | 0.3% |
| Asian | 4.0% | 21.3% |
| Black | 6.0% | 7.1% |
| Latino | 4.9% | 6.3% |
| White | 83.7% | 51.5% |
Experts on medical education have repeatedly cited the high debt that many medical students must take on. Historically, many medical schools have assumed that graduates could earn substantial sums after they start practicing. While this assumption has been criticized for years for discouraging medical graduates from working in important, nonlucrative fields (general medicine in low-income areas, for example), many experts now say debt levels are too high for just about everyone.
According to the AAMC, among those who graduated from medical school in 2017, the average debt was $181,179 for those who attended public medical schools and $190,694 for those who attended private institutions.
The New Yorker reported last year on the increasing number of African Americans who are opting to study medicine in Cuba, where they do not pay tuition.
The application numbers at NYU raise the question of whether other medical schools will follow suit.
An October survey of medical school admissions leaders by Kaplan Test Prep found widespread praise for NYU's move, but relatively few institutions saying that they would follow it. More than two-thirds (68 percent) say they have no plans to adopt a similar tuition-free policy over the next five to 10 years; 4 percent say they do plan to adopt a similar program. The rest aren't sure. The Kaplan survey did find that a majority of medical schools said that they were worried about student debt levels and were increasing financial aid. But many called the NYU plan "unrealistic" for institutions without the donor base of NYU or a few other institutions.
Of course what remains to be seen is whether NYU has a higher yield of its top applicants.
C. Michael Gibson, a professor of medicine at Harvard University, is among those who have been using social media to test the power of NYU's free tuition offer. The results may not be scientific, but they suggest NYU may have a strong yield this year.