You have /5 articles left.
Sign up for a free account or log in.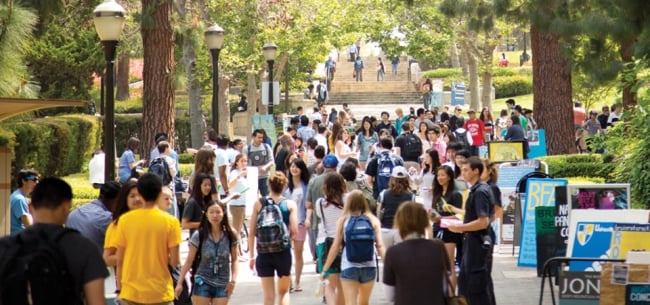 This is the time of year when colleges with competitive admissions announce increases in the number of applications they have received. Among those that have recently announced record totals for number of applications are Dartmouth College, Florida State University and Tulane University.
The reports above (which cover early and regular decision) come amid continuing growth in early-decision and early-action applications -- and falling admit rates for early-admissions programs.
But one set of highly competitive institutions is announcing a modest decline in the number of applications. The University of California, systemwide, saw a drop of 3 percent. This follows 15 straight years of increases in application totals for the system.
Particularly striking to many is where the declines are taking place. The three UC campuses with drops are Berkeley, UCLA and Santa Cruz -- the first two for years among the most competitive public universities in the country in admissions. The system saw declines in applications from inside California, but also from out-of-state students, both domestic and international.
But some campuses -- such as Davis, Irvine and Riverside -- had modest declines in California applicants, but gains for international and out-of-state domestic applicants. Riverside had just over 49,000 applications this year -- 817 fewer from in state, but gains of 114 from the rest of the United States, and 1,108 from the rest of the world. The largest percentage gain for the year goes to Merced, which is smaller than the other UC undergraduate campuses, and which topped 24,000 applications with a 2.6 percent gain.
All categories remain above where they were two years ago. (The totals for individual campuses add up to more than the UC total, since applicants may seek admission to more than one UC institution.)
Freshman Applications to University of California
| | | | |
| --- | --- | --- | --- |
|   | 2017 | 2018 | 2019 |
| California | 111,725 | 119,908 | 115,862 |
| Out-of-state (U.S.) | 32,735 | 33,467 | 32,895 |
| International | 27,186 | 28,543 | 27,773 |
Potential applicants, their parents and counselors should not think that getting into UC is about to become easy. Only a fortunate minority of applicants get in, and the last admissions cycle was considered by many observers to be among the most difficult for applicants. Counselors said that students who in past years would have been admitted to UC campuses (other than Berkeley and UCLA, which have been near impossible for years) were getting rejected or landing on waiting lists.
So what do the numbers mean?
Jon Reider, who recently retired as director of counseling at San Francisco University High School, said that all the attention admissions professionals are giving to the modest declines at UC illustrates one of the oddities of college admissions. "When things go up, you never explain it," he said. "But when things go down, people worry about a death spiral."
There is no cause for concern at UC, he said. "A drop of this size, when so modest and concentrated on Berkeley and UCLA, is essentially meaningless." The number of applicants "is so far above what they can admit that there will be only a trivial change in the admit rate."
And Reider noted that it may not be a bad thing at all that some students -- perhaps those from out of state who have read about the political pressure on UC to admit more Californians or from in state who are aware of how long the odds are of admission -- may not be applying. "Someone might be listening to the message about not applying to colleges that you are not going to get into," he said.
Other experts say that the application decline in California is notable for what it may signal about the future.
Nathan D. Grawe, a professor of economics at Carleton College, is the author of a book -- Demographics and the Demand for Higher Education (Johns Hopkins University Press) -- that has been terrifying to many admissions leaders in the Northeast and Midwest because of his projections of declines in the number of potential students for many institutions. The book has been regularly cited in discussions of recent closures of small New England colleges.
Things may be better in California than in, say New England, he said. But in another 10 years or so, California's demographics may leave the state's colleges with some of the same challenges currently present in other parts of the country.
Consider these data from Grawe's research -- which explores trends through 2032: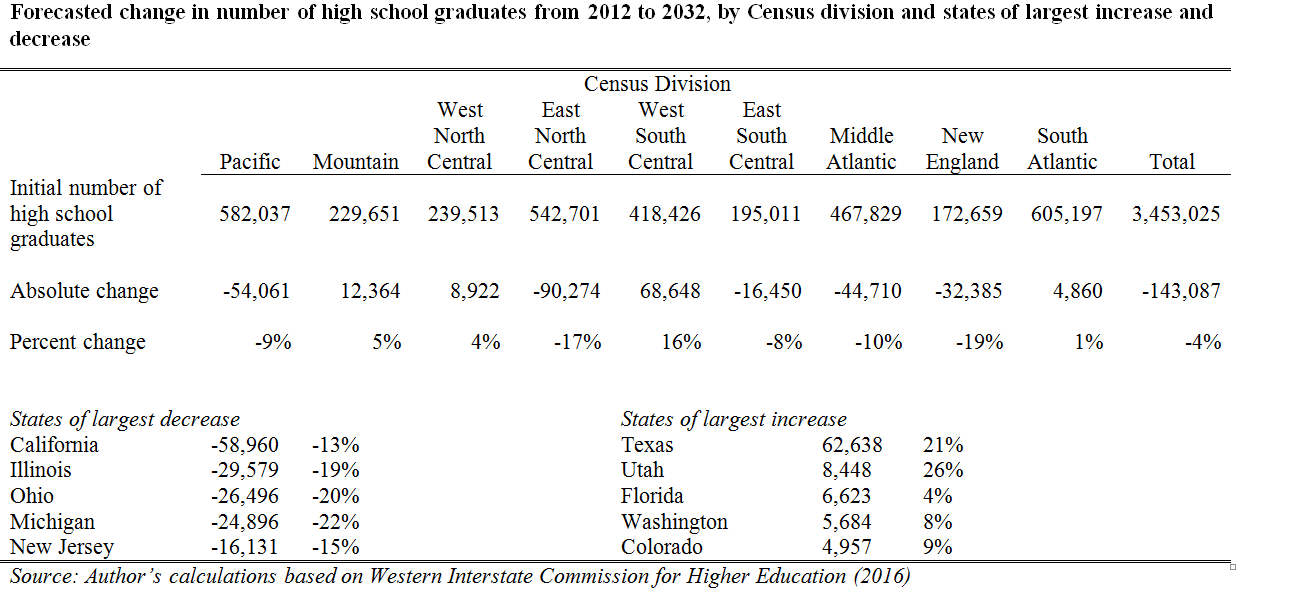 The near term may not see huge changes for California applications, Grawe said, but the longer-term picture should be getting attention.
"After 15 years of ever increasing application numbers, the system is apparently feeling a bit of stress as it navigates a modest reversal," he said. "In about a decade, we expect a larger and more persistent decline. Perhaps this year's experience can support institutional planning for a more disruptive change that lies ahead."
For UC, another reality is that the California State University System, where many campuses have been flooded with applicants, is getting ready to admit more California students.
One of the themes of Grawe's book is that colleges' challenges aren't just about the number of students, but about the mix. Colleges that have relied on white, middle-class students are going to find such students in short supply, as their share of the national population is shrinking. While some University of California campuses (such as Riverside) have made notable strides in diversifying their student bodies, that process has been difficult at Berkeley and UCLA, in part because the state bans public colleges from considering race in admissions. Black enrollments in particular have lagged. And while Latino numbers are up, they are not up by as much as the Latino population in the state has been growing.
Notably, some California private colleges with large in-state populations and the ability to have programs to recruit minority students are seeing application gains this year. Dominican University of California is a "majority minority" institution where only about one-third of students are white.
Application totals are about the same this year as last, said Mary Marcy, the president. And student attendance at open houses is up.
The University of San Francisco is another private institution in the state with a large majority of minority students (white students make up about a quarter of the student body).
The university has created a program called Black Achievement Success and Engagement, which includes scholarships for talented black students and a living space for those "who share an interest in the historical, intellectual, and political traditions of black Americans." Additional resources are also being provided to help black students and disadvantaged students generally with academic and nonacademic challengers. Last fall, the university enrolled the first 13 students receiving the "Black Scholar" scholarships. Some of the students turned down Berkeley and UCLA (and elite private institutions). Some parts of the San Francisco program would be barred at public institutions in the state because efforts are aimed at black students.
The impact of these programs appears to be extending beyond those who are receiving the scholarships. Total applications to the university are up 19 percent, to 21,606. Applications from black students hit 2,008, a 75 percent increase.