Taking a Stand on Conflicts of Interest in Admissions
University of California adopts post-scandal plan, including ban on consideration of legacy status or ties to potential donors. Move comes as higher ed groups oppose federal legislation. System also tightens rules for admitting athletes.
University of California campuses were not as heavily implicated in the admissions scandal as were colleges such as the University of Southern California. Perhaps more embarrassing to the university system was an April report in the Los Angeles Times that in 2014 the University of California, Los Angeles, was aware of instances in which the parents of athletes made donations to UCLA's athletics department in return for the admission of their children.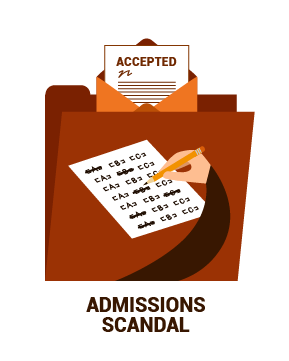 After the scandal broke, the university system vowed to conduct an audit of its admissions processes to determine whether adequate safeguards were in place. Last week, the university system released the audit -- which found some vulnerabilities -- and pledged to adopt the recommendations.
Also last week, new details emerged about the ringleader, and another parent -- one of the big spenders in the scandal -- pleaded guilty.
UC Stance Against Considering Legacy and Donor Status
The overall theme of the University of California audit was that the appropriate rules were in place. But at the same time, university officials said that the scandal drove home for them the need to be sure that policies and procedures had enough safeguards in place to be sure that UC campuses -- among the most competitive of public universities nationwide -- couldn't be fooled or pressured to make admissions decisions inconsistent with university values.
UC President Janet Napolitano, in a statement, said that "even one instance of admissions fraud is one too many."
Many of the colleges that admitted some applicants caught up in the scandal have vowed to do more to verify that purported athletes are what they say they are. UC has made similar pledges. But UC has gone further on the issues of donations and legacy status.
The scandal has led to proposed legislation in Congress that would require colleges to report on admissions decisions involving children of donors, and to policy proposals to limit or ban legacy admissions.
in Washington, the organization that represents fund-raisers has opposed the legislation. Last week the National Association for College Admission Counseling came out against the bill as well.
But the recommendations in the University of California audit report -- which Napolitano said would be carried out in full -- said that the university system wanted to completely disconnect status as a legacy or donor child from the admissions process. Neither should be considered, the audit said.
Among the policies that will now start, as identified by the audit:
Colleges will "establish a policy limiting communication between development personnel and the admissions office regarding admissions matters. At a minimum, any communication regarding the admission status of specific applicants should be prohibited."
Colleges will also "perform a review prior to admission for each non-scholarship recruited athlete to identify any donations from any known relatives of the recruited athlete, or anyone that the athletics department knows to be acting on behalf of the family. A member of senior leadership independent of the athletics department or an existing athletics admissions oversight committee should oversee this review process, including determination of any due diligence required when donations are identified, and approval of any admissions decisions for which donations were identified."
The system audit office will "periodically perform a retrospective review of donations to the campus to identify admissions decisions that could have been influenced by these donations. Any questionable admissions decisions identified through this process should be referred to the locally designated official for investigation."
Conflicts of Interest by Admissions Readers
The UC audit didn't just focus on conflicts posed by having development officials lobbying for a donor child. The audit expressed concern that the readers employed by UC campuses -- typically during the height of the season of reviewing applications -- may have conflict issues.
"At most campuses, these readers consist of both career admissions employees and temporary staff (external readers) due to their significantly increased workload during the admissions season," the audit said. "External readers are at a higher risk than career employees for potential conflicts of interest, due both to the temporary nature of their university employment as well as their current or past regular employment.
"For example, external readers may be employed as local high school teachers or counselors, and may wish for students from their schools to be admitted. In addition, at most campuses, readers include outreach staff and admissions staff who perform outreach activities as one of their duties. These individuals are also at a high risk for conflicts of interest because the nature of their work can result in their becoming prejudiced in favor of applicants with whom they have had more than routine contact."
Only a few UC campuses have formal conflict policies for these situations, the audit said. All of the campuses should develop and enforce conflict procedures.
Recruiting Non-Scholarship Athletes
The audit report noted that one of the paths families in the admissions scam used to get children admitted to top colleges was bribing coaches to have the children placed on lists of applicants who were recruited athletes. Such status greatly increases the odds of admission -- especially at colleges with competitive admissions.
The audit noted that because the National Collegiate Athletic Association has clear rules with regard to athletes awarded scholarships, the potential for abuse was greatest with non-scholarship athletic admits. As a result, the audit report said that the university system would in the future:
Define and enforce rules for "special talent" admissions decisions -- those that are supposed to permit the admission of students with unusual talents (athletic and otherwise) but who might not otherwise win admission.
Set up tracking systems for all applicants under consideration for this type of admission.
Create a "two-step verification process for any recommendation for admission on the basis of special talent that includes the following: The initiator of the recommendation must document and attest, under penalty of disciplinary action, that they have performed an assessment and determined that the level of special talent warrants a recommendation for admission" and "an individual in a supervisory capacity must approve the recommendation."
Require that the athletics compliance office verify the qualifications of all non-scholarship recruited athletes.
Require "all admissions decisions for applicants recommended by departments on the basis of special talent to be approved by the admissions director or a member of senior leadership external to the recommending department."
New Lawsuit Filed
Also last week, a new lawsuit was filed against William Singer, known as Rick, the ringleader of the admissions scheme, and eight of the colleges that admitted students in relation to Singer's activities, which included bribery of coaches and arranging for cheating on standardized tests. The suit is a class action seeking the return of admissions fees paid by applicants who didn't receive help from Singer -- the vast majority of whom were rejected. The universities are accused of negligence in monitoring their admissions processes, allowing Singer to game the system for those who paid him.
"As a result of this coordinated, fraudulent scheme, conducted through wire and mail, unqualified students found their way into the admissions rolls of highly selective universities, while those students who played by the rules were denied admission," the suit says.
A Guilty Plea
Meanwhile, one of the parents who paid big bucks to Singer entered a guilty plea last week.
Toby Macfarlane pleaded guilty to one count of conspiracy to commit mail fraud and honest services mail fraud in the United States District Court . He admitted to paying Singer $450,000 to engage in various activities to get two of his children into the University of Southern California. In both cases, they represented themselves as athletes, which was not true.
Prosecutors have agreed to recommend a sentence of 15 months in prison, one year of supervised release, a fine of $95,000 and other penalties.
Some colleges have announced that they have revoked admission for those who applied with false information. USC has not gone as far, but last week posted an update that said: "We completed the investigative process in mid-June for a group of students under review and notified those students of the determination on their case. These follow earlier determinations involving applicants in the most recent admissions cycle, when applicants were denied admission as facts and evidence warranted."
You may also be interested in...
Today's News from Inside Higher Ed
Inside Higher Ed's Quick Takes