You have /5 articles left.
Sign up for a free account or log in.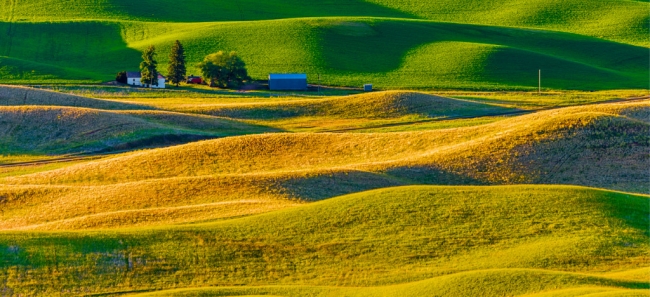 From bold, overarching college pipeline strategies to handwritten notes to families, colleges and universities are identifying ways to reach prospective students from rural America, who often live in "education deserts" and are less likely to have postsecondary degrees.
In January 2017, the University of North Carolina system unveiled its strategic plan through 2022, with one of its primary goals to enroll 11 percent more students from rural and low-income counties and increase these students' degree attainment by 20 percent. UNC intends to enroll nearly 66,000 students from the state's 80 most economically challenged and underpopulated areas (populations less than 50,000) -- defined as "Tier 1" and "Tier 2" counties -- by fall 2021, which is about 6,000 more of these students enrolled than in fall 2016, when it enrolled 59,359. (There are about 240,000 students in the system over all.)
When developing the plan, UNC officials heard from North Carolina residents and members of the state's General Assembly, who continued to circle the conversation back to counties that were falling behind in postsecondary attainment, said Andrew Kelly, UNC's senior vice president for strategy and policy.
"We have in North Carolina -- not unlike other states -- significant differences in attainment by geography," Kelly said. "You have urban and suburban centers with high concentrations of college graduates, and when you get out to more rural counties, there's a huge drop in attainment."
Only 14 counties, most of them urban and suburban, of 100 in North Carolina had a postsecondary attainment rate (proportion of the population with an associate's degree or beyond) above the statewide average of about 37 percent from 2010 to 2014, according to U.S. Census Bureau's American Community Survey five-year estimates. The university system is a huge asset to the state, Kelly said, but residents in rural areas wanted to know how higher education would be delivered to these struggling counties.
The issue, there, was not that students in the counties were ineligible for college -- many were meeting minimum admissions requirements within the state, Kelly said.
"But there are a large number of qualified students who aren't going to any college -- not community college, not private colleges and not our system," he said. "There are students [from Tier 1 and Tier 2 counties] that would benefit from attending a community college or a four-year, and they're not enrolling."
This is particularly concerning for North Carolina, because it's been hit hard by changes in the American economy, losing factories and employment to globalization and foreign trade, Kelly said. In 2018, 2,326 North Carolina workers were certified for re-employment assistance through the U.S. Department of Labor's Trade Adjustment Assistance program, which provides job training and income assistance for workers displaced because of shifts in exports and production. Of the 22 states that had workers apply for the TAA program in 2018, North Carolina had the seventh most workers approved.
"I certainly think there's a concern that when folks hear 'UNC enrollment,' they could see it as yet another young person from our community being drawn into Charlotte or the Research Triangle," Kelly said. "That's not just about postsecondary enrollment. It reflects how the economy in North Carolina has changed in the past 30 years."
One of the system's larger universities, NC State, has seen an increase in students from Tier 1 and Tier 2 counties since it implemented more rural recruitment strategies as part of the systemwide plan, said Louis Hunt, senior vice provost of enrollment management and services at NC State. In Raleigh, admissions and enrollment officials are trying to build closer relationships with rural community colleges, which can be a direct pathway to four-year degrees, as students who get their associate's degree from NC Community Colleges are granted automatic admission to NC State if they meet academic requirements, Hunt said.
"Location is important," Hunt said. "[But] there's a lot of students that have family obligations -- they may be part of a farming family, and they need to be at home. It may not even be about finances -- it could be that they're comfortable in their current setting."
Cultural and Geographic Barriers
Many high schoolers in rural areas live so far away from the nearest university or community college that they have limited exposure to the college experience before finding themselves "sitting in a high-rise building in Chapel Hill," said Ben Boggs, education program principal for the National Conference of State Legislatures. In July, Boggs released "Planting the Seeds, Working the Land: Postsecondary Programs in Rural Areas," which studies the cultural, economic and geographic barriers that keep rural students from attaining postsecondary degrees.
Boggs himself is from a rural part of Alexander County in North Carolina, between Hickory and Statesville, in the west-central region of the state, and said he was encouraged to go to college by his father, a Baptist minister, and by professionals in his community. He attended Wake Forest University, which is about 60 miles northeast from his home and about an hour drive.
"We were familiar with the place, so it wasn't as intimidating, but there was still an adjustment to be made," Boggs said of himself and his brothers, who also attended Wake Forest. "For rural students attending flagship universities, it's a sense of orientation and belonging. It's a very disorienting experience. Even if they've been dreaming of attending, it's a shock from the system, [and] there's a sense of homesickness and being out of place."
There was a strong support system of college graduates in Boggs's community who gave local students a positive outlook on pursuing higher education, but many rural communities don't have that, he said. Among longtime community members and families, there's often a fear that the young people who leave their small town to attend college in a major city won't ever return home to share the benefits of their education, he said, or that the kids who do go to college will join in with what they consider institutional elites.
"A lot of students wrestle with, 'If I go do this, will I be able to go back to my family?'" Boggs said. "They have to face that question of whether they go home again. Students do find ways to connect back to their rural communities, but they don't know whether they can [permanently] move back to the towns they came from."
One common phrase -- "you don't beat your raising" -- Boggs said outlines the experience of some rural parents who never went to college, who feel dishonored when their children consider reaching a higher level of education.
"You're embarrassing your parents by acknowledging their lack of education," he said. "That is a cultural issue there that has to be bridged."
Colleges and universities must find ways to meet rural students where they're planted, Boggs's report argues. Connecting directly with high school teachers and counselors is a key way to do this, considering most educators are graduates of colleges in the area themselves, Boggs said. Institutions also need recruiters who are willing to travel the distance to rural school districts and show real interest in students who consider applying for their programs, he said, and rural high schools need career and technical education courses that both prepare students for material they'll see in college, and offer a "nonthreatening" view of postsecondary education.
"That's a really important dynamic to understand," Kelly said. "We as a university system have not figured it out, but we have a role to play. We think about it, we hear about it, we have some programs that are designed to help incentivize graduates to work in underserved areas. That's some of the effort that I think the state is making as a whole, not just us."
'We Go to Them'
Because of economic challenges, higher education is more important in North Carolina's rural communities now than ever, and UNC is attempting to break down barriers to college that rural high school students face.
During the 2018-19 academic year, UNC Chapel Hill's admissions officers hosted and attended 435 recruitment events across North Carolina for admitted students and families, including many in rural communities, wrote Steve Farmer, Chapel Hill's vice provost for enrollment and undergraduate admissions, in an email.
They're opening up pathways for NC Community College transfer students to pursue bachelor's degrees, providing more options for online education and implementing NC Promise, which created a fixed $500-per-semester tuition rate last year at three state universities -- UNC Pembroke (home to the Lumbee tribe, North Carolina's largest American Indian tribe), Elizabeth City State University (a historically black institution) and Western Carolina University.
Colleges and universities in other parts of rural America, including the Midwest, are also relying on their connections with local community colleges to put high school students on a pipeline into their institutions, but they have also found ways to tailor recruitment to students' interests and needs. It's much easier for smaller, private schools to achieve this personalized approach, said Carol Williamson, the vice president for enrollment and student development at Central College, a private liberal arts school in Pella, Iowa.
To appeal to its 37 percent average population (from 2014 to 2019) of students from rural areas, Central has its recruitment staff go on visits to prospective students' houses and speak to families about the college's offerings and options for funding tuition, Williamson said, which assists families who can't make trips to visit the school. Central also decided to continue writing notes by hand and sending letters to families to simplify the application process, amid a push for colleges to go digital with communication between prospective students and admissions. This was especially important for rural families, she said, who may be sending first-generation students off to college and not know much about the process.
"We see who is most interested, come to their home, take them to dinner or meet them in a coffee shop," Williamson said. "That is labor intensive, but it's a very fun part of the job … rather than waiting for families to come to us, we go to them."
Central's rural student enrollment is five times the rate of college-aged (18 to 24 years old) people who live in rural America, as defined by the U.S. Census Bureau, the school reported in its alumni magazine. Central takes pride in the number of rural students it brings into its programs and attracts with its campus culture, Williamson said.
"[Rural students'] backgrounds of growing up in a small community is emulated here," she said, noting Central's population of just over 1,000 students. "They want to be part of a community, they want to be part of something bigger and they want to be regarded as an individual … they bring their work ethic, great academic preparation and the ability to build community very quickly, and that component is what creates our culture."
Ed Henning, a senior at Central, grew up on a 600-acre farm in Hartwick, Iowa, population 79. There were 30 students in his graduating class from high school, which was a consolidated K-12 school for Hartwick and two neighboring towns, he said, and while his father went into farming directly out of high school, his mother graduated from the University of Iowa, and both had always wanted Henning to go to college. There was encouragement from faculty at his high school and throughout his community to attend college, and most of his graduating class did, he said.
"In our community, people's parents who didn't go to college, [they] were the ones pushing hardest for their kids to go," Henning said. "For me, [going to college] wasn't a big change, because Central always had that small-town feel. The class sizes really didn't change that much -- my classes had always been small. There wasn't that much culture shock."
Central does have 30 percent out-of-state students, and playing on the college's Division III football team has introduced Henning to students from different areas of the country who have vastly different backgrounds, he said. One player on the offensive line is from San Diego, a city of 1.42 million people, and they get along well, he said.
"It's essential for the growth and prosperity of our country to understand the thinking from all facets of our national population, so we can find solutions that will benefit the whole," Williamson said. "If all the thought leaders are from one particular faction of our U.S. population, we are not hearing the whole story."
More from Traditional-Age