You have /5 articles left.
Sign up for a free account or log in.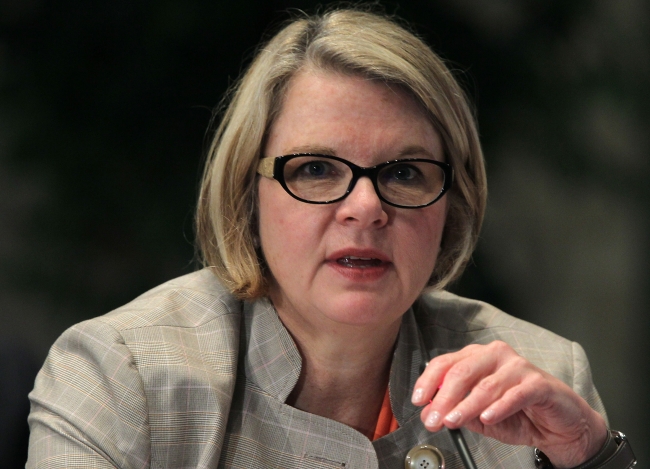 University of North Carolina System
Margaret Spellings has been president of the University of North Carolina system for less than five months, but she already has change upon change to discuss.
Several provisions passed by the state Legislature during this year's budget season are poised to spark drastic changes within the 17-campus UNC system. If signed into law by Governor Pat McCrory, they will freeze undergraduate tuition for students at all UNC system institutions who graduate in four years -- or in five years for those in five-year programs -- starting with freshmen entering this fall. They will cap fee increases at 3 percent annually. And, perhaps most ambitiously, they will drop tuition to $500 per semester for in-state students at three universities.
And Spellings, who started as president in March after a controversial appointment in October, brings her own priorities to the table, too. The former U.S. education secretary under President George W. Bush has long been associated with an emphasis on accountability in education. Today, she said she's focused on several themes at UNC, including affordability, access, accountability and quality.
Spellings talked about the changes and her priorities in an interview Monday with Inside Higher Ed. The $500-per-semester tuition plan has "real possibility," she said. Three universities are slated to be a part of the plan upon implementation in the fall of 2018: Elizabeth City State University, UNC Pembroke and Western Carolina University.
More universities were included in an early version of the $500 tuition bill, including three public historically black colleges and universities. That drew objections from critics who worried the tuition proposal was an attack on the black institutions' finances and identities. After legislators worked through different versions of the proposal, they passed it to apply to one historically black university, Elizabeth City State.
UNC Pembroke was founded to train American Indian teachers. Today a large portion of its enrollment is African-American and American Indian students. When the tuition proposal was being debated, some saw Western Carolina as not fitting the profile of the other institutions under consideration. It had enrollment trending up recently, while the other institutions have seen greater recent struggles.
Yet Spellings said the three universities poised to go to $500-per-semester tuition can all absorb more applicants. At least one of the campuses is within driving distance -- 150 miles -- of all North Carolina residents, she said, an argument that has been made by lawmakers backing the plan. The campuses are also all close to state lines, meaning they're subject to geographic competition, she said.
"They're unique," she said. "They have capacity at a time when more people need higher education. So I'm excited about it as an innovation, and I really think it can be a game changer."
Lawmakers also moved to slash tuition for out-of-state students at the three institutions -- to $2,500 per semester.
Spellings addressed several criticisms of the $500 tuition level, including that it could undercut the perceived value of an education at affected institutions or that it would all but eliminate tuition as a source of revenue, making institutions reliant on state funding. She said she trusts North Carolina as a state with a history of more than 100 years of providing for its higher education system.
Legislators passed a provision in the North Carolina budget to help make up for lost tuition revenue at Western Carolina, Pembroke and Elizabeth City State. The legislation they passed calls for increasing the UNC budget by up to $40 million each fiscal year to be allocated to the institutions to cover the cost of lost tuition. Elizabeth City State is also in line for $250,000 to promote enrollment.
Spellings argued that leaders cannot decry higher education as unaffordable and then object to programs testing new, low tuition.
"We can't simultaneously rant and rave about that and then say, 'Wait a minute, please don't provide relief for students and families,'" she said.
"In our Constitution in North Carolina, it uses the word 'free'" to describe what state leaders should strive for tuition to be, she said. "We commend legislators that are working to meet the constitutional mandates for education."
The UNC system is exploring ways to market the $500 tuition that would try to address the problem of perceived value. One is branding it as a "buy-down," where a higher sticker price is shown that encapsulates the full cost of tuition, Spellings said. The Legislature would then be given credit for buying down the price of tuition to the $500 students pay.
The $500 tuition plan could create another problem: too much demand. If it's perceived as a quality education at a price far below market, it's possible many highly qualified students could start applying. That could, in theory, create an applicant pool that's too large for the three institutions to handle, potentially crowding out all but the top students.
"I think that would be a good problem to have," Spellings said. "The fact that lots of quality people would be ready, willing and able to get in and out of higher education quickly, I think, would be very compelling to the Legislature."
Ultimately, Spellings called the program a pilot and pointed out that no one knows what its exact results will be. She did, however, make it clear that her priorities for the North Carolina system extend beyond getting the state's best-prepared students to graduate from the most selective institutions, Chapel Hill and North Carolina State.
The fact that those two campuses graduate the vast majority of students they enroll is nice but isn't cause to say "yay us," Spellings said. "Anybody can get a lot of valedictorians in and out of college."
The state budget also includes a 3 percent cap on fee increases. Plus it fixes tuition rates for each incoming student class over four years.
Taken together, the moves add pressure to institutions' budgets. The fixed tuition rates require officials to project costs over a longer period, taking away flexibility to absorb changes over time as economic conditions evolve. Fixed tuition based on class has sometimes been seen as contributing to large changes in price between successive classes, as an incoming class shoulders the brunt of a new budget reality instead of revenue needs being spread out over four years' worth of students.
Defenders of fixed tuition have said it provides predictability for students and families, however. Spellings acknowledged it can put pressure on budgets and that it can place more pressure on state appropriations. Yet she hopes the policy is an impetus for students to graduate on time.
"That's the problem right now," she said. "It is, obviously, price, too, but students are taking too long, taking too many courses, spending too much time. Time is money. And that's a big part of our lack of completion."
On the question of accountability, Spellings called for metrics to measure the 17 institutions in the UNC system but acknowledged that while some might be common for all institutions, others should be tailored to the missions and circumstances of individual institutions. It will be important to have the right sets of metrics for flagship institutions like Chapel Hill and others, those that are on "the front lines of access and affordability," she said.
Spellings argued the additional metrics could lead to less government regulation. She sees it as a potential trade: accountability for deregulation.
"Let's get out of the micromanagement," she said. "Let's stop trying to run institutions either from general administration or the [UNC] Board of Governors or the state Legislature, as long as we're clear about what we expect, when we expect it and for what price."
As for the question of penalties for institutions that miss their goals, Spellings didn't have a hard answer. It will depend on how much they miss by, she said. She also said she's a fan of performance-based funding.
"I think it's a range of remediations, or whatever you would call it, based on the lack of performance," Spellings said. "Just like every other enterprise, we need to be adaptive and responsive, and when they don't work, real consequences need to happen. And conversely, when we thrive, we ought to be incentivized to do more of it."
Another topic generating some discussion in North Carolina is the state's 18 percent cap on out-of-state first-year students at nearly all of its public universities. Chapel Hill was fined $1 million this year for exceeding the system cap, but the Legislature passed a measure reimbursing half of that amount. Spellings called the 18 percent cap "ripe for discussion" during the strategic planning process the system is undertaking early in her presidency. A review of the cap at Elizabeth City State, UNC Pembroke and Western Carolina was also called for in legislation.
The UNC general administration is also reviewing the state's new NC Guaranteed Admission Program, which would divert less qualified students from UNC institutions to community colleges, then guarantee them admission as juniors. The review came after the program was found to have unintended consequences, so Spellings and the Board of Governors have until 2017 to find a new plan to enhance completion, she said.