You have /5 articles left.
Sign up for a free account or log in.

For years now, colleges have been advised to consider students' use of social media in recruiting. Some colleges have punished applicants for racist or sexist imagery, but more common has been the trend of colleges recruiting students on social media.
EAB conducted a survey of more than 9,000 high school students to find out how students use social media. Some of the findings:
Students view social medial as more relevant than before in their college searches. In 2017, 79.6 percent of students said "every college or university should have a social media presence." By 2019, that was 86.1 percent.
In 2017, 55.2 percent of students said that "the more interested I am, the more I interact with a school on social media." This year, the percentage was 74.6 percent.
The percentage of students who said that they "discovered" a college on social media grew from 19.2 percent to 25.8 percent.
The study also asked students which social media they used and noted a big increase in the percentage of students who reported using Instagram and a big decrease in the percentage using Facebook.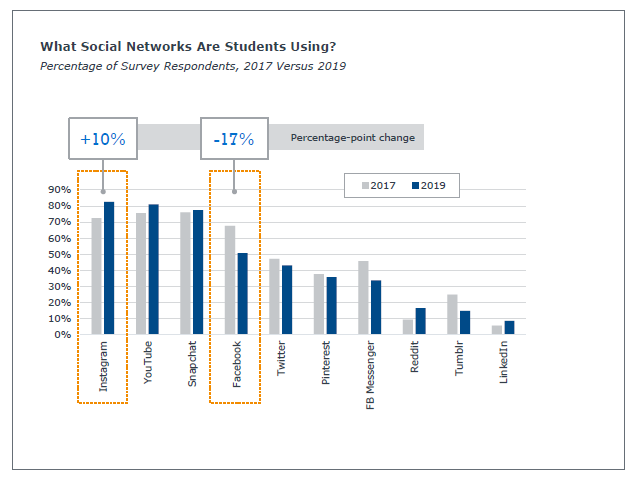 The advice from EAB is to pay attention to these trends but not to assume that they mean some forums with social media aren't worth it.
For instance, take the decline in Facebook use. "While fewer students are on Facebook, it's important to note that one in two students still uses the platform and that EAB testing has found it to be effective in engaging parents," the study said.
More from Traditional-Age