New Evidence in Admissions Scandal
Details emerge on Rick Singer and the famous parents.
(Photo by Paul Marotta / Getty Images)
A woman pleaded guilty last week in the admissions scandal -- as more evidence was released pointing to the possible guilt or innocence of some of those indicted. And some of the transcripts raise issues about the universities involved.
A California woman pleaded guilty in federal court in Boston to one count of conspiracy to commit wire fraud for paying a man to take online courses for her son to graduate on time from Georgetown University. The woman, Karen Littlefair, was indicted in December. She admitted to paying $9,000 to Rick Singer, coordinator of the Varsity Blues admissions scandal, to arrange for the fraud. The man completed four courses, and Littlefair's son graduated from Georgetown.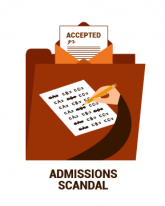 The government agreed to recommend a prison term of four months in the case.
This was the first case in the scandal in which graduation from college, not admission, was the desired end.
New Evidence
The new evidence largely pertains to how the University of Southern California recruited Lori Loughlin, the actress, and Mossimo Giannulli, her husband, for major donations at a time when their daughter was applying to USC.
Twenty parents -- not Loughlin and Giannulli -- have pleaded guilty in the scandal. With their trial approaching, recordings and emails are becoming public.
The New York Times reported that one recording showed an unnamed USC official asking Giannulli, "Please let me know if I can be at all helpful in setting up a 1:1 opportunity for her, customized tour of campus for the family, and/or classroom visit? … I'd also be happy to flag her application."
Giannulli responded, "I've been to the school a few times and have some folks that keep me abreast of the latest and greatest!" He then sent the email to Loughlin with a note saying, "The nicest I've been at blowing off somebody."
USC said of the exchange, "What was being offered to the Giannullis was neither special nor unique. Tours, classroom visits and meetings are routinely offered. The primary purpose of a flag is to be able to track the outcome of the admission review process. It is not a substitute for otherwise being qualified for admission to USC."
In the case of that exchange, USC's desire for a donation may be the lasting memory of those reading it. But other exchanges are more damning of those indicted.
One recording the Los Angeles Times reported on this month was from Singer to an unnamed prospect. In it, Singer said, "I'll go to one of the coaches who has a guaranteed spot in a sport and ask them if they'll give me that spot. And in turn we will help their program and, um, the kid gets in. Kid doesn't have to play the sport. Most of the time, kid doesn't even play the sport."
Singer went on in the recording to say, "So what I normally have to do is I have to create a profile of that kid in a particular sport. And then the athletic liaison takes that person to admissions … and then they walk the kid right through with whatever sport it is. Families fund my [charity] and then the universities tell me how I want their checks and what they want done with it. So, for example, if it's at USC, the first $50,000 will go directly to USC women's athletics. And then the next couple hundred thousand dollars will come to my foundation."
He then turned the conversation to the University of California, Los Angeles, saying, "Other people will say, like at UCLA, they're having a struggle with salaries because people don't make enough money on the assistant side and they have to live in L.A., which is expensive, so they'll come to me and say, 'Hey, I've got three assistants that need the money' … [I'll] make them employees at one of our companies, and then we'll pay them. They'll get paid by the university and they'll get paid outside, because the coach has to raise additional money to pay their salaries."
A UCLA spokesman said that the university's internal investigations had not uncovered cases of its assistant coaches working for Singer.
The Latest
On Thursday, Jorge Salcedo, a former UCLA soccer coach, filed a brief in the case. He was indicted in the scandal and has pleaded not guilty.
"UCLA's own internal documents reveal that, for many years, its Athletic Department has facilitated the admission of unqualified applicants -- students who do not meet UCLA's rigorous academic or athletics standards -- through the student-athlete admissions process in exchange for huge 'donations' by the students' wealthy parents," the motion said, according to the Los Angeles Times.
"These documents, which UCLA did not disclose to the government before this prosecution, tell a compelling behind-the-scenes story, one that undermines the Superseding Indictment's narrative by definitely proving that UCLA is not a victim of a fraud scheme," the brief said.
UCLA issued a statement to Inside Higher Ed that said, "Yesterday's motion is a false and misleading effort by the criminal defense team for former men's soccer head coach Jorge Salcedo to defend him against serious criminal charges based on information that has already been widely reported and addressed by UCLA. The filing contains misleading assertions and notably omits that UCLA Athletics implemented a number of policies and practices aimed at strengthening the student-athlete admissions process immediately following the 2014 investigation. These policies were in place years before the conduct Salcedo is alleged to have committed and included a policy that a donation could not be accepted from families of prospects until the student-athlete is enrolled at UCLA. Athletic department staff, including coaching and development staff, have been educated on the policy. Another change included requiring athletic department officials to perform an athletic qualifications check for walk-ons, as well as implementation of a family University giving history check for walk-ons. The government has alleged that Salcedo got around these policies by helping submit a false athletic resume to the university."
The statement added, "Unlike the 2014 investigation, the charges against Salcedo are alleged to have involved criminal activity and personal enrichment. As part of its year-long and ongoing cooperation with the Department of Justice, information regarding this investigation was shared voluntarily with the authorities early last year, and we voluntarily delivered the report to them in August 2019."
You may also be interested in...
Today's News from Inside Higher Ed
Inside Higher Ed's Quick Takes