You have /5 articles left.
Sign up for a free account or log in.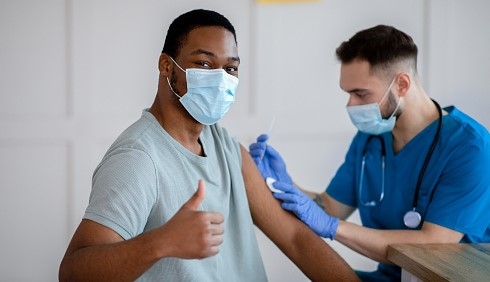 Prostock-Studio/Getty Images
Some Republican governors have been busy blocking colleges from requiring students to be vaccinated against COVID-19. In Texas, Governor Greg Abbott signed an executive order barring the requirements at any college that receives state funds (as many private colleges do). In Florida, Governor Ron DeSantis signed an executive order making it illegal for businesses to impose such requirements; it is unclear if colleges are covered by the law. In Utah, Governor Spencer Cox has signed legislation barring public colleges and universities from requiring proof of vaccination.
These requirements are complicating the decisions of colleges on whether to require the new coronavirus vaccines. Two of the dozen colleges that have imposed vaccine mandates are in states with the new measures. St. Edward's University created a special exemption to cover the Texas governor's order, giving students the right to opt out. And Nova Southeastern University is reviewing the Florida governor's order.
Meanwhile, other universities are joining the movement. Boston University president Robert A. Brown announced a requirement on Friday, writing to students that "our goal is to move to a 'new normal' in the fall that includes only minimal social distancing, where all our facilities are open, students can move freely between residences, and guests are welcome. The key to achieving this state will be vaccination of nearly everyone in our community, especially our students." Duke University president Vincent E. Price sent a similar letter Friday. "Looking ahead, we know that widespread vaccination will be the only way to facilitate a return to normal and robust campus life," he wrote.
Cleveland State University has announced a vaccine requirement, but only for students living on campus.
Amid all these developments, a question has surfaced: What do potential students think?
The answer, in a new survey by Maguire Associates, which helps colleges with admissions, is that the vast majority of students would attend a college with a requirement. And their parents are just fine with such a decision.
These are the results of a survey by Maguire of the student lists of its clients and some former clients. Altogether, the survey includes 14,751 prospective students, 5,864 parents of those students and 833 potential transfer students. Most are traditional-age high school students.
The survey is not a scientifically valid national sample, and Maguire officials acknowledge this. The student lists do not include community colleges, meaning the participants are wealthier than a true national sample. And the clients are colleges that want to be competitive or more competitive in admissions. But the sample is national and included some breakdowns by race and ethnicity. The sample, said Matt Maguire, vice president of client services and product development at Maguire Associates, is a national sample of those whom four-year colleges want as students.
Another key factor is that the survey was conducted just before Rutgers University became the first university to require vaccinations, setting off much publicity about the idea.
With those caveats, the survey asked about willingness to enroll at a college in various circumstances.
Would You Enroll/Send a Child to a College …
| | | |
| --- | --- | --- |
|   | Prospective Students | Parents |
| That requires face masks on campus | 94.8% | 87.8% |
| That requires social distancing on campus | 91.5% | 81.3% |
| If the vaccine is available, but not required | 90.5% | 80.6% |
| If the vaccine is required | 85.1% | 78.6% |
Among parents, the study also looked at race and ethnicity. "From the non-white group, more Asian participants reported that they would enroll if the vaccine is required (90 percent compared to 80 percent other groups on average) … All minority groups would enroll at a lower rate (60 percent, compared to 76 percent white) if the vaccine is not available … In general, prospective students showed higher enrollment preference than parents across all questions."
Maguire said in an interview that the important part of the data is that across all groups, there was a large majority of respondents who favor a vaccine requirement.
Other results from the survey:
Would you consider a fully online option for enrollment in fall 2021? This is not popular with either students (54 percent extremely unlikely and 20 percent somewhat unlikely) or parents (66 percent extremely unlikely and 15 percent somewhat unlikely).
Most students (82 percent) and parents (87 percent) expect to be looking at on-campus housing options.
Most parents and students saw the ability to visit a campus before enrolling as important but are planning to enroll at colleges they did not visit.
Most students (69 percent, of whom 49 percent said they were very comfortable) are comfortable with the idea of receiving a COVID-19 vaccine.
Most students (62 percent) said that they submitted SAT or ACT scores to at least one college to which they applied. This year, most colleges let students decide whether to submit scores. Students who said they were A students were 13 percentage points more likely to submit their scores.
Maguire said the results of the survey should provide comfort to colleges about having vaccine requirements, or rules about face masks and social distancing.
But those pushing the new requirements say that they are in favor of vaccinations, just not required vaccinations.
Robert Spendlove, the Utah state representative who was the sponsor of the bill that became law there, told The Salt Lake Tribune he intentionally included public colleges and universities. "That's a concern I shared with a lot of people in the Legislature. We didn't want to use the power of the government to compel people to do something. I'm not anti-vaccination and am encouraging everyone to get the vaccine. But I don't want the government telling someone they have to."
Governor Abbott of Texas expressed a similar reason for his executive order. "Every day, Texans are returning to normal life as more people get the safe and effective COVID-19 vaccine. But, as I've said all along, these vaccines are always voluntary and never forced," said Abbott. "Government should not require any Texan to show proof of vaccination and reveal private health information just to go about their daily lives."