You have /5 articles left.
Sign up for a free account or log in.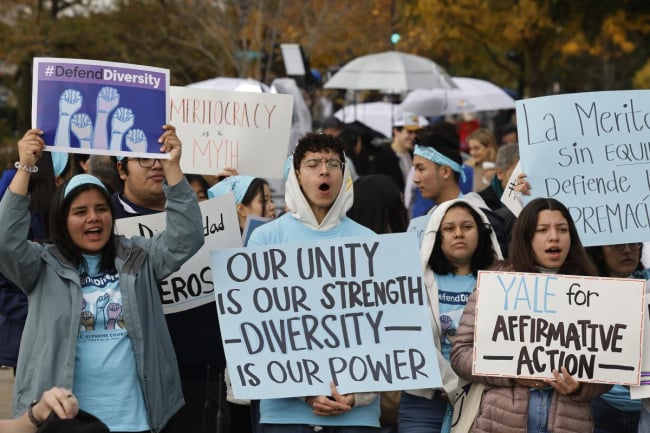 Chip Somodevilla/Getty Images
WASHINGTON, D.C.—Muskaan Arshad never felt accepted until she started attending Harvard University, where she found a "radical acceptance" of diversity. But now she's scared for the future of the system that opened Harvard's gates to her.
"I got in because of affirmative action, because my race is essential to my identity, and my story cannot be told without it," the sophomore said during a rally in front of the U.S. Supreme Court Monday morning. "Affirmative action is essential, not just for a diverse student body but to create a more equitable society in general."
Before Monday's hearing on two cases against Harvard and the University of North Carolina at Chapel Hill, which could mean the end for affirmative action, Arshad gathered with hundreds of other students and advocates to make the case for upholding the policies and to pledge to keep fighting, regardless of the outcome.
"I'm scared for the future of higher education, but I'm so hopeful and so joyful looking around here today," Arshad said.
Dozens of speakers highlighted the barriers communities of color face and how affirmative action in college admissions addresses those barriers. Others recounted the exclusion of Black people from higher education. The Leadership Conference on Civil and Human Rights helped to organize the rally along with several other organizations, including the Lawyers' Committee for Civil Rights Under Law.
"We are honored to carry the voice of the students into the courthouse," said Damon Hewitt, executive director of the Lawyers' Committee for Civil Rights Under Law. "But we need you also to speak for yourselves as you've been doing. We want you to lift your voices high and loud and clearly, so that the justices hear and that America hears that we will not stand for rolling the clock back."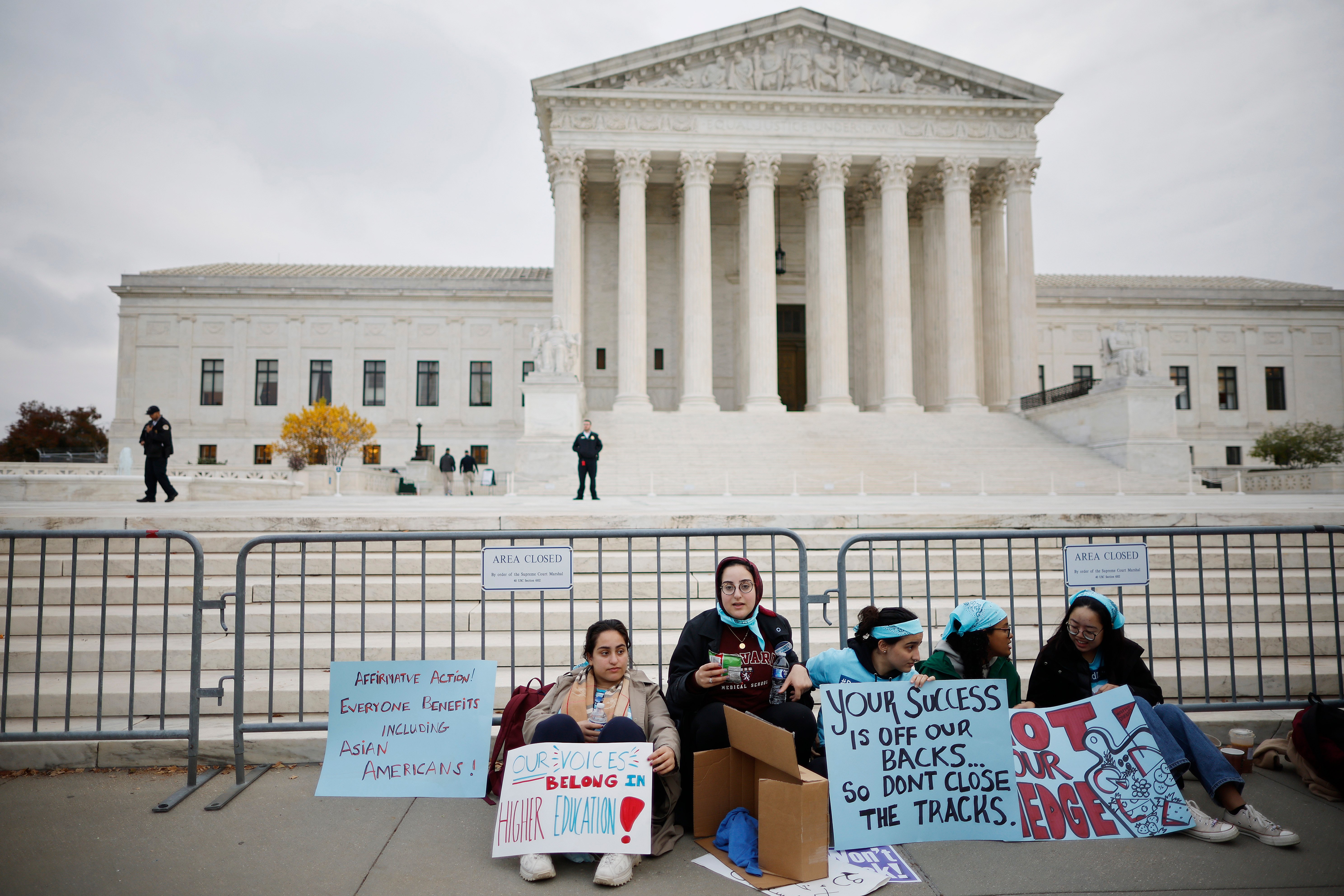 Monday's rally didn't draw counterprotesters, aside from one man with the European American Legal Defense and Education Fund who displayed a few posters calling for the justices to "end affirmative discrimination now."
Supporters of ending affirmative action gathered Sunday in front of the Supreme Court for their own rally. Students for Fair Admissions brought the lawsuits against UNC and Harvard, arguing that the universities' policies of considering race during the admission process discriminates against Asian American and white students, though the Harvard case only focuses on Asian American students.
Edward Blum, a conservative activist, has led the recent charge against affirmative action. His name elicited boos from the crowd at Monday's rally.
'Here to Fight'
On Monday, several speakers, including John Yang, executive director of Asian Americans Advancing Justice, refuted efforts to pit underrepresented communities against one another.
"[Blum] is trying to use the Asian American community as a political wedge for his own political purposes, and we will not let him do that," Yang said, adding that affirmative action provides educational opportunities.
Yang also pushed back against the argument that Harvard discriminates against Asian American students, saying he would've sued the university if that was the case.
"The evidence is clear that Asian Americans were not discriminated against, and that race was used in a beneficial way to help our communities to ensure that our communities were diverse."
Despite expectations that the new conservative majority on the court will make the consideration of race in admissions illegal, Yang said the case's outcome is not "a foregone conclusion."
"Let's make sure that our voices are heard," he said. "We have 40 years of legal history on our side. Each time affirmative action has been challenged, it has been upheld. We intend to fight not only for race-conscious decisions we have now, but to envision a world and a path forward where we demand equity in our education."
Chelsea Wang, co-educational political chair for the Harvard Asian American Association and leader of the Harvard Affirmative Action Coalition, said "the notion that affirmative action discriminates against Asian applicants is a malicious myth, and its abolition would only hurt disadvantaged Asians," Wang said.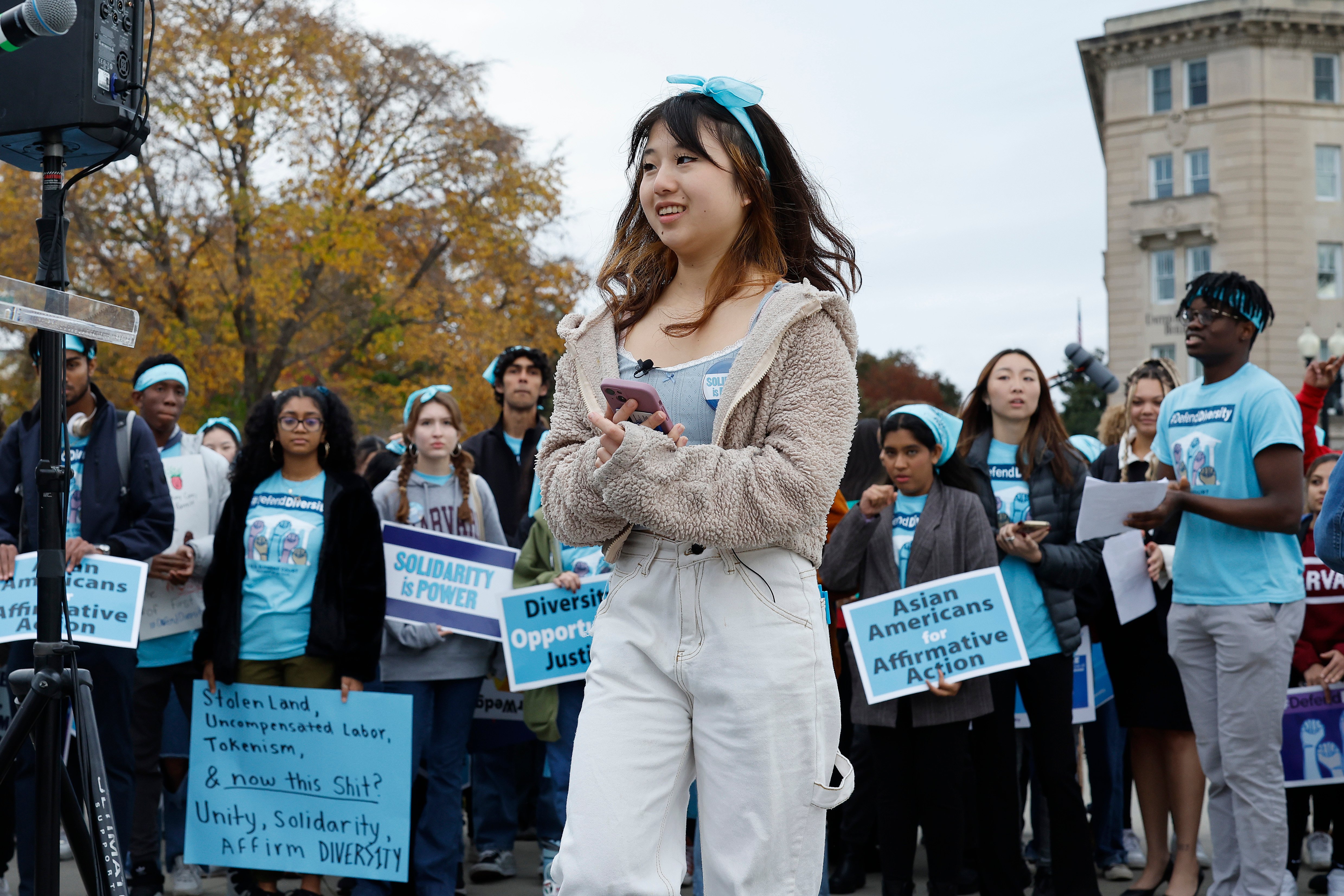 Christina Huang, an organizer with UNC for Affirmative Action, said the work of students and alumni at UNC have shown "the power of collaboration and solidarity," highlighting efforts to open an Asian American Center at UNC and to fight for pay increases for university housekeepers.
"I'm here today to stand in solidarity and support to amplify voices of all communities of color," said Huang, a first-year student. "We are only stronger when we fight together."
Huang added she's at UNC because of affirmative action and said it's the responsibility of students, educators and alumni to ensure all students have equal access to education and valuable opportunities.
"We are the next generation of leaders," she said. "We will have our voices heard. Regardless of what happens today, we will not go back. We will continue to fight for our rights and create a more equitable future for all students."
More than 100 Harvard students made the trip to Washington for the rally. They were joined by students from "up and down the East Coast," organizers said.
David Lewis, a junior at Harvard and political action chair for the university's Black Students Association, led the rally. He said he wasn't worried.
"Because I know from my people's history, and from the proud, powerful legacy that I inherit at the Harvard Black Students Association, that we do have power here today that can shape policy in our schools, and all across this country and all across this world," Lewis said.
Like other students who spoke, Lewis said he was the only dark-skinned Black student in his classes through eighth grade and made to feel like he couldn't embrace his true self or express his feelings. That changed when he started attending Harvard and found his voice.
He told the crowd that he didn't come to the nation's capital to prove he and his Black peers belong or that they improve other students' educational experiences.
"I came here to declare that we are proudly seizing the opportunities that our people have gone and worked so, so hard for so long in this country," he said. "I came here to tell you that if you don't like that, you better move the hell out of the way because we are building a movement. We are here to fight, and we will continue to fight until every single vestige of inequality and inequity and education in this country is eliminated and destroyed."