You have /5 articles left.
Sign up for a free account or log in.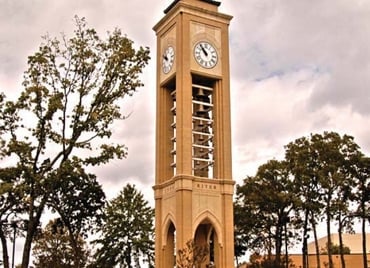 "Tippecanoe and Tyler Too" is one of the most famous political slogans in U.S. history. It refers to the ticket that won the 1840 presidential election, defeating incumbent Martin Van Buren to become the first Whig Party candidates to reach the nation's highest office.
General William Henry Harrison was Tippecanoe, hero of the War of 1812 battle of the same name. A month after his inauguration, he died from pneumonia, possibly a consequence of giving the longest inaugural address in history on a bitterly cold, wet day. He was the first president to die in office, and as a result Vice President John Tyler became our tenth president. If we were to appropriate that slogan and adapt it to the most recent ethical flame-up in the world of college admission, it might become "Kathmandu and Tyler Too."
The Tyler in this instance is the University of Texas at Tyler, located in Tyler, Tex. (a city named for none other than President John Tyler). Kathmandu, in addition to being the title of a Bob Seger song (with a different spelling), is the capital of Nepal.
What is the connection between the two? Last week UT Tyler attracted attention within the college admissions world with the news that the university had revoked full-ride scholarship offers to approximately 50 students from Nepal.
I've been writing about the ethics of college admission for a long time. There are a number of practices I find troubling, even sketchy, but I don't ever remember an ethical imbroglio this big or this bad.
The simple statement of the facts raises far more questions then it answers. How could this happen? What would lead a university to revoke that many scholarship offers? What is the appeal of Tyler, Tex., for students from Nepal?
Let's take the last question first. A report issued in November 2017 by the Institute of International Education and the U.S. Department of State identified students from Nepal as the fastest-growing international student population in the U.S., with growth of almost 20 percent in a year.
That growth may be a consequence of the 2015 earthquake that decimated the higher education infrastructure in Nepal. Following that disaster the United States government awarded temporary protected status to citizens of Nepal in the United States. Coincidentally, the Department of Homeland Security revoked TPS status for Nepal right around the time that the story about the revoked scholarships broke.
But why Texas? A 2014 Dallas Morning News story identified Texas as the top state for Nepali settlement in the U.S. Of the 15,000 Nepali students attending college in the U.S. in 2017, approximately 3,000 were in Texas. Some of that is presumably due to the high profile of the University of Texas system, and yet UT Austin has fewer than 20 international undergraduates from Nepal enrolled.
This is the first year that UT Tyler has offered the full-ride Presidential Scholarship. The new scholarship was designed to help the university be more competitive in attracting top students from Texas, especially its East Texas primary market, but it opened scholarship eligibility to non-Texans as well, including international applicants.
That decision deserves praise. Many colleges and universities are interested in bringing international students to campus first and foremost as sources of revenue, and all of us who have worked with international students with high financial need know how bleak that landscape can be. Perhaps the most satisfying moment of my career was years ago when an international student with full need learned that he had been awarded full aid by a first-rate liberal arts college.
What Tyler didn't anticipate was how popular the new scholarship would be, especially in Nepal. And maybe it couldn't have. Prior to this year UT Tyler's top merit scholarship was a $5,000 Patriot Scholarship, and it had never awarded more than three to international students in any year.
The problem came when UT Tyler began offering the Presidential Scholarships without keeping track of how many had been offered or the scholarship budget. It appears that the university awarded close to 250 Presidential Scholarships, 100 to international students, most of them from Nepal. When university officials learned how much money had been promised, they began contacting some scholarship recipients and informing them that the scholarship had been revoked. Apparently the only scholarships revoked were from international applicants, many of whom had already taken a gap year to prepare to come to college in the United States and abandoned other college options once they received the scholarship.
So what are the guiding ethical principles here?
The German philosopher Immanuel Kant identified keeping a promise as the paradigmatic ethical act. We are obligated to keep a promise even if we derive no benefit. Failure to live up to one's promises does damage not just to a particular relationship in a given situation, but it also places at risk the trust and integrity that are the foundations of all relationships and perhaps civilization.
UT Tyler's offer of a scholarship was a promise, perhaps even a moral contract. A university spokesman asserted that the university had done nothing illegal. That is for a court to decide, but the legality of what UT Tyler did doesn't matter. The moral obligation imposed by the promise takes precedence.
What makes the situation worse is that the university's actions harm particularly vulnerable students. The relationship between an institution of higher education and its applicants is a power relationship, and taking advantage of weaker parties is abuse of power and perhaps other kinds of abuse as well. The students acted in good faith, and they have been harmed by UT Tyler's actions. In any interaction between student and adult, someone has to be the adult.
Even worse is UT Tyler's "apology" for any "inconvenience." Describing this as an inconvenience is akin to describing forcibly removing a passenger from an airplane as "re-accommodating" them. A more honest apology might be to "those whose lives have been ruined by our screwup."
Is there any circumstance where the university's actions might be defensible, if not justified? I can think of one. That would be in a case where living up to the scholarship obligations would result in UT Tyler going out of business. That's not alleged to be the case here.
Even if it were, wouldn't Tyler's students and programs be taken over by other parts of the University of Texas system? In that case, doesn't the University of Texas system bear some responsibility to rectify the mistake made by its Tyler campus? Even if Tyler can't accommodate the students from Nepal, can't the entire UT system?
The ultimate lesson from this fiasco is that having ethical standards for the practice of college admission has never been more important. Without guidelines, conventions and rules to guide professional practice, all of us can be tempted by market pressures to engage in behavior that we know is wrong, that may benefit us individually in the short term but harms all of us in the long run.
This fiasco has harmed not just the students who have lost their scholarships and UT Tyler, but all of us as well. Just before signing the Declaration of Independence, Benjamin Franklin said, "We must all hang together, or we will all surely hang separately." He was right then and he's right now.