You have /5 articles left.
Sign up for a free account or log in.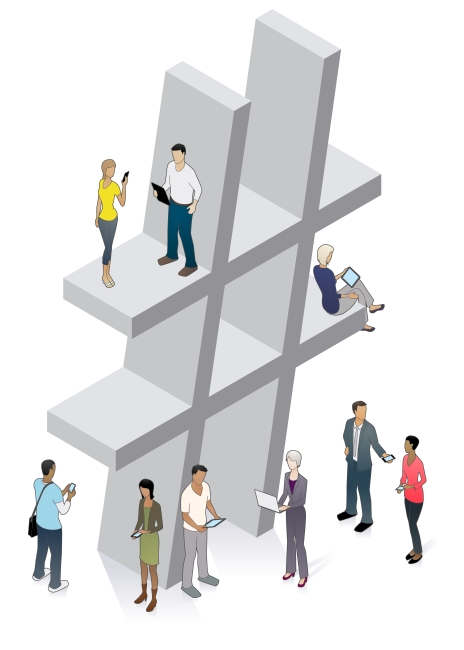 I've been ignored, retweeted and informed in 140 characters or fewer throughout the last 12 months.
Two years ago, I rarely used Twitter. LinkedIn was my social media platform of choice to align myself with trends related to graduate career counseling, especially the social and cultural dynamics of the sciences. With a Ph.D. in history but a caseload of students from STEM programs, I rely on the online wisdom of Science Careers, BioSpace and the American Chemical Society to understand changing demographics and career options for graduate students. Facebook was (and is) a highly personal way for me to connect with friends.
Twitter seemed useless, limited in scope -- until I encountered Sree Sreenivasan, chief digital officer at the Metropolitan Museum of Art. His advice: always be charging, always be collecting, always be connecting.
Suddenly my phone became a collection site, allowing me to jump limitations of geography, money and institutional bias. And I understood why @NIHDirector and @aaas have taken to social media: bandwidth is an intellectual concept as well as a technical matter.
Bandwidth means having the means to transfer bits and bytes of data per second. Bandwidth includes setting priorities between competing demands or types of data. Career counseling, especially graduate career counseling, is all about transmitting knowledge and skills through multiple communication channels. I'm digital; other times I'm analog. My phone or collection site is the midpoint. Engagement with our diverse students requires bandwidth outside brick-and-mortar office space.
The folks at Twitter seemed to understand the inconsistent lives of graduate career counselors as we balance competing views on professional development. There are too many postdocs -- no, make that too many humanities Ph.D.s. And then there's a diagram with a branching pipeline showing multiple options for Ph.D. holders that manages to provoke anxiety in fourth-year grad students.
So I began to tweet. The 140 characters became questions, insights and propositions about graduate students. There are questions about trends, insights from other campuses and proposals about the future. My Twitter-verse is a collection of statistics, reports and actions related to career and professional development.
What have I learned?
Lesson 1: Expectations Are High and Contradictory
Graduate students and postdoc trainees, especially international students, expect a return on investment for their creative work and technical abilities. University administrators have slowly acknowledged that.
But rather than wait for leadership from campuses, graduate students and postdocs have taken their organizational skills and moved onward by organizing outside institutional frameworks through organizations like @FORsymp, which is "led by early-career researchers interested in improving the structures of the scientific system." Social media and bandwidth have displaced water-cooler talk about workload, funding and careers.
On-campus faculty members and administrators are no longer the authoritative source of information about career steps and practices. A form of community grapevine consisting of @StemPhdCareers and @DNLee5 and other sites critically examines graduate education, especially STEM graduate education.
Tweeting about #altac topics has drawn graduate students to my office for individual appointments. Each tweet connects me to the grapevine established by social media. With basic understanding of analytics and mapping, I have reached students who might otherwise see my office as the preserve of undergraduates. What are some of my most impactful or influential tweets?
Chemidp.acs.org = new career tool for CHE students @nsampson @Chemjobber (80 characters)

Attention to career prep = intellectual freedom @GradSBU @SBUGradEnglish @FromPhDtoLife (87 characters)

@GradSBU @SBUGradEnglish be radical, be versatile, change the narrative about options for Ph.D. holders @VersatilePhD (117 characters plus a slide)

Term limits for postdocs? #GCCBrown @SBUirep feasible? Wishful thinking? (72 characters)
The essential goal remains: counseling and coaching. But the method requires intellectual bandwidth and comfort with technology. Or as defined by @CannulaT: trying to get from A to B without something exploding.
Has Twitter radicalized graduate students to abandon dissertations and labs? No, but social media has become a more accessible source of guidance. Faculty and staff members need to develop new social-media strategies to reach students.
Lesson 2: Resistance to Web 2.0 Equals Ignoring Insight
The card catalog of my 20s is long gone. Web 2.0 technology and practice means we can swim in information all day. But manage your social-media feeds, and the filters expose insights from researchers not typically associated with the graduate student experience.
For example, the best graphic explaining Indian students' career intentions is 112 characters plus a graphic:
How #Indian #engineering is connected to ecosystem US #highered #employment #immigration http://bit.ly/EngPath
Shyam Sharma from Stony Brook University's writing and rhetoric program runs a web-based and IRB-approved research study on the academic transition of international students called Translating Success. The evidence-based research of Rahul Choudaha (@DrEducationBlog) and Sharma contributes to the social well-being of graduate students and postdocs if only because the subjects can speak freely, without fear of disappointing an adviser. Researchers like Choudaha and Sharma work outside STEM-think, the procedures and habits of labs.
Lesson 3: A Tweet Is a Hint, Not the Whole
The character limitation of tweets shouldn't stop direct contact with students. I've made phone calls and sent email after tweets to better understand a comment or perspective. Some tweets even lead to career counseling appointments. Tweeting can lead to productive conversations.
Moreover, sharing information with campus faculty members from @ACSDiversity, @NYhuman or @jistudents makes proposing change easier. Critical commentary about job market preparation is more palatable from disciplinary peers. Faculty members who ignore phone calls and email will share tweets with followers that literally open doors for me; there's less of a dichotomy between professionalism and graduate education when retweeting from organizations influencing the faculty.
Both faculty members and grad students engage in a passive-aggressive dance about who is in charge of personal time, career education and professional development. Faculty members declare, "Our students do well on the job market," but my counseling appointments from the all-but-degree students in the same department tell a different story. American academic culture places a high value on self-reliance. But reality can include disappearing funding, isolation and faculty pressures that impede professional growth. Social media is the place where grad students can outmaneuver higher ed's aspirational imagery. Social media gives bandwidth to career counselors to work around ivory tower battlements called traditions.
I still make phone calls and socialize in person. Heck, I even show up at department events. But my tweets precede me. Graduate career counselors can use social media to challenge, to inform and to collaborate. Plus, there are no travel requisitions to complete as we tweet to connect and collect.