You have /5 articles left.
Sign up for a free account or log in.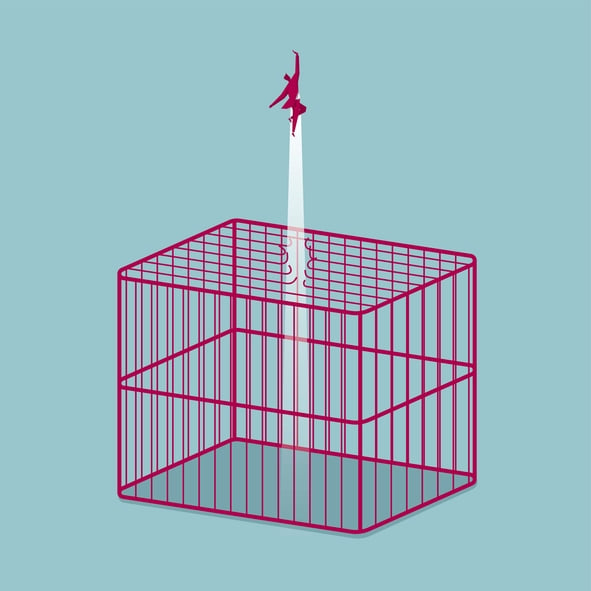 Many of you have probably heard the saying "A dog is for life, not just for Christmas." It is a reminder to parents to tell their children that while they may really want a puppy, they have to realize that they can't just throw it into the cupboard or leave it lying around on the bedroom floor like their other holiday gifts when they get bored with it. Owning a dog is a lifelong commitment. The same holds true for bunnies (often purchased around Easter), for parrots (perhaps bought for a Pirate Day -- yes, there is one) and guinea pigs (bought for … OK, no holiday that I know of is strongly associated with them, but you get my point).
It is perhaps with the words "lifelong commitment" ringing in their ears, and a mental picture of their 30-years-as-a-professor adviser in mind, that Ph.D. students and postdocs often face challenges feeling comfortable making career decisions during their academic programs and training. It can be hard to make any such choice when it feels as if it can have lifelong consequences.
The good news is that whatever job you take next doesn't have to be for life. Yes, that's true even if you decide to pursue a tenure-track faculty career. I have met with several new faculty members over the last couple of years who have successfully navigated the process of shifting their career paths toward nonfaculty roles. More than likely, whatever job you choose next will be part of a career journey that takes you on a curvy path through different types of positions in a range of career fields, where your developed and developing skills and experiences are going to give you the ability to add value.
One of the main career decisions that Ph.D. students and postdocs feel they have to make is whether they should continue to pursue faculty positions or leave to choose some "alternative" path. That is a big topic worthy of its own series of posts (like this one or this one). But to a certain extent, it is not really a choice between staying in or leaving academe. Rather, it is a choice among a handful of potentially viable career paths. You are not leaving anything -- your academic experiences will come with you -- but you are focusing on what comes next and what roles allow you to apply your skills and knowledge. Identifying potentially viable paths, and then turning them into actually viable ones, is all part of the career exploration process. (Also see this post.) Based on that, the most important decision that you will make is which of the possible career paths ahead of you are most likely to be the best fit for you in the long term.
Career decision making isn't about choosing the right path versus the wrong path, either -- it is a little more complex than that. After all, even if you were to find a "perfect" job, it might be that the specific clients and colleagues that you are working with make it a less than ideal work environment. A bad supervisor can make any position a challenging one. The realization that the outcomes of any decision aren't right or wrong, or good or bad, can take a significant weight off your shoulders. It is not that you can't make bad decisions when it comes to career choices (career missteps can certainly occur if people lack a strategic career plan), but it is safe to say that even if you end up in a less than ideal role, you can still make the most out of it as you plan your next career move.
You can learn new skills through the work or through involvement in professional associations that might be helpful to other types of positions you are interested in. You can expose yourself to a broader network of contacts -- people who might be interested in hiring you one day in the future. You will have a chance to put some of your less-developed skills into action, which will further enhance what you can say in your cover letters and résumés when applying for other positions because you have actual examples to talk about. That will help you convince people that you have some combination of experiences, skills or technical abilities to offer that other candidates don't have. Indeed, no matter the role, a focus on gaining transferable skills that are valuable in any profession -- such as those involving communications, leadership, management, problem solving and taking the initiative -- will always be helpful.
Yet how do you know if one type of job is a good fit for you if you have never done it before? That is a good question. People with a research mind-set often like to have a surplus of information before making next-step decisions in their research, personal life or career. Career self-assessments can help (see this post and this one), along with plenty of online research into career paths, asking many questions to people in different career roles, and ideally having an opportunity to try out different types of work. But the truth is, there are so many variables to consider in terms of choosing your next job that you will never actually end up with all the information you think you need -- unless you can predict the future (in which case I have some career suggestions for you).
You can get close, however. One of the best approaches is to expand your network so you can see the world of work through the eyes of other Ph.D. graduates applying their skills happily in a wide range of career fields. If you find people with a similar academic background who share your way of seeing the world and are happy in their careers, then the chances of you being similarly happy in similar careers will significantly increase.
Of course, exploring different career paths doesn't mean that you should just apply for any old job in the vague hope that it will somehow be a good fit. For starters, you are probably not going to be offered a job if you cannot provide a convincing answer as to why you are even applying to it. Here are some answers to the "Why do you want this job?" question that I have actually heard from students and postdocs during mock interviews:
"I don't really know what I want to do with my life, but I saw this job advert and it looked interesting -- something I might apply to -- and so here I am."
"I have discovered that I really don't like working in a lab environment, and I have had some bad experiences within academe, and so I am looking for a new direction where I can be happier."
Put yourselves in the shoes of the employers listening to such answers, and you'll see why they are not going to be very helpful. Would you hire someone who didn't or couldn't show authentic interest in your company or in the day-to-day elements of the job? So part of the process of making a decision to pursue a certain set of career paths is to create a vision in your own mind about what you can bring to a role, what you can take from it, and how it moves you closer to one or two more ultimate career goals you are possibly aiming for. No matter what move you are making, there will always be opportunities to change the direction of your career path if you need to.
So while dogs, bunnies, chicks, parrots and perhaps guinea pigs may be for life (turkeys for Thanksgiving are usually a rather different situation), many jobs that you can pursue with Ph.D. or postdoc experience can be short-term stepping-stones on a straight or more convoluted path toward a more ideal career. Don't let your concern about making a wrong decision stop you from taking that first step.