You have /5 articles left.
Sign up for a free account or log in.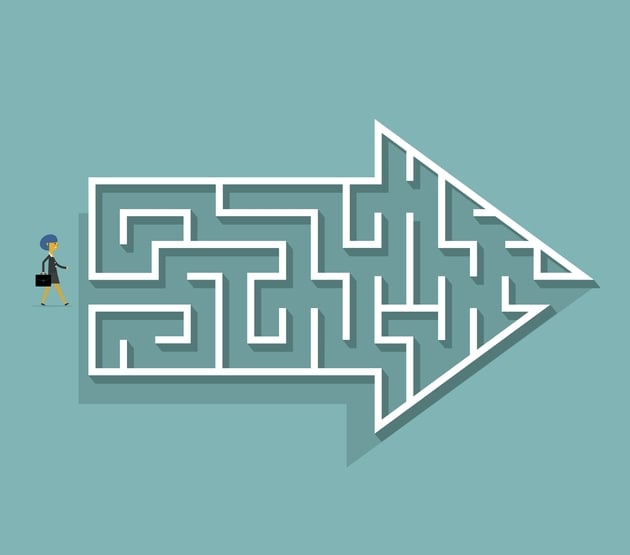 Perhaps you've recognized reasons you're being pushed or pulled outside higher ed. Perhaps you've engaged in career discernment, gaining clarity about next directions. Perhaps those directions are pointing away from familiar career trajectories associated with academic job searches, faculty positions, tenure and promotion. Perhaps you're ready to plan a career change and you're asking: What logistics need to be addressed? What's involved in planning an exit from academe?
In previous Inside Higher Ed pieces, I've shared the origins of my decision to leave higher education and practices for career discernment, including how to follow a strong yes and to make career moves by saying no. In these pieces, I shared what motivated me to change directions after investing many years in graduate education and a faculty position, even earning tenure and promotion.
In this article, I will describe my process of planning to leave, attempting to move beyond the rationales typically described in quit lit to address questions of when and how to leave. Certainly, the work of planning a career change overlaps with the work of career discernment, but planning involves additional logistical, financial, emotional and relational matters.
Though I'd been engaged in career discernment for some time, sincere planning came to me in three stages: 1) beginning to plan while feeling uncertain, 2) getting serious about planning and 3) putting plans into action.
Beginning to Plan While Feeling Uncertain
This first stage began in the spring semester -- more than a year before I left my faculty position -- when I decided that I wanted the freedom to explore the possibility of leaving. Already well into practicing career discernment, I could tell that I'd need time and space to make such a big decision, one that felt irreversible. To begin, I decided it was a myth that "if you leave a faculty position, then you leave for good." I made lists of folks who'd started or rekindled academic positions later in life as a way of speaking back to this lore, and I allowed myself to truly consider the option of leaving.
At the same time, my partner and I mapped out some financial plans and decided to sell our condo. We moved into a one-bedroom apartment with a one-year lease, both to save money and to know we'd have freedom to move if/when we decided to leave, which we did by the end of the lease.
That same spring and summer, I was putting together my tenure and promotion dossier, so I wrote my research and teaching statements while reflecting on the path that had brought me here and what work I felt called to do next. Alongside the dossier, I prepared a rough business plan, imagining a period of time when I could go without earnings. Through free writing, list making and other discernment practices, I realized that in addition to figuring out logistical details, I needed to build courage and trust to make a bold move.
Getting Serious About Planning
By the fall semester, I'd decided to meet with a counselor, feeling that I needed another person's perspective and insights. In addition to explaining how she could see that I'd already made the decision to leave academe, she coached me on how to experience this final school year. To begin, she encouraged me to do way less than I'd like, to free up time to grieve. She named grief as an emotion for losing (letting go of) an identity (not only a job) that I'd deeply invested in. She suggested I put "time to grieve" on my weekly schedule, practicing saying no in small ways toward building the courage to say no to T&P in a big way. She also encouraged me to soak in memories of this final school year: not toward making a pro/con list of reasons to stay or go, but instead toward remembering final times teaching particular lessons, attending particular meetings and so on.
In just a couple of sessions, she gave me a structure for understanding this transitional time as a period for grieving and growing, pausing and planning. Our sessions marked the turning point between stages. On the day my counselor asked, "Do you just need someone to tell you that you're not going to be at the university next year?" I laughed and nodded and accepted this realization: I will not be at the university next year. She told me that accepting this decision meant that if I walked out of her office and learned that I'd received tenure, then I would say, "Thank you, and I still need to go."
Moments after this conversation, on the elevator ride down from her office, I checked email and read that my department voted in favor of my T&P. Talk about divine and miraculous timing. The message was clear: I could be appreciative for institutional support and still solid in my decision. I could appreciate how my academic career brought me to this milestone and also recognize my desire for change. I could experience this moment with gratitude and grief wound into one.
Putting Plans Into Action
"Planning" sounds so, well, planned, but many things I now consider to be part of my planning process were pure serendipity, luck and divine intervention. Like a friend connecting me to Doyenne Group, where I could learn about entrepreneurship and start business coaching. Like a new membership with the YMCA allowing me to build physical strength -- part of what I needed to see myself as courageous and ready for a new identity. Like multiple confirmations of my decision coming at exactly the right time.
Because I completed the academic year after making my decision, I experienced doubt multiple times. On each occasion, a strong confirmation appeared, reminding me the decision was already made. One of these came in January, as I was preparing syllabi for my final semester. The previous spring (when this planning process began), I'd dreamed the semester had given me a concussion. I recognized that I was mentally and emotionally exhausted and took the dream seriously as a warning. In January, I was again pushing myself to work when I wanted to rest, gearing up for a new semester when I felt instead like I should be gearing down.
In the mist of syllabus writing (when I was physically tense and at odds with myself), I went to get lunch, tripped on the sidewalk and fell. I was brought to kneel, badly scraping and bruising both knees, and hit my forehead (smacking my third eye), resulting in an actual -- not just symbolic -- concussion. The concussion grounded me. I had to cut back on just about everything and spent time meditating and healing in darkness. I limited both screen time and time on the campus. That final semester was unlike any other I'd experienced: I could barely teach classes or attend meetings. The concussion defined the first half of that final semester, and the announcement defined the second half.
Back in the fall, once I'd make the decision to leave, I began considering when to share the news and decided after consultation with a few friends to announce in mid-March (the week before spring break) -- at a time when the department could actively respond to the news, but close enough to departure that I'd hopefully limit interpersonal tension. I began making lists of whom to notify and in what order -- realizing that I'd want to tell the news personally to many friends, colleagues and students. I considered over several months whom to reach out to, revising and updating lists and eventually scheduling times to talk.
In February and March, while recovering from the concussion, I wrote multiple versions of my announcement: drafting and revising, drafting and revising until I found words that felt differently right for different occasions. I even practiced sharing the news as one practices for job interviews. Between March and May, I sent so many emails and met with so many people that I had to keep blocking off "time to process and grieve" in my schedule, as each announcement came with new waves of emotion.
I didn't announce on social media until late May, once all grades were submitted and the semester ended. I made that announcement in the midst of a flu-like illness, as my body crashed at the end of the year. If I could do the planning process over again, I'd be gentler with myself, taking more of my lessons the easy way.
Like the origins of my decision to leave, my planning involved both pushes and pulls -- both planning for what's next and planning for what's been. I thought a lot about how to announce (and explain and interpret) my decision to leave. To process the experience, I continued the free writing and research practices of career discernment by essentially coding my experience -- looking for patterns in others' and my own responses. In the next piece, I will share what I learned from processing the announcement itself, hoping these stories shed light on the transition from inside to outside higher ed.