You have /5 articles left.
Sign up for a free account or log in.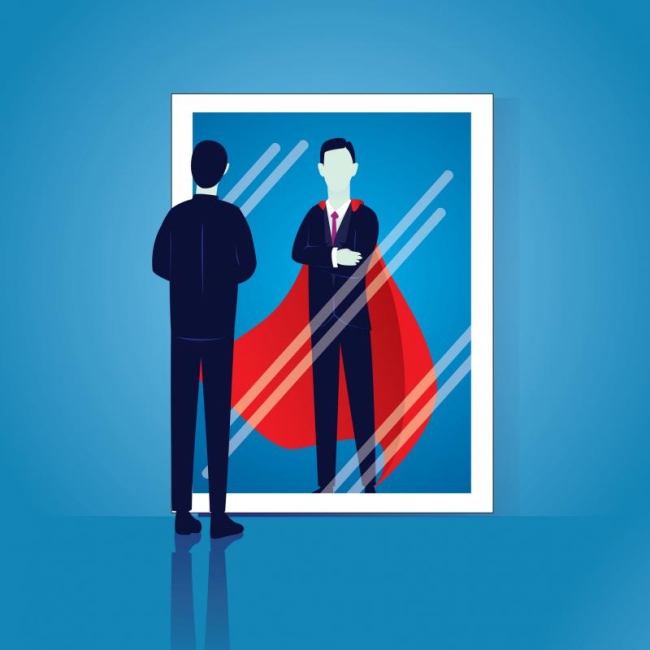 dina mariana/istock/getty images
Your graduate school experience is full of challenges and hard work that will not only keep you busy but also make you feel as if you have no time to do or think about anything else -- especially what happens next. However, from the start, it is important to be proactive and to prepare for your next steps post-Ph.D.
Your Ph.D. program will focus a lot on the academic expertise, competencies and skills you need to develop during training. But we would like to suggest that for career and professional advancement, in addition to these competencies and skills, you must believe in yourself and your own success. In other words, you need to strengthen your self-efficacy.
The concept of self-efficacy, a person's belief in their ability to succeed, was developed by psychologist Albert Bandura and laid out in his theory of behavioral change. Self-efficacy, he said, is composed of three concepts:
Self-esteem: your feeling of worth;
Confidence: a general belief in yourself and your ability to set and reach goals; and
Motivation: the strength of your desire to achieve the goal.
According to Bandura, individuals interpret information from four main sources to influence the development of self-efficacy beliefs:
Mastery experience: experiencing previous success in a challenge, which provides support to show you have what it takes to succeed;
Social role models: seeing people similar to yourself succeed, which provides foundation for building belief that you, too, can succeed;
Social persuasion: receiving encouragement and positive feedback for your efforts, which strengthens belief in your ability; and
Emotional and physical states: feeling well, which helps manage stress and anxiety in challenging situations.
With strong self-efficacy, a Ph.D. is better prepared to build on their deep academic knowledge to encompass learning and mastery of many other skills and abilities, which builds a foundation for career success. A 2018 article examining the core competencies that you can obtain during a Ph.D. offered 10 fundamental competencies to successful Ph.D. learning. These competencies include such things as broad conceptual knowledge of a discipline, deep knowledge of a specific field, critical thinking skills, experimental skills, computational skills, responsible conduct of research and ethics, and communication skills.
You can obtain many of these concrete competencies in a classroom, library or lab. But the study also includes descriptions of leadership skills, collaboration and team science skills, and survival skills, which may seem nebulous at first glance yet are all important facets of Ph.D. training. Leadership skills include the ability to successfully collaborate with and manage others, understand group dynamics, facilitate group communication, make team decisions, and manage conflicts. Collaboration and team science skills involve being self-aware and open to collaborations. Survival skills include a variety of personal skills to sustain yourself mentally, such as staying motivated, persevering in the face of challenges and being adaptable. This also includes the kind of skills that build and sustain careers, such as participating in professional development activities and networking.
These skills are an important component for academic success. In addition, they are crucial to preparing Ph.D.s for future success, no matter what field or occupation you ultimately choose, as they are also key components of career exploration and professional development.
Recognizing that Ph.D.s may not be aware of where and how to build these types of skills, or even why they matter, many graduate schools and professional organizations across the country have begun to offer a variety of career and professional development programs and resources for Ph.D.s and postdocs to help them develop the personal and professional skills they need to succeed. In addition, you can find national resources open to everyone:
As a Ph.D., you will need to take the initiative to find and participate in these programs. That said, you will feel more encouraged to be proactive if first you believe in yourself and your personal success. Self-efficacy facilitates proactivity, and building self-efficacy is the first step in developing the right mind-set for success. The good news is that you can strengthen and develop your self-efficacy on your own or with the help of others, such as mentors or other advisers.
Whether you are looking to build your own self-efficacy, or you are a mentor or adviser who guides doctoral students and postdocs, consider the four sources Bandura suggests that fundamentally influence the development of self-efficacy beliefs. Below are some suggestions for active steps to encourage growth of self-efficacy in yourself or others. You can build self-efficacy through:
Mastery experience
Use positive self-talk: "I can do it."
Set reasonable and achievable goals for yourself, or work with a career professional to set attainable goals -- breaking complicated activities into more accessible efforts and short-term aims.
Reframe how you look at failures.
Make a list of your previous successes. Think about the effort you put into making them happen.
Social role models
Confirm you are working in a supportive environment -- a learning atmosphere that encourages growth and development.
Seek feedback and make improvements.
Find role models of success. Alumni can serve as great role models.
Seek training opportunities to build new skills or hone existing skills.
Social persuasion
Make friends with people who are positive and not only good role models but also supporters.
Work with mentors and advisers who provide honest feedback and offer suggestions for improvement without making personal evaluations.
Managing emotional and physical states
Keep a journal -- monitor and look for patterns in your physical feelings, emotions and thoughts.
Compare your progress with your own previous performance. Do not compare yourself to others.
Self-efficacy is an important psychological building block for your Ph.D. training. Creating this foundation will sustain your lifelong learning and development, and it can assist when times are tough (which they definitely will be). Learning how to approach challenges with belief in yourself and your abilities will lead to success.
We advise you to use this training period to consider your goals both during and after your Ph.D. and to develop this psychological building block from the start of your training. Self-efficacy will help when the road is rough and the challenges seem insurmountable.