A space to discuss the ways in which we market and communicate about higher education and the collegiate experience.
Title
As Audience Diversity Increases, Boost Marketing Effectiveness
Better understand your audiences and their preferences to jumpstart new campaigns and create a roadmap for navigating new environments. 
I recently began a new position at a small community college, after spending the past seven years at research universities. Of the many differences between community colleges and other types of institutions, one that I noticed immediately was a greater diversity of constituent groups with whom I need to communicate—a challenge Mallory Wood recently wrote about for this blog.
As I was mulling over how I was going to handle the challenges of differentiated marketing in my new context, I happened to receive my copy of the Association of Fundraising Professionals' Advancing Philanthropy magazine. It featured an article on creating an integrated philanthropic communications plan. One of the suggested strategies was creating consumer profiles for each of your constituencies. Using persona profiles in higher education marketing is not a new idea. Readers working in other institutional settings may be using persona profiles to develop targeted inbound marketing messages, but working in a small shop in a new context made this idea seem fresh again. And, while I decided to use this approach to navigate a new environment, developing persona profiles can also be a useful exercise for those embarking on new campaigns.
My approach to developing the persona profiles for Nunez Community College was to first define the different categories of constituents, and to consider who would make up the subgroups within each category. In addition to my job duties in marketing and communications, I am also responsible for alumni affairs, so I started there—thinking about who makes up our alumni constituency. Within that one category of alumni there are: associate degree graduates, certificate program graduates, dual enrollment completers, noncredit program completers, and former students who took courses but did not earn a credential. (Nunez chooses to use a very broad definition of alumni.)
The next task was to consider the characteristics that will compose each persona. Taking for example an alumnus of an associate degree program and asking: What are this person's demographic characteristics? What message does the college want to communicate to him/her? What are her/his priorities? What are her/his consumer behaviors? What media channels does s/he prefer?
Each persona should then be given a name, matched with a photo (a stock photo is fine), and referred to by his/her name when designing targeted communications. This sounds like a lot of work, and it can be, but the value is in having a specific person (or persona) to whom you can target your message. (Click on the image below for a larger version of one of the personas we use.) When crafting messages, you can consider how [persona's name] will likely respond to the message and the medium through which it is sent.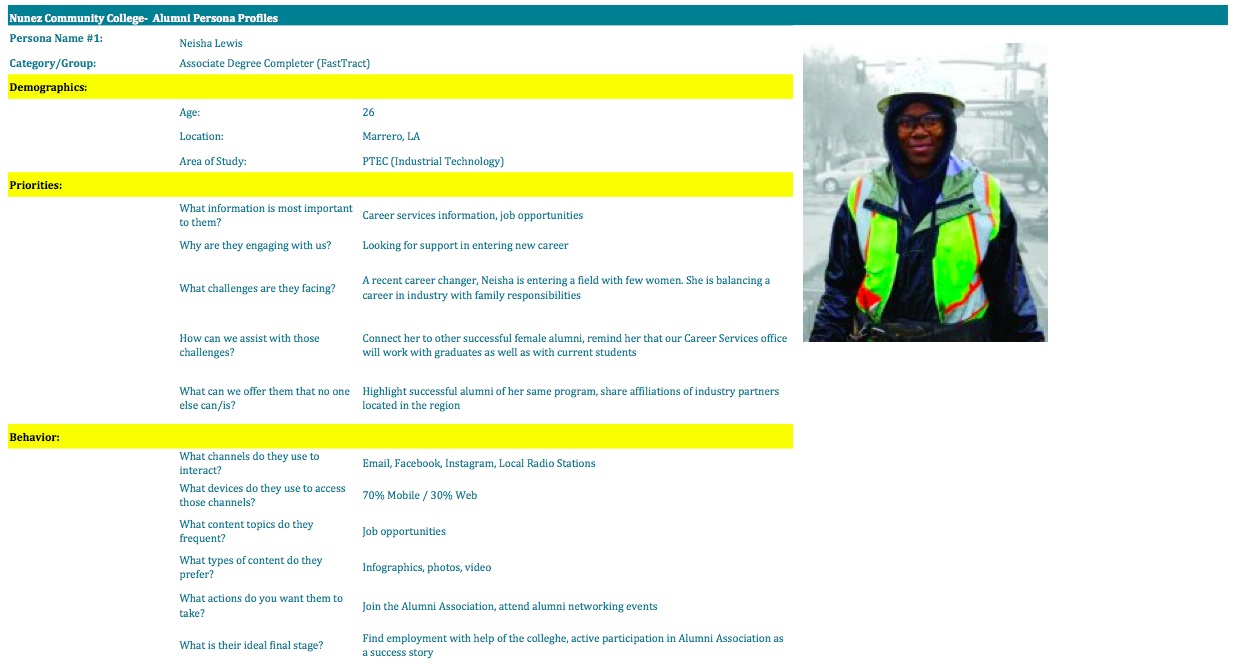 As I considered all of the audiences with whom I have to communicate on behalf of the community college, when possible, such as when using social media, it is helpful to refer to the personas to target the messages. Overall, I came up with four core persona categories: alumni, friends, partners, and prospective students. Using a tool like Facebook insights, you can see when certain audiences are most likely to be online. If I am targeting a message to a persona, I can use the profile I have created to evaluate the best time to schedule the post as well as what content will be of most interest to a particular person. Facebook insights can be used in concert with the personas to see what type of post (photo, video, status update) us likely to gain the most attention and have the greatest organic reach.
What did I learn from this exercise?
Thinking through the categories and related personas was a useful exercise for me as someone new to my institution. It also illuminated the variety of publics with whom we are expected to communicate as representatives of higher education institutions. I also could see why the work of the admissions and recruitment team can be challenging. (Look at all those personas!) In my specific role, the alumni, friends, and partners categories are part of my assigned communications responsibilities. I support the work of the admissions and recruitment team, and can see why marketing and communications support is essential to their work. Developing personas can be a tool to help new team members understand your publics, or in the process of a communications audit. Has your institution used persona profiles to develop communications and marketing strategies? Tell us in the comments.
Lindsey B. Jakiel Diulus is the public information & alumni relations officer for Nunez Community College. Follow her on Twitter and Instagram: @LindseyJKL.
Opinions on Inside Higher Ed
Inside Higher Ed's Blog U
What Others Are Reading
Past:
Day
Week
Month
Year