A blog by John Warner, author of the story collection Tough Day for the Army, and a novel, The Funny Man, on teaching, writing and never knowing when you're going to be asked to leave.
Title
To Modularize or Not to Modularize: That Is the Question
MIT thinks "the very notion of a class may be outdated." I think they're being silly.
The MOOC-world word of the week is "modularity."
We've seen it both in an institutional report on the "Future of MIT Education," as well as an Inside Higher Ed story by Carl Straumsheim about changes the University of Wisconsin is making in its MOOCs.
Early MOOC experiments have (perhaps predictably) demonstrated that porting the design of face-to-face courses to the Internet yields unsatisfactory results, primarily when it comes to course completion. At Wisconsin, only 3.2 percent of people who signed up for their MOOCs made it to the end.
Modularity, then, is an effort to make online offerings more targeted and user-friendly. The example used in the IHE article is taking a 15-week Shakespeare course and chunking it into "modules on his poetry, comedies, tragedies, and historical plays."
MIT's report takes their conclusions about modularity a little further, declaring that "The very notion of a 'class' may be outdated."
--
Last week, my wife and I went on a trip through the Peruvian Amazon on a riverboat, and it has just struck me that the entire expedition was designed as a "class."
And yet, at the same time it was also modular, each individual excursion building on the last experience, while also preparing us for the next.
As the riverboat navigated the main river, we would venture out in skiffs, exploring smaller tributaries, spotting birds and other wildlife. We'd go out twice a day, once in the morning and then again in the afternoon or evening. At dinner, we'd hear about the agenda for the morning, and at lunch, we'd be informed of the afternoon plans. We were asked to only consider what was right in front of us, but hindsight shows how carefully these individual units were integrated as part of the whole.
An example: what our expedition leader, Renzo Zeppilli[1], called "full jungle attire."
Full jungle attire means maximum coverage of exposed skin to ward off sun and bugs - long pants tucked into your socks, long-sleeved shirts, hats, bandanas. The guides never used DEET, but I practically bathed in the stuff. For our very first trip on the skiff, Renzo recommended "full jungle attire," even though in hindsight, a two-hour morning excursion that didn't spend very much time standing still didn't require it.
On the last day we would go for a similar outing that had most of us wearing shorts and t-shirts.
Renzo knew that we needed to prepare for outings that were to come, one a walk on land that was exposed because it is the Amazon dry season, and a nighttime skiff trip to look for frogs and caiman, where the bugs were thick and hearty enough to bite through clothing in a couple of spots.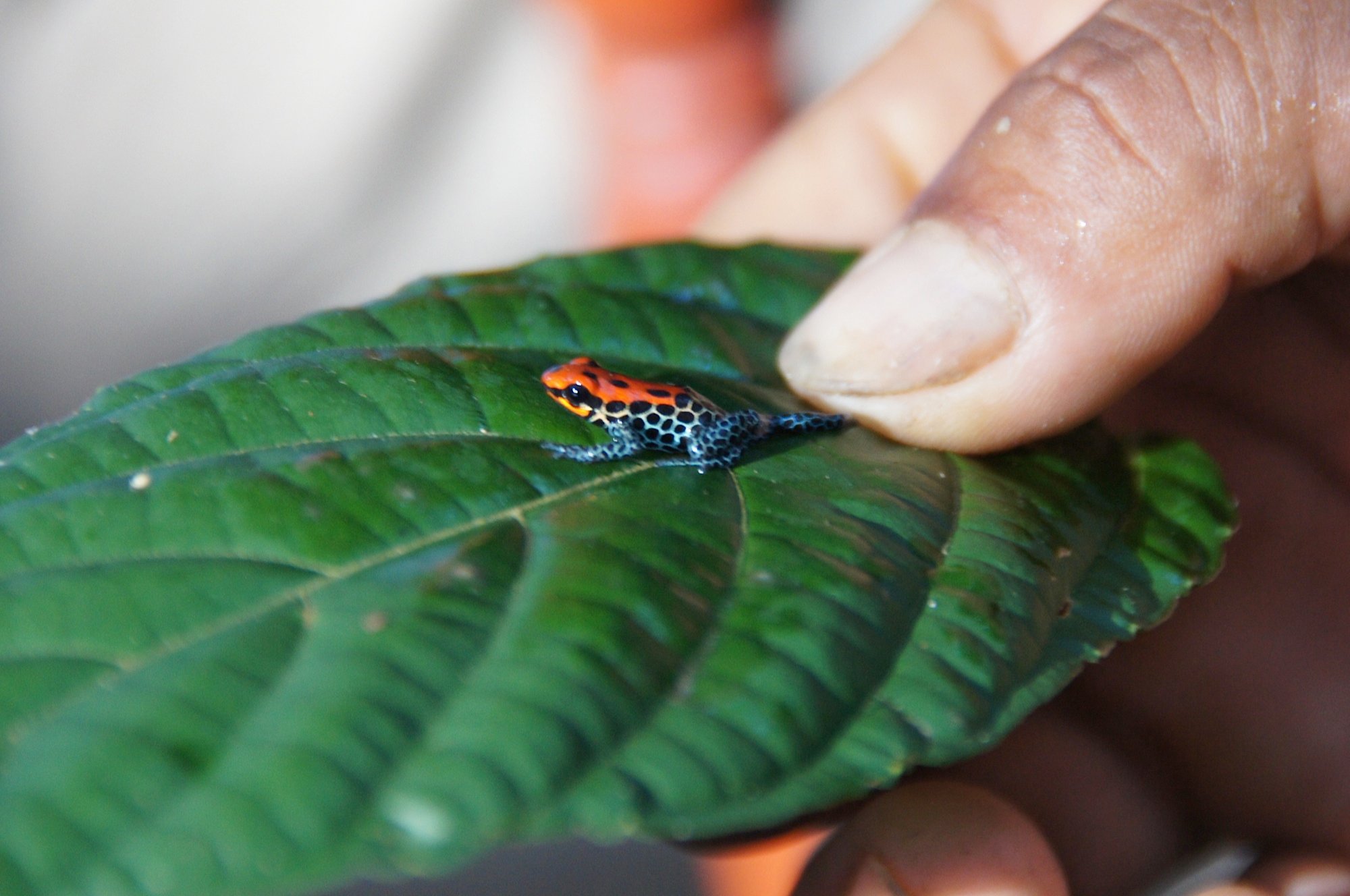 Failure to employ good and comfortable full-jungle attire on a night trip through an Amazon tributary where you spend 10 minutes nestled against the bank while watching an 8-foot caiman will send you home as more welt than human.
The later module was far more effective because of the earlier one, even as the earlier one was not nearly so dynamic or compelling as the later one.
As another example, our guest lecturer, Alan Lieberman, a research fellow at the San Diego Zoo Global Institute for Conservation Research, did not lecture about how to more effectively engage in bird watching until after we spent two days watching birds.
Prior to the lecture, the way our native guides, Usiel Vasquez and Segundo Mesia (as well as Renzo and Alan), could tell us the species of a bird from a hundred yards away with their naked eyes,[2] seemed like a kind of magic, a gift I didn't possess.
After the lecture, I understood it as a systematic way of observing and thinking, bolstered by encyclopedic knowledge of avian taxonomy. I recognized what they do in my own work with drafts of student writing, where I can skim a page, and somehow "see" the mistakes without even thinking about them or really even reading closely.
It would take me a lifetime of practice to spot birds like these experts, but I at least understood where the expertise came from. It wasn't magic anymore. I could even seek to build my own skills[3].
I don't think it was accidental that the trip was structured this way. The tour company, International Expeditions, lists education as one of their main goals.
It also happened to be incredibly fun.
--
The MIT report expounds on why they believe the "very notion of a 'class' may be outdated."
"This in many ways mirrors the preferences of students on campus. The unbundling of classes also reflects a larger trend in society—a number of other media offerings have become available in modules, whether it is a song from an album, an article in a newspaper, or a chapter from a textbook. Modularity also enables "just-in-time" delivery of instruction, further enabling project-based learning on campus and for students worldwide."
Here, then, is where my hackles begin to rise and I wonder what kind of B.S. I'm being fed. This is not an ethos of pedagogical soundness grounded in educational values, but a move towards consumer preference. It is a desire to structure learning around what students can comfortably and easily "complete."
If we cannot get people to persist for fifteen weeks, maybe five will do? For this, we will give them 1/3 of a credit.
But "module" does not replace "class" anymore than listening to "Tangled Up in Blue," as great as it is, can substitute for listening to the entirety of Bob Dylan's Blood on the Tracks.
Take the Shakespeare class, for example, a survey course that is the staple of practically every English department in the country.
Is something lost if we allow credit for the five-week course on the sonnets, no additional engagement with the tragedies or comedies or histories required?
I believe so. We lose some of the coherence and the context, the chances for comparison, and to marvel how one writer could produce works of such range.
Would someone on the trip I just returned from miss something vital if they skipped the visits to the riverside villages, instead only engaging in the wildlife excursions? No doubt.
A curriculum that caters to the consumerist impulse of choosing what is most easily digestible, a major as mixtape, may be interesting, and have some utility, but we shouldn't mistake this approach as somehow obviating what we now call a "class."
In the context of a degree-granting program, it is almost certainly inferior, a watering down, and for not very good reasons[4].
And really, how many face-to-face classes are taught that aren't already structured as modules?
In my first-year writing class, each unit builds on the last, from summarizing argument, to adding response, and then rhetorical analysis, ending with a researched essay with an original argument at the center.
It's actually designed as three, five-week courses, but for the learning to be most productive, for full context, it must be done in sequence. Completing a single unit is relatively pointless if they aren't joined with the other two[5].
--
And yet, when it comes to modularity, I'm singing "On Wisconsin!" while shouting "Boo, MIT!"
This is because there are important differences between Wisconsin's and MIT's approaches.
Wisconsin's is oriented around the "Wisconsin Idea," a longstanding practice of the UW system that seeks to provide educational opportunities that will benefit the entire citizenry. In that context, figuring out how to make online courses more responsive to the audience needs makes excellent sense.
They are not seeking to replace a University of Wisconsin education with something that is not a University of Wisconsin education, but to enhance the role a great state university plays in enriching the lives of all its citizens.
The "greatest hits" approach, as UW senior evaluator Joshua Morrill describes it, helps to introduce non-degree-pursuing students to an accessible and engaging curriculum, perhaps inviting them to then look deeper.
While MIT offers some cautions in its report regarding the potential to fragment a student's education, they declare, "Much like a playlist on iTunes, a student could pick and choose the elements of a calculus or a biology course offered across the edX platform to meet his or her needs."
I'm a big believer in student agency and autonomy, but this strikes me as pretty poor thinking for higher education leaders.
One of the things students should expect from their colleges and universities is the expertise of faculty in knowing what is important, to structure learning in the most productive and meaningful ways. If we aren't doing that, then let's fix it.
I didn't point the way for our skiff drivers in the Amazon. I trusted the experts, and they delivered.
MIT is on a route to substituting that tradition with an "other customers who liked this course also chose…" list.
So often in these discussions of technology and higher ed we privilege the so-called "innovative," hardly stopping to consider what we're leaving by the riverside.
--
I had zero access to Twitter (or any Internet) for the entire trip. It was great.
Opinions on Inside Higher Ed
Inside Higher Ed's Blog U
What Others Are Reading
Past:
Day
Week
Month
Year