You have /5 articles left.
Sign up for a free account or log in.
Twice a year the website The Millions publishes their "Most Anticipated Book Preview."
It is one of my favorite things. There's a new Richard Ford and Denis Johnson in my future. Three writers whose earlier books I enjoyed and admired, Hannah Pittard, Rebecca Makkai, and Laura van den Berg, will also release novels this year. David Mitchell, Marilynne Robinson, Haruki Murakami…it's like being at Baskin-Robbins and desiring all 31 flavors. I'll never read them all, but I wouldn't mind trying.
The book I'm reading right now leads the "2nd Half of 2014" preview at The Millions. The jacket copy describes the author as a "stunning new talent."
--
In 2011, my novel, The Funny Man, was included in The Millions book preview. It's there, just above Haruki Murakami's 1Q84.
Around the time that notice appeared, my wife and I were in the midst of a major transition, moving to Charleston from Greenville, S.C., so my wife could begin a new job.
I left a non-tenure-track job at Clemson I'd held for six years, making $25,000 a year to teach four classes a semester. I loved teaching. I wasn't burnt out, but I was bitter at the place and the system that exploited the labor of people like me. The sensible move seemed to be to walk away for good.
The publication of the novel and the move made me consider charting a different course. Maybe I was a novelist now.
It's not that I was delusional, that I figured my book for a best seller, but I began wondering, what if some foreign sales materialized and the novel did just a little business? Maybe a favorable review or two from the small  handful of reviewers who still have some influence? Under those circumstances, a novel every three years brings in about as much money per anum as I'd been making at Clemson. Not a fortune, but enough.
It's not that I anticipated it. I didn't bank on it, but I wondered, what if? Maybe this was going to be the next phase of my life, and when people asked me what I did, I'd say that I wrote novels.
--
I also have a book coming out this fall, a collection of short stories from LSU Press. It is not featured in The Millions book preview. It's fair to say that there is precisely zero anticipation in the larger world for the book, with the possible exception of my mother, who is my biggest booster, but also worries that I use too much profanity in my fiction[1].
I tell her that I write in the vernacular of our age.
Two months out from the release of my novel, I wasn't sleeping, not just because of the stress of the move, but because I felt as though the novel being brought into the world offered a kind of judgment of my worth. If I was a fiction writer, this would be the proof.
Two months out from the release of the short story collection, I'm sleeping well.
--
The book I'm reading is California and the "stunning new talent" is a woman named Edan Lepucki.
I'm well-acquainted with the rhetorical excesses of jacket copy, but if the publishing industry was "stunned" by Edan Lepucki's talent it was the world's slowest stunning because as a staff writer at The Millions she has been writing beautifully and honestly about the challenges of seeking publication for her work. In fact, her first novel didn't sell. Reading her essays, clear-eyed and absent any self-pity, about these experiences made me a fan.
In her essay on why she wasn't going to self-publish her unsold novel, her final reason was, "I'm busy. Writing."
I started rooting for her success, maybe as a proxy for how I thought publishing should work, with the good and sincere and hard working winning in the end.
--
My novel was treated quite well by its publisher, but once released, it suffered from a failure to thrive in the marketplace. None of the breaks a debut author hopes for happened to me. The trade reviews were lukewarm at best. Kirkus called it "smug," and articulates a reading of the book that felt so ungenerous it didn't even sting all that badly because it seemed to be describing a novel other than the one I thought I wrote.[2]
It wasn't reviewed at any of the big outlets. There was no groundswell of popular support. Less than a month after release it was selling no more than a handful of copies a week. There would be no foreign sales, no additional income streams.
It stiffed, entirely. According to Nielsen Book Scan I have sold two copies in the last six months.
If this was a judgment, it wasn't favorable.
--
For awhile, it looked like Edan Lepucki was going to be subject to a bad bit of luck surrounding the release of California.
Her novel is published by Little, Brown, which is an imprint of Hachette, which is currently embroiled in a dispute over terms with Amazon, which has resulted in Amazon delaying shipping and limiting availability of Little, Brown books, including those by big name authors like Stephen Colbert, James Patterson, Malcolm Gladwell, and Sherman Alexie.
Not being available for purchase in the world's leading retail outlet for books is not a good thing for a debut novel[3].
But then something happened. Stephen Colbert invited Sherman Alexie on his show to discuss the Amazon/Hachette dispute and he brought a Little, Brown book with him and urged people to buy it at Powell's. That book was California.
As reported by Brooks Barnes in The New York Times, California went from a "tiny" 1st printing of 12,000 copies[4] to being "one of the most pre-ordered debut titles in Hachette history."[5]
Barnes says that the way Edan Lepucki's novel wound up in Sherman Alexie's hands being championed on The Colbert Report is a "tale of almost unbelievable luck."
Well, yes, except also, no.
The tale of the Colbert boost is, for sure, one of luck, but the book was brought into existence entirely through Edan Lepucki's diligence and hard work.
--
The failure of The Funny Man was a judgment, but not on my abilities as a fiction writer, it turns out.
(Or not only that.)
At about the same time it became apparent I would be earning zero dollars as a novelist for the foreseeable future, a full-time visiting position came open at College of Charleston where I'd been adjuncting, teaching one course a semester so I didn't spend all my time marinating in our rental, lamenting the failure of my novel to move units.
As I crafted my application materials for the position I realized that I wanted this job as much or more than I wanted to be able to identify as a novelist.
--
I'm only about 100 pages in to California, but I'm thoroughly gripped. It's a post-apocalyptic domestic novel. I'm trying to write this as quickly as possible so I can get back to it.
I am not surprised that it is good, but I am relieved. One of the good guys won.
--
In a month I'll start my third year as a visitor at College of Charleston. In rapid succession following the securing of the visiting gig, the opportunity to write for Inside Higher Ed and start a column for Printers Row, the Chicago Tribune book supplement, arrived.
I cannot imagine the ways my life would've been impoverished without these opportunities.
And if we're measuring writing success by money earned, 2013 was my best year ever, and 2014 is on track to better that.
And long after I'd given up hope that the collection of stories that I've been trying to publish for the last, let's say eight years, after being discouraged by my agent from trying to submit them, and having them rejected by the publisher of my novel, I sent the manuscript to a writer and editor whose work I esteemed, a guy named Michael Griffith. A month or so later, he said he wanted to publish it through Yellow Shoe Fiction, an imprint of LSU Press he editorially oversees.
On or around September 15th, Tough Day for the Army: Stories will come into the world. The stories are the opposite of smug. If anything, they're embarrassingly earnest. They are about the attempt to achieve grace in a world seemingly without it. I think they're funny when they're not sad, and sometimes they're both at once[6]. They're as honest and true as I can make them and I've been working on some of them for fifteen years.
There's a story about what might've happened if Jesus' first job had been minor league hockey player instead of carpenter. There's another about a farmer couple who plant a crop of poets when the beans fail. Another features a talking monkey. One is called "My Dog and Me," which is about my dog, but not about me.
There's also some f-bombs and some motherf-ing bombs.
Sorry, mom.
I anticipate nothing from the release of the book.
This time around, I'm smart enough to welcome everything.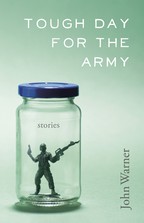 --
Anyone who writes about or reviews books (in any forum, i.e., publication, blog, etc…) is welcome to contact me at biblioracle (at) gmail (dot) com and request a galley copy of Tough Day for the Army. Just give me your name, email address, and where you may be interested in writing about the book for. Obviously, there is no expectation of coverage, favorable or otherwise, in return for access to the galley.
---