You have /5 articles left.
Sign up for a free account or log in.
How do academic libraries spend their money?
The figure below, created from IPEDS data collected in 2020, shows academic library spending in four categories across institution type.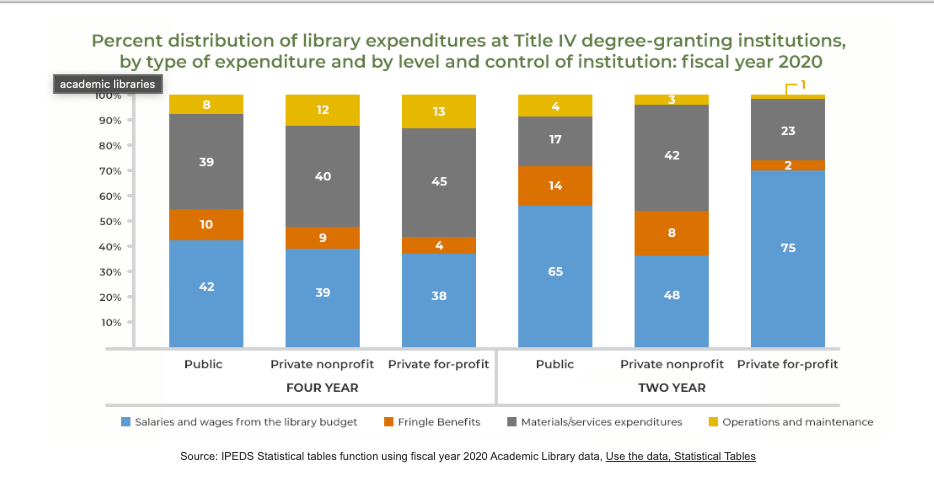 At four-year Title IV degree-granting nonprofit institutions, the biggest expense is salaries, wages and benefits. People costs. A close second is materials/service expenditures, with about 40 cents of every dollar in this category. Operations and maintenance take up the remaining roughly 10 percent.
I was hoping that an academic librarian would help us interpret this figure. As a nonlibrarian, ignorant of how things work, I have some guesses about what these data tell us.
First, choosing an academic librarian career is not the ideal way to maximize one's salary, but it may be an excellent choice if your goal is to optimize for stability. The reason that I think this might be true—and please tell me if I'm wrong—is that maybe academic libraries can avoid layoffs in lean budget times by cutting down on the roughly 40 percent of spending that goes to materials and services.
Is this right? Do library leaders trade off between layoffs/replacing retiring library lines against cutting back on paying for databases, journals and collections? Is it even possible to preserve a job or replace someone who leaves by moving the money from materials/services to salaries?
A question I have in looking at this figure is to wonder where the money goes inside these big categories. On the staffing side, what proportions of salaries/benefits go to professional librarians (salaried staff) and those without an M.L.S. or equivalent/adjacent advanced degree? Are the staffing categories in academic libraries set up as salaried and hourly employees, union and nonunion, librarian and nonlibrarian staff? And how do total compensation percentages align with those categories?
Looking at the materials/services category, what goes in that bucket? How much do academic libraries spend on databases versus books versus journals versus everything else libraries lend? And how are those proportions changing?
Finally, the figure above only gives percentages. But what about the dollar figures? What percent of a university's budget typically goes to the library? How has that percentage changed over time?