You have /5 articles left.
Sign up for a free account or log in.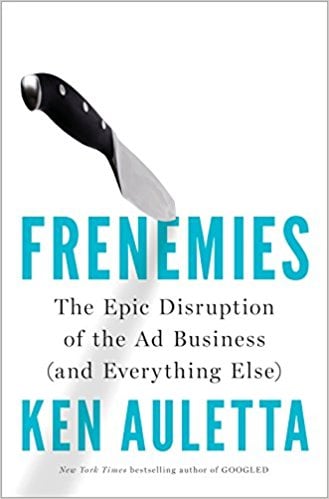 ​Frenemies: The Epic Disruption of the Ad Business (And Everything Else) by Ken Auletta
Published in June of 2018
Reading Frenemies helped me understand how little that I know about the world of advertising. I had no idea that the global advertising business - which Auletta estimates at ~$2 trillion - is so large.
Advertising is dominated by 5 large international companies, none of which I had ever heard of before reading Frenemies.  These companies are:
WPP: 205,000 employees, revenues ~$20 billion
Omnicom Group: 78,500 employees, revenues ~$15 billion
Dentsu: 47,000 employees, revenues ~$15 billion
Publicis:  23,500 employees, revenues ~$11 billion
Interpublic Group: 50,000 employees, revenues ~$8 billion
Did you know about any of these companies? Or have an idea how many people worked for them, or how much money they take in each year? I hadn't.
In 2017 Google took in over $110 billion, compared to Facebook's $40 billion. (Facebook had about $15 billion in profits, compared to Google / Alphabet's ~$13 billion).  90 percent of Google's revenues and 97 percent of Facebook's revenues comes from advertising.  Mobile now accounts for 88 percent of ad revenues at Facebook, and 67 percent at Google.
As Auletta details, our digital information economy is largely dependent on advertising. Advertisers are increasingly bypassing the traditional ad agencies to either buy online ads directly, or to work with media creators to sponsor original content.
Frenemies is all about how the traditional Don Draper / Mad Men world of advertising is being challenged by the rise of digital platforms, the proliferation of ad avoiding technologies (like DVRs and ad blockers), and the shift from traditional to content marketing.  The frenemies in Frenemies refers to the relationship between tradition ad agencies and the new digital platform companies.
The book made me curious to understand how higher education advertising and marketing works.  Frenemies is terrific motivation to read IHE's Call to Action blog, a space to discuss marketing and communications in higher ed.  
U.S. colleges and universities spent over $1.6 billion on marketing in 2016.  According to one source I found, higher education spends about 11 percent of total budgets on marketing, outreach, and student recruitment. 
I will be curious to hear what higher ed marketing professionals think about Frenemies.
How will the trends detailed Auletta's book impact how colleges think about marketing?
How much do universities work with ad agencies, as compared to investing their marketing dollars on direct outreach, social media, and the university website?
Frenemies is a deep dive into an industry that I thought I understood, but that I really don't. I had thought that I had a good grasp on the impact of the digital age on content - think the decline of newspapers and magazines and the rise of Google / Facebook - but it turns out that the story is more complicated than I knew.
What sources, beyond Call to Action, would you recommend to understand the world of higher ed marketing?
What advertising media - beyond IHE - do you dependent on for your information diet?
What books on the world of marketing and advertising would you recommend?
How do you think that the larger shifts in the advertising world as described in Frenemies will impact higher education?
What are you reading?