You have /5 articles left.
Sign up for a free account or log in.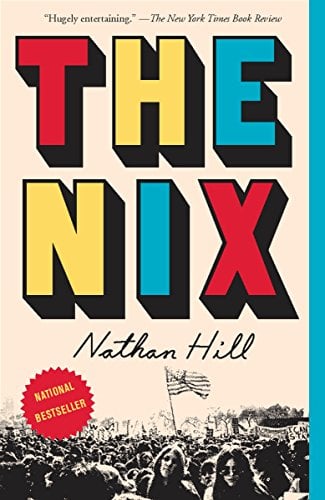 The Nix: A novel by Nathan Hill
Published in August of 2016.
I read The Nix on the recommendation of MIT's Michael Rutter, who commented on my piece On Searching for Campus Novels and Disliking "Lucky Jim".   

As always when it comes to things having to do with Michael Rutter, I'm glad that I followed his advice. The Nix is a wonderful novel.  Big and warm hearted - if sometimes flawed as a contemporary description of academic life.
The Nix is a higher ed novel in two ways. One more successful than the other.
Less well done is the depiction of the novel's protagonist, Samuel Andresen-Anderson, as a college professor. While funny, Hill's description of academic life in the 21st century doesn't ring true. 
Samuel, the professor, seems to do little academic work.  Every professor that I know works all the time.  The path to academia that is painted for Samuel seems more a fantasy than anything else.  I could never get a handle on Professor Andresen-Anderson's academic rank, tenure status, or security of employment.  These things matter in a novel that is set, at least in part, in academia.
Nor is the the undergraduate at the center of Samuel's professorial drama very realistic.  She seems drawn from contemporary dystopian fantasies about today's college students. Anyone who has spent much time on a college campus lately knows that our students are nothing if not complex.  I wish Hill had developed a more nuanced and accurate portrait of the life of an academic, and of the students that they teach.
What is done beautifully in The Nix is the description of the University of Illinois at Chicago Circle Campus, circa 1968.
Circle is perhaps - I don't really know - the university campus where the Brutalist style reached its zenith?
I grew up in Brookline MA, not far from Boston City Hall, the ultimate example of Brutalist architecture.
In college, I had my Political Science classes in the now demolished Brutalist Eliot Hall.  
In grad school, I studied at a couple of libraries designed in the Brutalist style, and I courted my wife in the Brutalist Graduate Center which she lived for a year.
So I have an affection, if not a liking for, the concrete monstrosities that still dot so many of our campuses.
I've yet to read a better description than provided by Hill in The Nix of the emotional payload of these "modern" concrete campus buildings.
Thanks to the magic of the Kindle OS X app, I was able to pull out some great Nix quotes on these terrible buildings.
"Chicago Circle is the catchy name for the brand-new university in downtown Chicago: the University of Illinois at Chicago Circle. The promotional brochures that came with Faye's acceptance letter spoke of Circle as the UCLA of the Midwest. It was the world's first thoroughly modern campus, the brochures said, built in just the last few years, conceptually groundbreaking, a campus unlike any other: created as a single vast system using the most fashionable principles of social design and engineering; buildings constructed from the most indestructible materials; a raised walkway, one story up, to get you from building to building with a bird's-eye view, a kind of pedestrian expressway in the sky; innovative architecture that included field theory mathematics, which as far as Faye could tell involved overlaying squares on top of each other and rotating each square slightly to achieve a many-angled, multifaceted design that looked, from above, like a honeycomb. This was an advance at least as important as the flying buttress or the geodesic dome, the brochure said, and it was all part of the school's overriding mission: to build the Campus of the Future."  (p. 219)
"So the Behavioral Sciences Building was modern, many angled, which in practice made the place a bewildering mess. The interconnected honeycombs made no intuitive sense, hallways jagged and serpentine so you couldn't walk ten feet without having to make some kind of navigational choice. Faye's poetry class met here, and simply finding the correct classroom was an ordeal that taxed both her patience and her sense of spatial awareness. Certain stairs led into literally nothing, just a wall or a locked door, while other stairs led down to tiny landings where several other staircases intersected, all of them identical-looking. What seemed like a dead end actually opened into an entirely new area she never would have predicted was there. The third floor was visible from the second floor, with no obvious way to get up to it. That everything was built in circles and oblique angles pretty much guaranteed anyone would get lost, and indeed all who encountered this building for the first time had the same baffled expression, trying to navigate a place where concepts like "left" and "right" had little meaning. It seemed less a place where students would study the behavioral sciences and more a place where behavioral scientists would study the students, to see how long the students could endure this nonsensical environment before going completely berserk."  (p. 407)
"Whereas most of Circle's buildings were squat three-story things, University Hall was a thirty-story monster. It was visible from everywhere, looming over the trees, fatter at the top than at the bottom—anonymous, boxy, tyrannical. It looked like a beige concrete exoskeleton had been scaffolded around a slightly smaller, slightly browner building. Like every other campus structure, this one had narrow windows too small to fit a body through. Except, that is, for the top floor. The only windows on the entire campus that looked big enough to jump through were located suspiciously, almost invitingly, on the campus's highest point—the top floor of University Hall—and this fact struck some of the more cynical students as malevolent and sinister."  (p. 412)
Do you have buildings designed in the Brutalist style on your campus?
What campus novel is next on your list?  (I bet I know).
What are you reading?