You have /5 articles left.
Sign up for a free account or log in.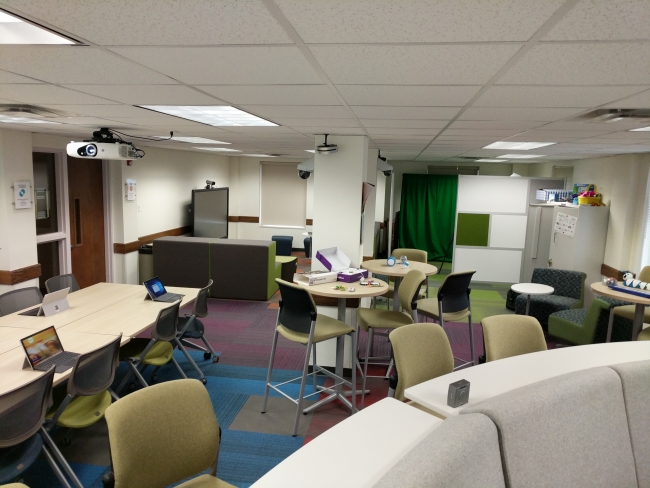 Chad Smith and Ludovic Sourdot, Texas Woman's University
In 2015, Texas Woman's University's department of teacher education concluded that it needed to better prepare aspiring educators for the technological capabilities of the classrooms they're hoping to lead once they graduate.
That initiative's co-founders, Chad Smith, coordinator of education for the deaf, and Ludovic Sourdot, associate professor in curriculum and instruction, identified a "very nice space" on campus that would be ideal, but university leaders decided against converting that room, which serves 1,000 students. They eventually settled on a former dormitory constructed in 1936.
A year later, the Future Classroom Lab was born, complete with touch-screen monitors, coding and robotics opportunities, and an arrangement of strategically placed education zones that address different aspects of the teaching experience. The space has garnered praise from nearby primary and secondary schools -- but it also required elusive buy-in from administrators and a new approach to thinking about the classroom experience.
"We do not expect any future teachers to walk into a learning environment that looks exactly like the Future Classroom Lab at TWU," Smith said. "We do expect them to walk into a learning space in their schools and see some of the applications [of technology] that they see in the Future Classroom Lab."
Discussions of technology in the classroom often involve nontangible properties: websites, software programs, the cloud. But digital learning has tangible implications as well -- including the reshaping of physical spaces at campuses across the country.
Institutions looking to modernize the learning experience for students now ask themselves to what extent they should invest in technology-centered rooms and labs. Underlying questions in those discussions include what needs the spaces will fill, where those spaces belong, how many digital tools they should include and how they will complement and enhance students' grasp of their chosen field.
Some new spaces offer students opportunities to extend learning beyond the classroom. Others serve as classroom space for part or all of a semester-long course. Institutions spend hundreds of thousands of dollars on such spaces in the hopes that they'll serve as the center of a growing movement toward a modern definition of teaching and learning.
"I think there's a growing awareness that active learning is an incredibly powerful way to impact student success on campuses," said David Taeyaerts, associate vice chancellor of learning environments and campus architect at the University of Illinois at Chicago, and a volunteer member of the facilities planning academy of the Society for College and University Planning. "The vast majority of physical spaces that campuses have cannot easily support active learning. They need to be changed."
Location, Location, Location
Digital learning goals can revive dormant or underutilized campus spaces. At Bentley University in Massachusetts, a basement computer lab with 40 computers, poor lighting and no windows has become the Computer Information Systems Sandbox.
"When they asked me to take over the place, I really didn't want to," said Mark Frydenberg, senior lecturer of computer information systems, who led creation of the Sandbox. "It wasn't the most exciting place on campus to be."
The renovated space now includes fewer computers, more open space for laptops and personal devices, collaborative workstations with large monitors, large-screen wall displays, and room for temporary additions like speakers.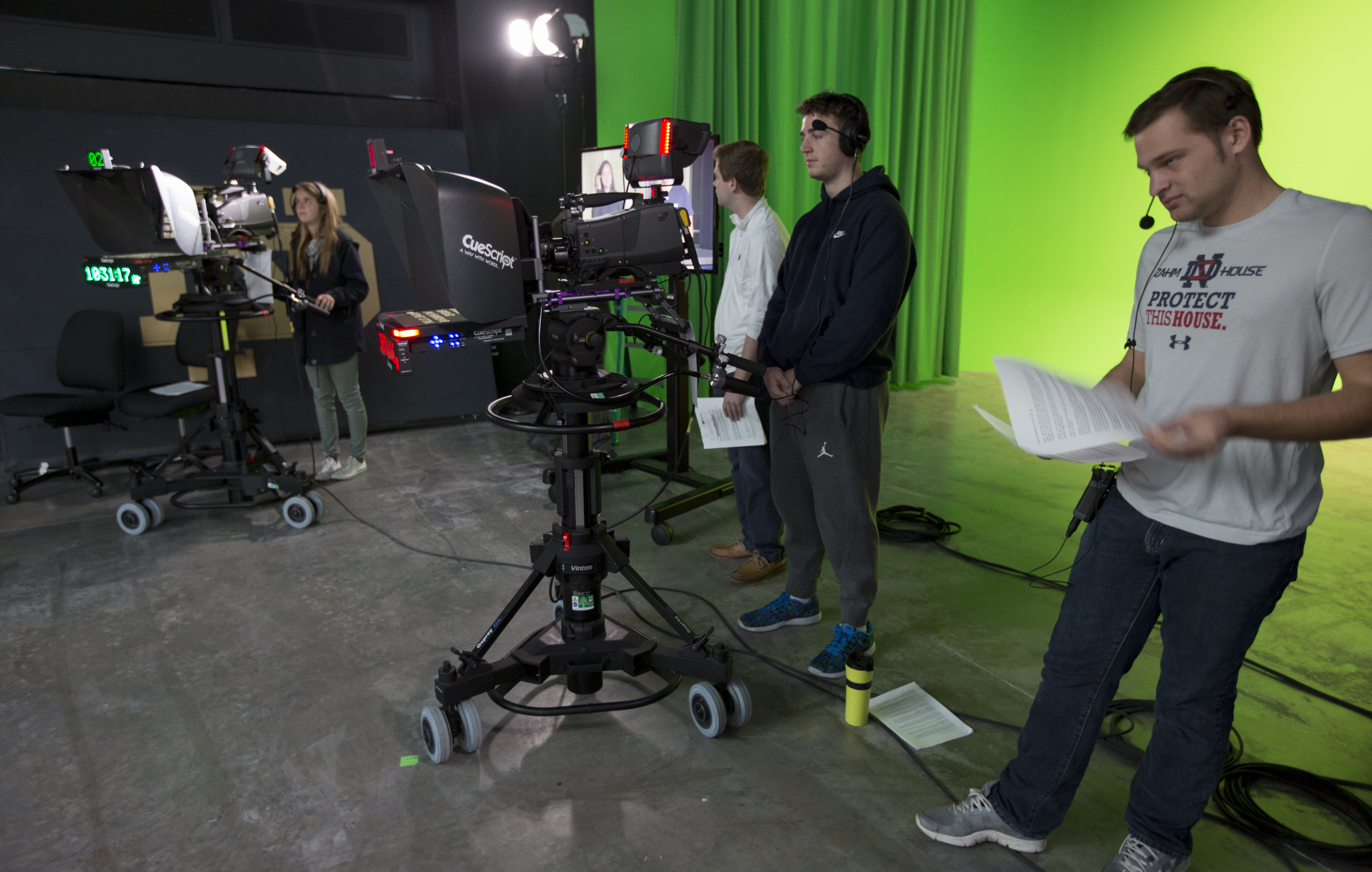 The University of Notre Dame took a different path to a new academic space, starting first with an ambitious studio for its athletics program that gradually morphed to encompass the institution's other goals. According to Daniel Skendzel, executive director of Notre Dame Studios, the Martin Media Center was conceived as the host of media production facilities for broadcasting and live-streaming athletic events.
"All along, as we were building that out, we had this eye that that wasn't the ultimate goal to build it for athletics," Skendzel said. "We used the new building as proof of concept for a larger vision."
Now the facility includes a 1,500-square-foot academic innovation space that includes virtual reality demonstrations, video equipment and a light board -- the latter two allow faculty members to record lectures for flipped classrooms.
Housing these services alongside the athletics program is more efficient and allows for more cross-department learning and sharing, Skendzel said.
"We like to think of it as a shared services model, particularly with infrastructure that is capital intensive," Skendzel said. "It doesn't make sense to replicate it across campus. We want to build it once in the center of campus and then allow the users to draw off it."
Sometimes luck wins. When the biology department at Northern Virginia Community College was looking to create a $150,000 digital anatomy and physiology lab space complete with virtual cadaver, an open classroom space attached to two existing wet labs proved the perfect spot.
"We could provide a passageway from both labs into the one digital lab, so that students and instructors can move back and forth between those settings," said Cindy Miller, associate professor of biology.
Getting Buy-In from the Higher-Ups
Rooms like these require support and funds from institutional leadership -- neither of which comes without perseverance and strategy.
Smith and Sourdot from Texas Woman's University faced hurdles beyond location in the process of convincing decision makers to fund their project. Both were convinced that the room, which initially cost $101,000, should be designed to allow for frequent evolution. "We did not anticipate that the lab would look like it does right now two or three years from now," Smith said.
But to many administrators, ambiguity and uncertainty breed anxiety. Smith said they had to press hard on the idea that purchasing the technology was only the first step in a process of helping students use new tools more effectively. Positive reviews from outside the institution persuaded the institution that Smith and Sourdot were headed in the right direction.
Administrators aren't the only parties who ought to be consulted before creating new physical spaces, according to Frydenberg, from Bentley University. To discover how students were using the space he wanted to transform, he talked to tutors who worked there. Next, he engaged the academic technology center to find out whether upgrading a space that hadn't been touched in 10 years would be possible. Staffers suggested brighter colors and more appealing furniture, among other tweaks.
A conversation with the admissions department helped him set a concrete goal: to make the room palatable enough for inclusion on the campus tour for prospective students.
"I heard, 'Every school has a computer lab. We don't show it,'" Frydenberg said. "That resonated with me that we needed to do something different."
Taeyaerts, of the University of Illinois at Chicago, believes the key to getting stakeholders on board is to involve them from the beginning of the process. By the time the project is ready for approval from an administrator, it should have a diverse range of university champions.
"Getting the leaders, the decision makers out to the physical spaces to look at it firsthand and then paint the vision created by these stakeholders of what it could become is really compelling," Taeyaerts said. "There's an idea in the back of their head -- bring forth data and evidence, bring in the real world of looking at the space. That's what you really need to seal the deal."
What Belongs Inside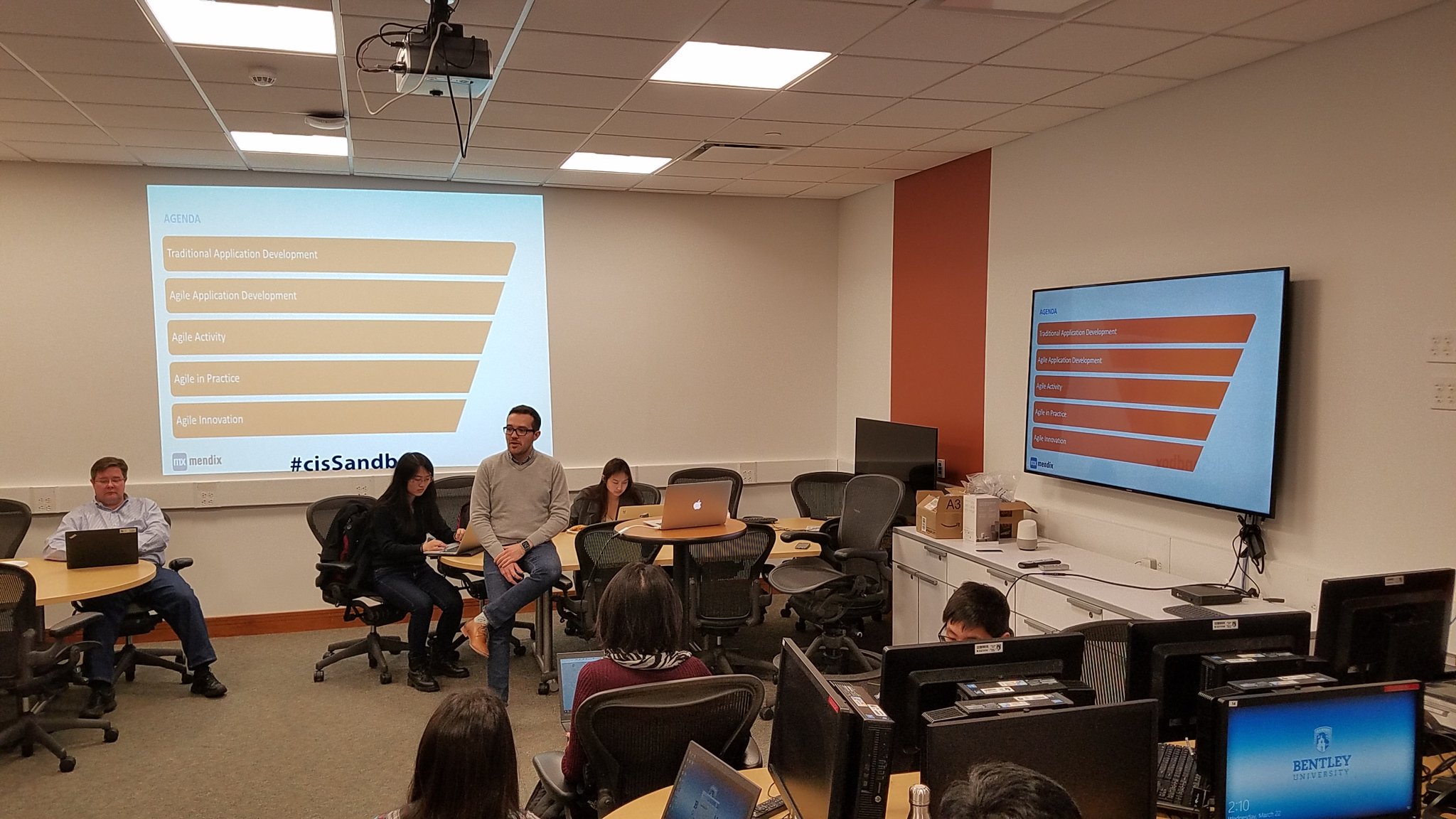 The Bentley lab serves as a "technology/social learning space," according to Frydenberg. Large-screen displays line the walls, and digital devices including tablets, "raspberry pi" devices and a virtual reality headset lie in wait for students to use. Frydenberg initially expected to include computers, but he soon found that students prefer to bring their own.
In addition to studying there, students have created tutorial videos that now appear on the institution's website and viewed workshops and lectures from technology industry guests who discuss self-driving cars and the dark web, among other pressing issues.
At Texas Woman's University, Smith and Sourdot believe students need to be prepared for entering primary and secondary classrooms in which every student has and wants to use a personal device. In each of six "zones," students follow prescribed behavioral objectives including exchange (conducting meetings and collaborating with other students), creativity, and investigation (using and developing technology tools). Instructors can supervise and evaluate students from four web-based cameras.
Questions persist about whether available technology tools will enhance or detract from the learning experience. One possible solution at a larger institution is Indiana University's Mosaic Initiative, which encompasses a plan for a wide range of low- and high-tech campus spaces as well as a fellowship program for instructors interested in active learning.
"We're so big at IU and have so many classrooms that we didn't think it was practical or even desirable for us to try to have one classroom design," said Stacy Morrone, associate vice president of learning technologies and founder of the Mosaic Initiative.
Projects have ranged from large scale -- converting a former swimming pool into a massive active learning classroom with large video screens -- to rooms simply outfitted with plentiful whiteboard space. The system is also conducting a classroom needs analysis study at Indiana University - Purdue University Indianapolis this academic year, with a goal of improving and expanding the quantity and quality of active learning spaces.
Tips for Success
Leaders behind the creation of these rooms advocate for a few simple components of a successful attempt.
Faculty development. Taeyaerts said faculty members need to know how to use the technology in the rooms and how to integrate it into their curricula. Otherwise, he said, a fancy new space "falls a little bit flat." That can mean hiring an instructional designer or instructional technologist to find and teach new ways to use wireless technology, holding training sessions on new tools, or simply sharing best practices between faculty members.
Flexible space. Filling every inch of the room with gadgets pushes the room too far in the direction of innovation at the expense of other valuable opportunities for collaboration. Some Mosaic rooms have little more than seating and a whiteboard but prove just as effective as higher-tech facilities, Morrone said. Faculty members who wouldn't be comfortable engaging with numerous technology tools simultaneously are more likely to take a smaller step in one of the lower-level spaces, broadening the pool of faculty members who get involved, according to Morrone. Overloading a space with too many digital tools can also cut into the learning experience and the university's budget, Taeyaerts said.
Balancing up-front cost and long-term investment opportunities. Technology costs money -- often more than provosts are willing to shell out, according to Taeyaerts. Starting small and building from there can be more effective, especially if new spaces are filling clearly existing needs. "It is [all about] balance," Taeyaerts said.
Clearly defined ownership. If the space is owned at the college or school level, those entities spend money to upgrade classroom technology and lobby for institutional funds, according to Michael Hites, chief information officer at Southern Methodist University and a member of SCUP. If the institution owns the space, it uses its own funds to maintain the space. The primary owner has the first right to schedule sessions in the space, Hites said. When the institution owns the space, classroom utilization and lining up courses in the same degree program take precedence. If the department or college owns the space, faculty members' scheduling needs are more often the priority.
A Note of Caution
Faculty buy-in and properly proportioned ambitions are critical to the success of launching an active learning space, argues Malcolm Brown, director of the Educause Learning Initiative. He thinks some institutions take big steps into innovative new spaces without fully thinking through their long-term value.
"It's pretty clear that success in the classroom depends not only on the physical layout and the things that are in the classroom, but also whether faculty are prepared, whether institutions are prepared to take advantage," Brown said. "Fiscal pressure's going to get more real. Schools are going to need more careful choices about learning space and those costs."