You have /5 articles left.
Sign up for a free account or log in.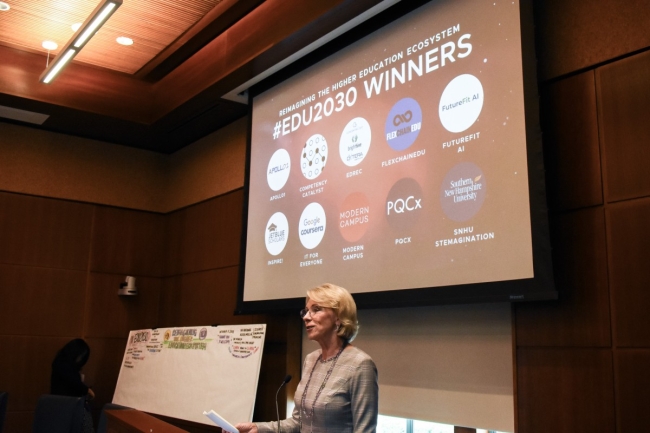 WASHINGTON -- "Analytics." "Credentialing." "Competencies." "Blockchain."
The air was thick with buzzwords last Thursday at a convening here for the U.S. Department of Education's Reimagining the Higher Education Ecosystem Challenge (#edu2030). Beneath that excitement, though, was an undercurrent of anxiety. Attendees admitted during panels and in conversations they're not sure what the future holds and not sure from where to derive solutions to the sector's most pressing challenges: reaching diverse student populations, creating pipelines to the work force, teaching meaningful skills and competencies with real-world outcomes.
More from "Inside Digital Learning"
The Education Department last month issued a $4.9 million grant for an OER project out of California.
The challenge, launched in June by the department's Office of Educational Technologies, asked participants for projects that aim to address and shape what higher education will look like in 2030 -- a date that's far enough away to encourage thinking outside the box, but close enough that it's possible to have some sense of technology's trajectory to that point. The prize for the contest was recognition, not money.
In all, 164 projects vied for 25 "finalist" slots, which then narrowed to 10 champions, announced at last week's event. Some submissions came from individual institutions and companies offering their successful pilots as a model for others to follow, or proposing an experiment whose effects would ripple out to other campuses. Others represented a consortium of institutions aiming to combine forces on ambitious efforts to harness data. A handful of proposals took the 2030 challenge more literally, positing radical technological endeavors like a "personal intelligence exocortex" aimed at replacing the functions of the smartphone.
Taylor Kendal, senior instructional designer at Metropolitan State University of Denver, during a presentation of his project FlexchainEdu -- one of the 10 winners -- summed up the feelings in the room when he admitted to a crowd of 70 that he was feeling "impostor syndrome" among higher education innovators from within and outside the sector.
"We should all feel like impostors," Kendal said, encouraging attendees not to cut corners when experimenting.
A few key themes unite the winning projects and the runners-up, according to Sharon Leu, the department's senior policy adviser for higher education innovation:
Serving hard-to-reach populations, including incarcerated adults, teen parents and recovering addicts
Expanding the concept of a university experience to reflect lifelong learning needs
Forging partnerships among entities for a wider scope and broader impact
Using new technology like artificial intelligence and blockchain to solve old problems
Winning the contest wasn't exactly a windfall for competitors -- no one took home any money. Tangible benefits instead include national recognition and priority consideration for several upcoming innovation conferences, including the Georgia Institute of Technology's Center for 21st Century Universities annual meeting.
But Thursday's event was a reward of its own -- an opportunity for the teams behind the winning projects to share their visions and swap insights. A handful of investors and venture capitalists were present, offering attendees like Jill Buban, chief academic officer at Unizin, an audience for its mission.
"For a nonprofit like Unizin, it is a great opportunity for us for exposure so that people further understand what we do and the potential impact we can have in the field," Buban said.
A Closer Look at the Projects
The 10 winning projects are: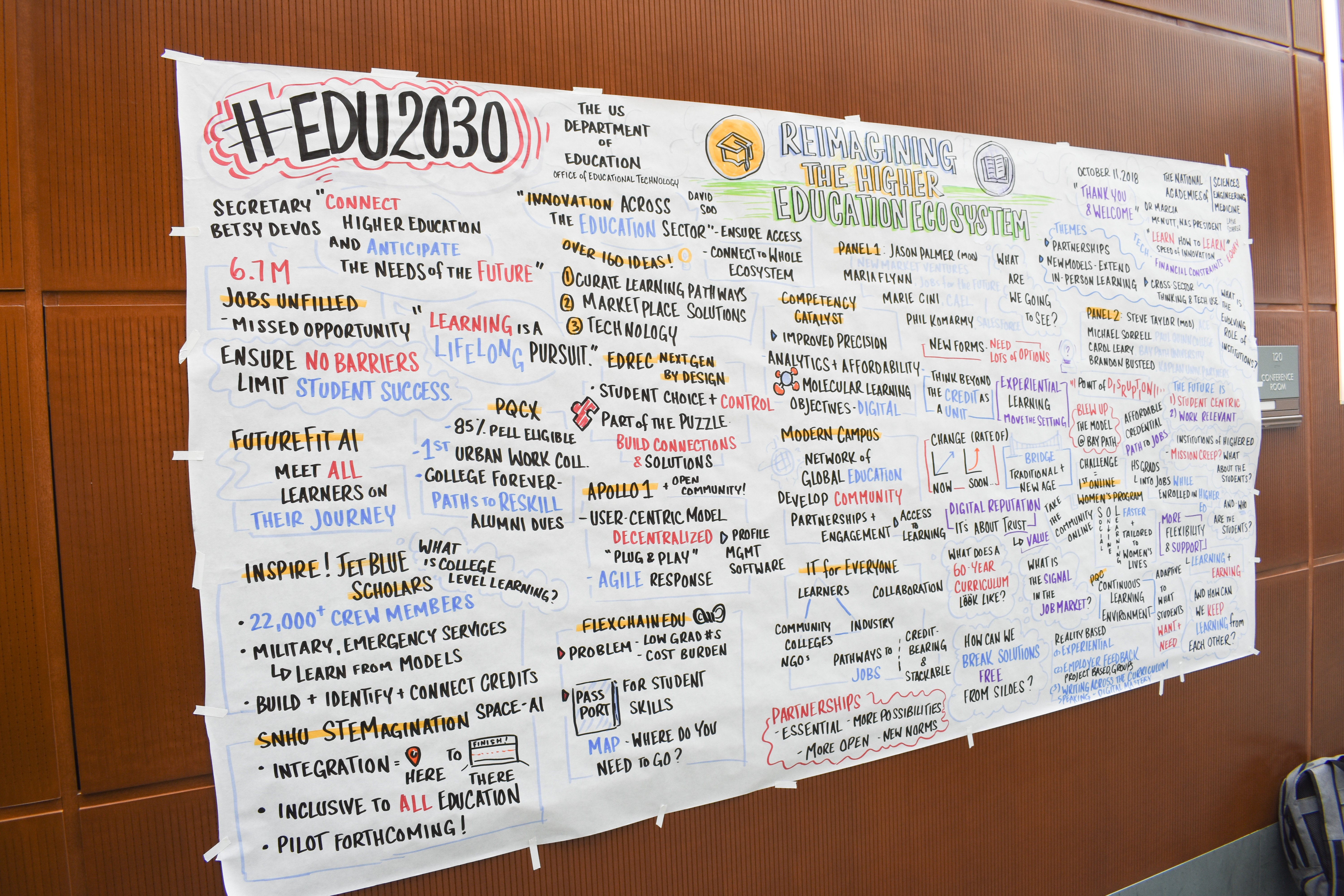 The JetBlue project and FutureFit AI also earned the largest share of public votes, for which the 25 finalists were eligible. Between Aug. 28 and Sept. 27, voters had 1,000 "coins" that they could "invest" in the 25 pilots -- up to 50 percent of those coins could go to a single project.
The Event's Impact
Attendees told "Inside Digital Learning" they appreciated the opportunity to showcase their work among interested colleagues with whom they might not have otherwise interacted.
The technological aspects of Kendal's project, FlexchainEdu, will require some testing, but Metropolitan State has already established credential-transfer and data-sharing partnerships with several nearby institutions, paving the way for broader adoption.
Money would have been helpful, Kendal told "Inside Digital Learning," but federal recognition is useful in other ways. Having secured an endorsement from the Department of Education, Kendal said he and his team now feel an added pressure to deliver on their promises and tinker until their project is perfect. Submissions like his, coming from within a single institution, also have a steep internal hill to climb, according to Kendal.
"Given that we're sort of deep within the bureaucracy, there was a ton of value in submitting, building partnerships around an idea that would be looked at as absolutely crazy, nothing that could ever be tangible," Kendal said.
Attending the event in person also helped put his team's project in a new light; he's now talking to members of one of the teams about a possible collaboration.
During opening remarks last Thursday, Education Secretary Betsy DeVos singled out JetBlue, Paul Quinn College and the Google certificate (a finalist) as projects in line with her priorities.
DeVos said in her opening remarks that events with "risk takers" and "creative doers" make her "feel at home." She implored attendees to think beyond conventional wisdom when addressing systemic issues of work-force transformation.
"Washington doesn't have all the solutions," DeVos said at the event. "New approaches to education will come from people in this room -- entrepreneurs, philanthropists, teachers and parents. Solutions may well come from students themselves."