You have /5 articles left.
Sign up for a free account or log in.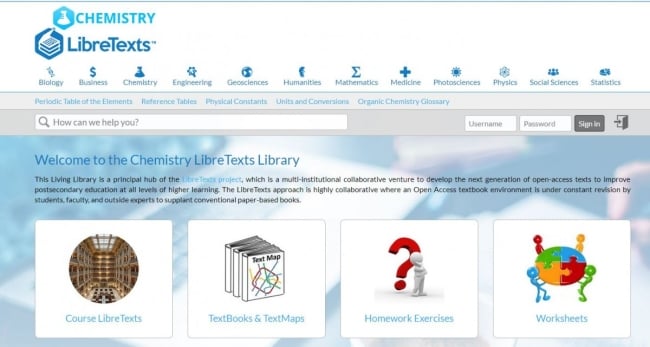 The federal government will award the entire $4.9 million of the first round of its OER funding pilot to a STEM-focused open textbook project out of the University of California, Davis, the Department of Education confirmed this week to "Inside Digital Learning."
The terms of the grant required applicants to submit on behalf of a consortium. Aside from UC Davis, the winning project includes 11 institutions: three four-year institutions in the Midwest, one community college in Maryland and seven community colleges in California.
According to the abstract submitted by the applicant, UC Davis's project will expand the institution's existing LibreTexts project "into an expansive living library of content that can be customized to faculty needs." The team will build over time a collection of publications on STEM and career and technical topics, with an early focus on chemistry textbooks that will add up to a zero-cost textbook option for a bachelor's degree curriculum certified by the American Chemical Society.
The project team hopes its efforts will reach far beyond the consortium of participating institutions, according to Delmar Larsen, an associate professor of chemistry at UC Davis who serves as director and founder of LibreTexts.
"The project itself is a community-driven project, and the funding that we have will benefit faculty at multiple campuses," Larsen said in an interview Tuesday. "Anyone who has an interest to get involved in the project can contact me directly. We will bend over backwards in order to make that successful for them."
Other new resources will include textbooks on physics, biology, mathematics, statistics, psychology and neuroscience. Longer-term ambitions, according to Larsen, include using digital technology to add more interactive elements and crafting a data-collection methodology that helps instructors construct effective learning experiences around student preferences.
The winning project triumphed over 27 other eligible applicants, according to Department of Education spokesperson Liz Hill. 
"The UC Davis proposal was selected because it scored the highest and has the potential to help the most students/have the broadest impact because of their partnership with a wide number of diverse institutions; their plan to develop resources to support students across entire, high enrollment degree and technical education programs; their commitment to integrating advanced technology to support improved pedagogy; and their aggressive implementation plan to help faculty at other institutions adopt the use of OERs in their own classrooms," Hill wrote in an email.
Congress included in March approximately $4.9 million for OER funding in its fiscal year 2018 budget. The Department of Education issued in August a call for proposals that encompassed several institutions and emphasized a focus on high-enrollment courses and career/technical fields. The agency was prepared to offer the grant to between one and three projects, following a few weeks last month of sorting applications with the help of peer reviewers solicited by the department.
The Winner
Formed in 2009 at UC Davis, LibreTexts is a nonprofit organization that now has students and instructors from more than 100 participating institutions -- some more active and institutionally committed than others --  contributing open-access textbooks and course materials on 12 topics in the STEM field. According to Larsen, the organization operated for its first five years with no funding, only later securing two National Science Foundation grants totaling $850,000, as well as financial support from UC Davis, the California State University System and its online learning arm, Merlot.
The federal grant will help the organization ascend to previously unthinkable heights, according to Larsen. Progress toward the zero-cost textbook degree will increase "tenfold" and the team's ability to harvest content will "make it like it's on steroids," Larsen said.
The LibreTexts library currently includes 398 texts used in 154 courses. The organization's website bills its platform as "the world's most popular online textbook program." Larsen wrote in the introduction to the grant application that over the last decade the site has accumulated more than 240 million page views and ranks around 7,000 among Google's list of the most visited websites on the internet.
Larsen first got interested in OER in 2007, when he grew frustrated with an error-riddled chemistry textbook from a major publisher. He decided to write a textbook of his own, with considerable help from his students.
The project, then called ChemWiki, started in earnest -- the concept of OER was far less mainstream then, and he hadn't much experience with it. The team got lucky that search engines picked up LibreTexts content, according to Larsen. "We had no idea what we were doing" when it came to search engine optimization, he said.
But upon seeing OpenStax and other repositories start to gain traction in the early 2010s, Larsen decided to forge ahead, curating existing OER content on science topics and converting it to a standard LibreTexts format. One of the key features of the library, Larsen said, is the ability of any user to create an account and make changes.
"We're building a platform of living content, as opposed to dead content like a PDF," Larsen said. "By taking and harvesting existing content and building our own, taking things people wouldn't consider to be OER, we generate this sort of candy store where faculty can come in and pick and choose what they want."
Larsen also compares his vision of the platform to a learning management system where students read course materials, take quizzes and apply their knowledge using digital tools.
The Plans
The federal grant application breaks down the LibreTexts project components into five teams:
Constructing new materials
Harvesting for inclusion of existing openly licensed materials
Developing new "leading-edge" technology to guide learning
Recruiting collaborators to help disseminate new OER content
Establishing assessment and analysis
The bulk of the staff resources and funding will go toward the first two of those goals. According to the grant application, the funding will be broken into three annual installments of approximately $1.6 million.
Annual salaries for the project leads from UC Davis will range from $2,000 to $12,000, and approximately $100,000 per year will be set aside for up to 42 student workers. Each of the participating institutions outside UC Davis will receive between $89,000 and $700,000, depending on how much each institution requested.
Cloud storage services will cost $5,000 in the first year, double that in year two and triple the original figure in year three. "General supplies" like printing will cost $20,000 per year, according to the application.
In addition to the 12 members of the project consortium, the project application mentions support from the California State University System office and the University of Washington. Both will receive money from UC Davis's portion of the grant, rather than getting their own allocation.
Participating community colleges, according to Larsen, will be especially helpful with the planned "trade library," which will include career and technical education resources. "That's not UC Davis's forte," Larsen said.
The project team also plans to develop that library by adapting materials from the existing SkillsCommons repository, which was one of the products of a 2012 $2 billion federal grant program for work-force development. "It's a gold mine that we can go in, get our pickaxes and help build the trade library," Larsen said.
Prior to seeing the application requirements, Larsen had been concerned that the federal government would spread grant funding too thin, without making a meaningful investment in any particular program. He was pleased to see that each project would get a substantial allocation of funds, so his team quickly decided to be ambitious and strive for the full grant.
Nicole Allen, director of open education for the Scholarly Publishing and Academic Resources Coalition (SPARC), has high hopes for this project. She's particularly excited about the potential for people outside the project to contribute materials.
"At a time where there's so much innovation and different organizations are trying different models, this is a really promising one," Allen said.
Though she had hoped the grant funds would be spread among several projects, Allen thinks LibreTexts, with its broad reach, justifies a substantial investment.
"We recognize that a single large investment has the potential to reach a large impact at a national scale," Allen said. "So we might not have recommended this approach, but we're optimistic about what it can achieve."
Looking Ahead
The announcement comes just six days after both houses of Congress approved a fiscal year 2019 budget that includes for the second year in a row a $4.9 million investment for OER. The implementation of the grant will look somewhat different next year, thanks to efforts from OER advocates who want more institutions to have a shot at federal funding.
Advocates and representatives of institutions bemoaned this year's 30-day window for submitting applications, leading Congress to require that the department next year offer at least 60 days' notice.
Next year's funds will also be split among at least 20 projects, at the request of OER advocates who were dismayed to learn that the department would be dividing this year's grant among no more than three projects.
Content produced from projects that earn next year's funding will also be required to have a license that allows for users to build upon and share the content widely. The current pilot program called for a "nonexclusive, irrevocable license to the public to exercise any of the rights under copyright conditioned only on the requirement that attribution be given as directed by the copyright owner."
Prior Federal Funding
The current pilot grant represents the federal government's largest single investment thus far in open educational resources. Richard Hershman, vice president of government relations at the National Association of College Stores, has been keeping tabs on all of the federal government's OER grants.
Prior to the OER pilot, no single OER grant to a higher ed institution exceeded $1 million, according to Hershman's records. The Department of Labor's $2 billion Trade Adjustment Assistance Community College and Career Training program produced numerous OER materials but also funded other efforts.
Here's Hershman's partial breakdown of the federal government's OER investment prior to the current textbook pilot:
| | | | | |
| --- | --- | --- | --- | --- |
| Agency | Total Higher Ed OER Grants Issued ($) | Total Higher Ed OER Grants Issued (Number) | First OER Grant Issued | Most Recent OER Grant Issued |
| Department of Education | $3.42 million | 10 | 2007 | 2010 |
| Institute of Library and Museum Services | $1.35 million | 10 | 2016 | 2017 |
This Year's Challenges
"Inside Digital Learning" confirmed that Maricopa Community College, Arkansas State University, the University System of Maryland and a consortium of New Hampshire's public institutions were among the applicants whose proposals fell short of the department's prize. A partnership between the University of Illinois at Springfield and Illinois's community colleges also failed to make the cut, according to Vickie Cook, executive director for the Center for Online Learning, Research and Service at Illinois-Springfield.
Several other institutions told "Inside Digital Learning" that they were interested in the grant money but lacked the resources to pull together an application in time.
MJ Bishop, director of the Maryland system's center for academic innovation, had hoped the grant money could further energize existing OER efforts by helping establish a statewide network. Her proposal included collaboration with Quality Matters, which hopes to eventually create standards for faculty creation of OER materials. But she told "Inside Digital Learning" in August that her team was struggling with the application because of the rapidly approaching deadline and some onerous requirements.
Although she was applying on behalf of a system, she had to identify one of the system's members as the "lead institution" on the project, which meant she had to have additional conversations with her team to determine which institution was the best fit for the artificial distinction.
"There's so many hurdles that they've put in place for us to jump in such a short timeline that it's a little disheartening," Bishop said.
Some OER observers have also expressed concern in recent weeks over the nature of the peer-review panel that sifted through the grant applications.
Supporters of the grant have pushed to find out the proportion of representatives from higher education and commercial publishers, but the department has not offered clarity. Department spokesperson Liz Hill declined to provide "Inside Digital Learning" with a list of peer reviewers, adding that such lists are "not typically made public."