You have /5 articles left.
Sign up for a free account or log in.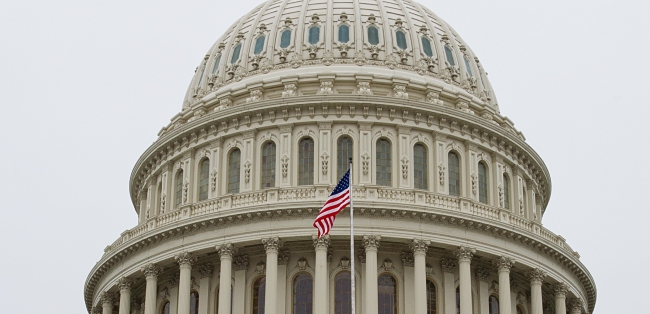 Three times since 2013, members in both houses of Congress have introduced the Affordable College Textbook Act, which would create a federal program to fund the creation of open educational resources on a nationwide scale. Each time, that bill has faltered in committee.
Meanwhile, advocates aimed for a more attainable goal: securing a one-time appropriation for OER funding in the annual federal budget. After a whirlwind few weeks that included a concerted lobbying push, a dramatic late-night bill reveal and an empty veto threat from the president, OER supporters last Friday scored a victory: $5 million for a pilot program of creating and expanding OER textbooks at institutions well positioned to save students money.
Precise details of the plan for implementing the funds are hard to come by. Funds could take several months to become available because the Department of Education needs time to figure out guidance on administering a new pilot program, according to a spokesperson for Senator Dick Durbin, the Illinois Democrat who wrote the affordable textbook bill and has been active on these issues for a few years.
The appropriation cheered OER proponents including the Washington-based Scholarly Publishing and Academic Resources Coalition (SPARC) and a nationwide network of student activists organized by the U.S. Public Interest Research Group (PIRG). Observers of the publishing industry say the appropriation, while modest compared to ongoing efforts at the state level, represents a symbolic victory that could portend exponential growth for OER adoption.
The success of the appropriation, advocates say, will be measured not only by the funding's immediate impact at partner institutions, but on the increasing volume of the policy conversation around the federal government's role in ensuring the affordability of textbooks -- and, by extension, higher education as a whole.
"Obviously there are lots of other ways to save students money that can have an impact," said Nicole Allen, director of open education at SPARC. "By investing in OER, Congress is saying this is the one you should set your sights on."
Allen said the funds can start having an impact on students "almost right away" -- assuming the U.S. Department of Education makes them available promptly. The legislation calls for creating new content and expanding the use of OER; it's unclear whether that mandate includes helping faculty members find and understand the resources. A spokesperson for the department didn't respond in time for publication.
As for institutions that will benefit from the funding, Allen speculates the focus will be in part on member institutions of systems like the public institutions in Georgia and Missouri, which are well suited to resource sharing.
Kaitlyn Vitez, director of PIRG's Campaign to Save Student Aid, said she believes the greatest potential for saving students money lies in high-enrollment introductory courses, where OER material can be applied to numerous sections simultaneously.
"While we should be definitely doing outreach all across the board, the pilot's emphasis on creating the highest level of savings is really exciting to see," Vitez said.
The language in the budget item includes a requirement that materials created under the pilot program be "licensed under a nonexclusive, irrevocable license to the public to exercise any of the rights under copyright conditioned only on the requirement that attribution be given as directed by the copyright owner." More restrictive provisions could have limited materials to commercial use or required users to share derivatives under the same license.
Given that fiscal year 2018 is already close to half over, negotiations over the 2019 budget aren't far off. Allen and Vitez said they hope to see even larger appropriations to come.
"Our students, the second they heard about this, they started tweeting that they want an appropriation for FY19," Vitez said.
Several student advocates who lobbied Congress told "Inside Digital Learning" they believe awareness of affordability issues and the benefits of OER have never been higher or more encouraging.
"It's amazing to open up the campus paper and run into student leaders at events and learn about all the activity happening around this issue," said April Nicklaus, a junior at Rutgers University. "I used to spend my time just on basic education around OER, but now that we've reached critical mass in OER awareness, I'm excited to collaborate with new affordability champs on campus to further implement OER alternatives in our classes."
Farther out, Allen said SPARC is pushing for an OER element in the long-awaited reauthorization of the Higher Education Act, and for the long-gestating affordable textbook grant program to gain legislative traction.
More Action in the States
Bryan Alexander, an ed-tech futurist and consultant, is among the observers who think the appropriation pales in comparison to much larger programs from state governments including New York, North Dakota and Georgia. But he's impressed by the increasingly bipartisan support for open content, and that federal interest in open resources has spread from a one-off Department of Labor initiative all the way to Congress, which has until recently been fairly strict on copyright policies.
Faculty members ought to feel empowered by the appropriation, which indicates that teaching and learning innovation can take place in courses and departments, said Lisa Petrides, CEO and founder of the Institute for the Study of Knowledge Management in Education (ISKME), which recently published a framework for OER stewardship.
"An initiative like this really has the potential to show that faculty and instructors can lead the way," Petrides said. "[Textbooks and materials] don't have to be top down from a more commercial publisher perspective, which is how it has been forever."
Major publishers say they appreciate Congress's interest in affordable textbooks but hope their efforts will be taken seriously as well, according to Marisa Bluestone, senior director of communications for the Association of American Publishers.
"AAP believes that government should not distort the marketplace by subsidizing OER," Bluestone said. "We'll be encouraging the Department of Education to make sure that the materials created aren't duplicative of content that already exists."
 In an email, a spokesperson for Pearson called the appropriation "encouraging" if only "part of the solution." Cheryl Costantini, vice president of content strategy at Cengage, told "Inside Digital Learning" she supports the initiative but wants to see a focus on improving student outcomes and helping instructors understand how to use OER.
The appropriation's success depends on the money being well and efficiently spent, according to David Wiley, chief academic officer at Lumen Learning, which produces digital course materials. Otherwise, he said, skeptics might have more quantitative ammunition to halt expansion efforts.
"The one pretty clear potential risk is that if the way the money is managed and spent, if we drop the ball, we could shoot the movement in the foot in a pretty meaningful way," Wiley said. "The federal funding puts a real spotlight on the movement."