You have /5 articles left.
Sign up for a free account or log in.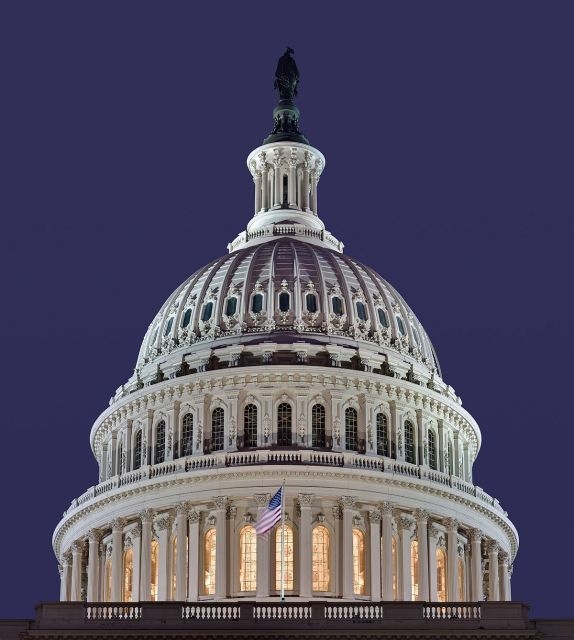 A massive spending bill agreed to by congressional negotiators Wednesday raises the maximum Pell Grant by $175, includes an additional $3 billion for the National Institutes of Health as well as increased funds for the National Science Foundation, and provides $152.8 million for the National Endowment for the Humanities, which President Trump had sought to eliminate.
It also includes about $350 million in funding to address eligibility for the Public Service Loan Forgiveness program, a top priority for Senator Elizabeth Warren throughout negotiations to fund the government through the rest of the 2018 fiscal year. That amount is a fraction of what the Massachusetts Democrat had hoped to see in a final spending package. But it's part of a slate of new funding for college affordability and education programs in the $1.3 trillion omnibus bill, which lawmakers from the House and Senate must pass quickly to avoid another government shutdown Friday night.
Congressional leaders reached a two-year budget deal last month that, critically, lifted the spending caps in place at federal agencies since 2011. But it left appropriators to fill in many of the details involving spending, including $4 billion in new student aid money over the next two years. According to a summary document of the budget deal last month, those funds were designated for programs "that help police officers, teachers and firefighters" -- a nod to the loan forgiveness program.
The funding package only devotes part of those funds to a PSLF fix, taking steps to bolster a range of student aid and college access programs.
The bill also provides a $5 million pilot grant program to expand the creation and use of open educational resources, free online and usable education materials.
Peter McPherson, president of the Association of Public and Land-grant Universities, said the deal was "like a welcome thaw in a spring snowstorm."
Among the new spending on student aid, the bill boosts the maximum Pell Grant award by $175, to $6,095 for the 2018-19 school year. And it boosts other campus-based aid programs by $247 million.
In a budget proposal last month, Education Secretary Betsy DeVos proposed eliminating the Supplemental Educational Opportunity Grant, which provides aid of up to $4,000 to 1.6 million low-income college students. The omnibus package adds $107 million to the program, for a total of $840 million.
And whereas the Trump administration had sought to cut the Federal Work-Study program in half in its budget proposal, the omnibus bill adds $140 million, for a total of $1.13 billion.
Washington senator Patty Murray, the ranking Democrat on the Senate education committee, cast the agreement as a repudiation of the DeVos agenda.
"After more than a year on the job, I would have hoped Secretary DeVos would have learned by now that her extreme ideas to privatize our nation's public schools and dismantle the Department of Education do not have support among parents or in Congress, but unfortunately that does not seem to be the case," Murray said in a statement. "I'm proud to have worked with Republicans in Congress to flatly reject these ideas, and increase funding for programs Secretary DeVos tried to cut, including K-12 education, civil rights protections, college affordability, and more."
DeVos, in an appearance this week at the House appropriations subcommittee on labor, health and human services, education, and related agencies, argued the White House budget proposal was in line with priorities of congressional lawmakers.
The omnibus bill over all, though, adds support to programs the administration has targeted for reductions. It provides an increase of $8.5 million for the Department of Education's Office for Civil Rights, to a total of $117 million. That office plays a key role in holding colleges responsible for investigating and adjudicating sexual misconduct cases on campus, as well as gender-based discrimination more broadly.
The bill adds close to $35 million in new funding for historically black colleges and universities -- a 14 percent increase -- for Title III institutional support and for the HBCU capital financing programs. Democratic senators had lobbied for those funds in omnibus negotiations. 
And it also increases funding for the Child Care Access Means Parents in Schools (CCAMPIS) program, which assists student parents in getting childcare while they pursue a degree.
The Public Service Loan Forgiveness spending, however, is a disappointment for advocates of student borrowers who have seen a number of hurdles in qualifying to have their loan debt cleared through the program. PSLF, approved by Congress in 2007 with bipartisan support, promises borrowers who work for qualifying employers in the nonprofit or public sector who make loan payments for 10 years that their remaining student debt will be cleared.
But a number of student borrowers who expected to receive the benefit have discovered that they were either placed in the wrong repayment plan by their servicer or that the Department of Education doesn't recognize their employer as qualifying them for the program. That's prompted separate lawsuits on behalf of borrowers.
The American Bar Association sued the Department of Education in 2016 on behalf of several lawyers who were told their nonprofit employers would not qualify them for Public Service Loan Forgiveness after they were previously told otherwise by their servicer, the Pennsylvania Higher Education Assistance Authority, which exclusively administers PSLF payments. And Massachusetts attorney general Maura Healey last year sued PHEAA for overcharging borrowers and mishandling payments that would have put them on track to qualify for the benefit.
Warren told Inside Higher Ed last month that Congress had promised public servants a future without crushing student loan debt and that "bad loan servicing, program technicalities and bureaucratic nonsense are no excuse for going back on our commitment."
But Ben Miller, senior director for postsecondary education at the Center for American Progress, noted after the bill's release that borrowers would qualify for the PSLF fix on a "first come, first served" basis.
"The Department of Education should use this opportunity to conduct an investigation into this issue and proactively identify borrowers who got bad advice so they don't end up being too late in line for forgiveness," he said.
Fewer than 1,000 borrowers are expected to meet eligibility for Public Service Loan Forgiveness this year. Congressional lawmakers and state elected officials have both blamed servicing failures for endangering the progress of additional borrowers in qualifying for the benefit.
The omnibus language takes aim at the department's plan for a new loan servicing solicitation that would overhaul the relationship between those companies, borrowers and the federal government. A recently released solicitation outlines a plan to award separate loan servicing functions to private companies. One company, for example, would handle loan payments, while another would handle data processing; currently, multiple companies handle the entire "life cycle" of loans in their portfolios.
Language in the spending bill would prohibit a new servicing plan that doesn't allow for multiple companies contracting directly with the federal government to handle all aspects of loan repayment.
"It's unfortunate that Congress has decided to make it more difficult for Secretary DeVos to pursue innovative solutions to better serve student borrowers and taxpayers," said Education Department spokeswoman Liz Hill in an email. "She remains committed to that goal and will work within the framework provided by Congress."
The omnibus package hamstrings other DeVos priorities by prohibiting the secretary from breaking up the Department of Education's central budget office, a plan reported by Politico last week. It also requires the department to provide quarterly reports on borrower defense to repayment claims, which allow borrowers to seek loan forgiveness on federal student loans when they are defrauded or misled by their institution.