What to Expect When You're Expecting Tech Transformation
Sessions at Educause touched on academic technology collaboration, transparency around data collection, transitioning to active learning and more.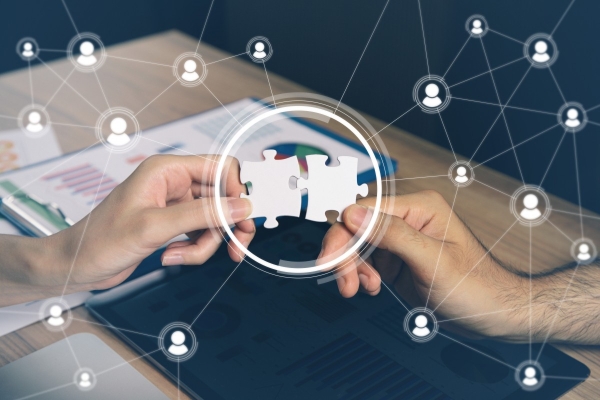 istockphoto.com/metamorworks
DENVER -- "This is sticky stuff. This is hard to do. This is not an easy check-in-a-box kind of thing."
That was Naomi Boyer, vice president of special projects, strategic priorities and growth at Polk State College in Florida, talking at a session here Friday about her institution's efforts to shift its engineering technology curriculum to a competency-based model. But those three sentences might as well serve as the tagline for this year's Educause Annual Conference, which brought together technology leaders at institutions and companies to collectively confront uncertainty over the roles digital tools can and should play in the future of higher education.
Whether it's flipping classrooms to encourage active learning, streamlining options for online assessment, tackling tough questions about data transparency or testing new applications of AI and blockchain, the path forward is murky, particularly when buzzwords and trends come and go with increasing frequency.
Inside Higher Ed and "Inside Digital Learning" spent much of last week attending sessions, sitting in on meetings and absorbing the spirit of innovation. Here's a look at what we found.
Communication Doesn't Come Easy
The University of Texas at Arlington recently began a learning management system transition from Blackboard to Canvas. During a Friday session that detailed the wide range of organizational structures for academic technology units, Erin Morgan, the university's assistant vice president of IT administration, said some technology employees on campus who support the LMS didn't know about the change until after it had already been set in motion.
"Campus leadership thought it had been well articulated," Morgan said. "They're still feeling a little chafed."
Those comments resonated with audience members, who shared similar experiences of communication challenges between technology departments that ostensibly share responsibilities.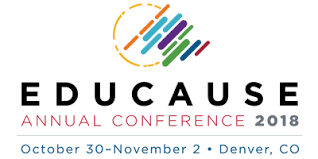 "We all work really hard separately on the same projects," Harper Johnson, assistant vice chancellor for information technology and chief information officer at the University of Colorado, Colorado Springs, said from the audience. "How do we get people to share more across organizations?"
Panelists from other institutions offered a few ideas from experience. The University of California, Berkeley, saw a significant improvement after moving its off-campus digital learning extension unit "into the fold," giving faculty members more opportunities to tease out ideas, according to Jenn Stringer, the institution's chief academic technology officer and assistant vice chancellor of teaching and learning. At San Francisco State University, meanwhile, tentative plans are underway to create a "unified IT approach" with academic units, allowing for smoother technology collaborations, according to Andrew Roderick, director of technology services at the university.
"The future of academic technology is really embedding [a teaching and learning] sensibility, maybe even an organization, within the general IT offerings that take place," Roderick said.
Deadlines Energize Innovation
Administrators at the University of Vermont's Larner College of Medicine are racing to convert all of their classes to an active learning model by next year, in order to have at least a year's worth of outcomes data to present to accreditors on their next scheduled visit in 2021.
The institution's technology services department, 26 employees strong, is heading up the initiative -- while juggling other tasks, according to Laurie Gelles, educational technology team lead at the medical college.
"We have a lot of other things to do. We don't just do this," Gelles said. "Everybody in that list with the exception of one person has some role in education, so we expand the breadth of what we do."
Gelles said the team has found that data and analytics are the most essential piece that accreditors will scrutinize, even though it was the "least talked about" aspect during the planning process. Creating technology infrastructure and support systems dominated discussions at the beginning, Gelles said.
"We are laying the track right in front of the train," Gelles said.
Meanwhile, instructors eager to innovate in their classrooms have been in some ways more challenging to wrangle than skeptics of the changes. "They started doing active learning before we had the standard operating procedures," Gelles said. Over all, though, Gelles and colleagues said, faculty members have been quick to adjust and eager to collaborate.
A Lesson in Disclosure
Several sessions touched on the importance of being transparent with students about data collection.
Colleges are collecting more data than ever on students and alumni, said Michael Berman, chief innovation officer at the California State University System. But few institutions are explaining why, he said.
At a discussion session on "what we owe students when we collect their data," attendees widely agreed that students deserved greater transparency from colleges about what data is collected on them, how it is stored and what it is used for.
It is "critical" that students be more involved in discussions about data collection, said Berman. But giving students more agency over their data could be problematic. Offering students real opportunities to opt out of data collection "would make many in this room shudder," said Autumm Caines, an instructional designer at St. Norbert College.
"If we are collecting student data, I think that we should be doing it for reasons where we believe the benefits to the student outweigh the potential costs to the student," Caines wrote in a recent blog post. If institutions can't clearly communicate the benefit of the data they collect, then perhaps they should "think twice about collecting it in the first place," she said.
James Frazee, senior academic technology officer at San Diego State University, recently learned a transparency lesson the hard way, he said during a session on the integrity of online testing solutions.
The institution currently employs the technology tool Respondus, which creates video recordings of students completing exams on their own time and automatically flags potential instances of academic misconduct for instructors to review later. According to Frazee, the institution's president received a letter from a parent accusing the university of installing spyware on his daughter's computer.
The president called Frazee to investigate. He reviewed the syllabus thoroughly and was surprised to find no mention of the online proctoring procedure, or even a footnote about a webcam or microphone.
"It just got worse and worse as I started to peel the onion," Frazee said.
All online classes at the institution include such a disclaimer, but this course was delivered face-to-face. After reassuring the concerned parent, Frazee helped the instructor come up with a solution for future classes. Students now take a required syllabus quiz at the beginning of the semester under the same conditions as their more significant exams.
"Students will know from the outset that they're being recorded," Frazee said. "You need to have a practice test to make sure there's no issues in a low-stakes way before the first real test."
Emerging Applications of AI and Blockchain
Artificial intelligence still has a "long way to go" but will have a big impact on education, said Alex Kaplan, executive at IBM Watson Education.
Chat bots, such as the "intelligent tutor" developed by IBM and Pearson, are already helping students to "master content more quickly," said Kaplan. These chat bots can reduce grading workload for graduate students and "don't get cranky or tired" as humans do. Educators need to get comfortable with working with AI, said Kaplan. "We need to work with AI as partners."
Ensuring that the data that AI consumes is good quality "is a challenge," said Kaplan. To improve the veracity of its data, IBM is investing heavily in blockchain technology. In higher education, this technology could "unlock the value of credentials" -- creating digital certificates that are tamper-proof and can be easily shared with employers, said Kaplan.
Arizona State University is exploring how blockchain technology could improve degree completion. Lev Gonick, chief information officer at ASU, described how his institution is working with Salesforce to help overcome barriers to reverse transfer -- when students who transfer to ASU from two-year institutions seek to obtain their associate's degree.
Many students transfer to ASU from community colleges, said Gonick. But neither institution is currently able to track whether students have earned enough credit to be awarded their associate's degree. With a portable digital record of their learning, blockchain could help solve the problem of "lost" associate's degrees.
"The use case is compelling," said Gonick. But it's taken nine months for the project to get off the ground. "Why isn't there a cookbook already?" he asked.
You may also be interested in...
Inside Higher Ed's Quick Takes