You have /5 articles left.
Sign up for a free account or log in.

HBX, the online learning platform of Harvard Business School, is getting a name change. Starting today, the platform will be known as Harvard Business School Online.
For an Ivy League business school once wary of entering the online education space, the rebranding is significant. Nitin Nohria, dean of Harvard Business School, once famously proclaimed that the school would not enter the online education arena in his lifetime.
That was a decade ago. Nohria, like many faculty members and administrators at elite institutions who were initially skeptical of online learning, has since had a change of heart. The school's online learning platform is now going strong and has been deemed worthy of the prestigious Harvard Business School name.
Patrick Mullane, executive director of HBX, said the name HBX made sense when the platform launched five years ago, but it "doesn't really make clear that it's part of Harvard Business School."
At the time HBX was created, "X" was synonymous with online learning, said Mullane. A few years earlier, Harvard University had co-founded with the Massachusetts Institute of Technology the massive open online course provider edX.
The HBX name often leads to false assumptions that HBX is connected to edX, said Mullane. In fact, the two are unrelated. HBX has its own proprietary technology. And while nonprofit edX has focused on free online courses, from the outset HBX has charged a fee for its credentials.
Given that edX is still struggling to find a financially sustainable model, HBX's strategy of charging for content appears to have been the right approach, said Mullane. A 2017 financial report for Harvard Business School showed that in 2017, HBX generated $12 million in revenue from just over 8,000 students. The group's revenue is expected to grow 50 percent in 2018, though the report says it will take "several more years for HBX to become a surplus-generating activity."
EdX and online learning provider Coursera are targeting a mass market with low-cost offerings, he said. But HBX sees itself as more high-end. "It's like PC vs. Mac," he said.
More than 40,000 students have now completed a course with HBX, said Mullane.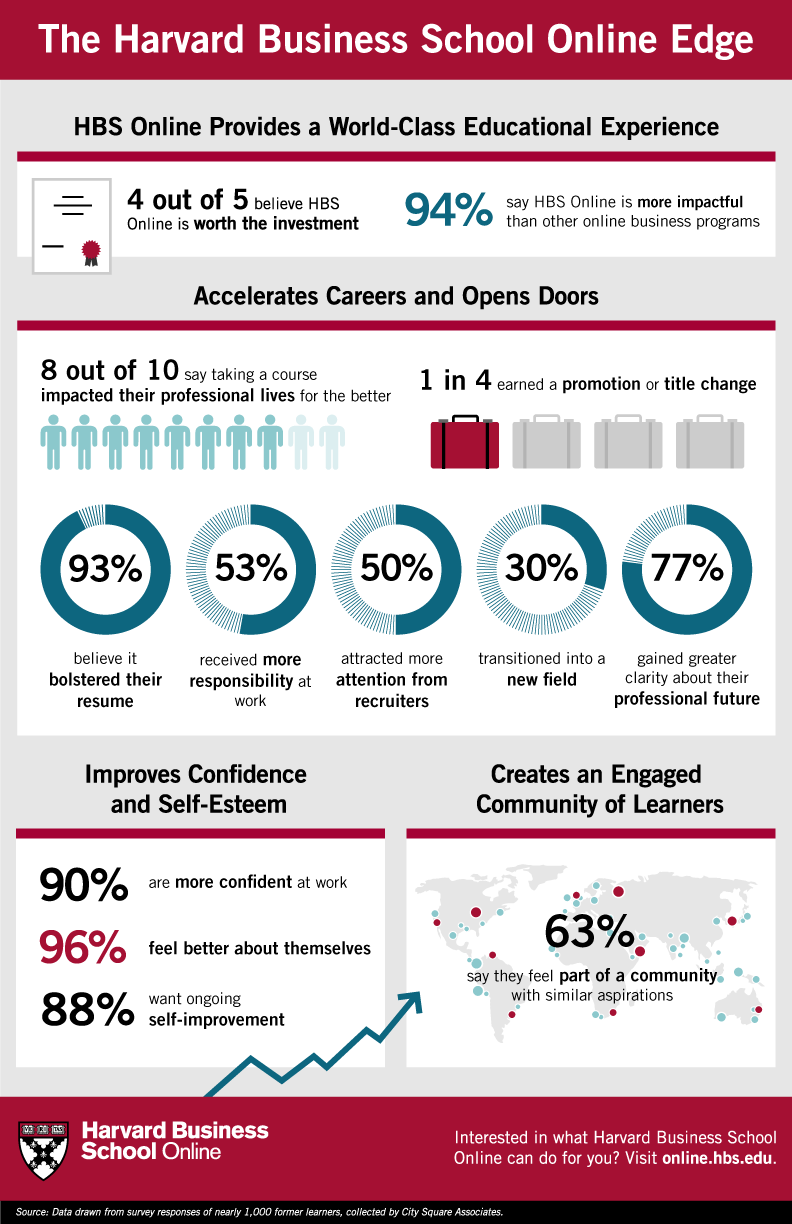 According to a recent survey conducted by market research firm City Square Associates, 91 percent of nearly 1,000 students surveyed said taking an HBX course had improved their professional life. One in four survey respondents said they had gotten a promotion or title change as a result of taking the HBX course, and more than half said it led to an increased scope of work. Additionally, one-third were able to transition to a new field.
HBX is best known for its pre-M.B.A. program called Credential of Readiness, or CORe. But the platform has added 10 more programs in areas such as business analytics, financial accounting and negotiation mastery. Each course lasts between four and eight weeks and costs between $950 and $4,500.
HBX doesn't offer any degrees, and there are no plans for it to do so as Harvard Business School Online, said Mullane. Harvard's online M.B.A. alternative -- a graduate degree in management -- is offered through the Harvard Extension School. But HBX is experimenting with new pathways to degrees. The CORe program, for example, can be taken for credit and counted toward an undergraduate degree in the Extension School. One university, Boise State University, has taken the step of incorporating HBX programs into its own degrees -- offering free HBX programs to students for credit with supplementary instruction from Boise State faculty members.
Gordon Jones, inaugural dean of the College of Innovation and Design at Boise State, said the introduction of HBX courses into the Boise State curriculum has gone well. Some institutions might be wary of relying on materials not created by their own faculty, but Jones said more institutions should take advantage of the HBX materials, instead of trying to replicate them. "I hope Harvard Business School Online continues to expand its course offerings and create new participation models," he said.
A Smart Rebrand
Jason Simon, chief operating officer and partner at higher education marketing firm SimpsonScarborough, said it's common for organizations to introduce a new product or service through a different name to "minimize risk to their overall brand equity."
The "X" in HBX was a "nice way to enter the online space in a conservative manner," said Simon. "It's very similar to how Apple had iTunes and everything was 'i' this or 'i' that to signify a digital offering. But now those are legacy names and iTunes is called Apple Music. Newer products are simply named 'Watch' versus 'iWatch.' It's almost passé at this point."
Harvard Business School may have been conservative in using its name initially, but online education is now so widely accepted by faculty members and prospective students that there is "little risk associated with extending the Harvard Business School name to the online offering," said Simon. "In fact, the opposite is likely true," he said. If Harvard Business School didn't put its name on its online offering, it might be perceived as not active and engaged in the online learning space -- losing prospective students.
Harvard Business School's brand "carries a significant amount of weight" and will be attractive to prospective students, said Simon. "Too often colleges and universities fracture their brand identities by leading with unit-based names and programs, or creating separate logos for everything when the real equity lies in the institution's name."
"The rebranding of HBX to Harvard Business School Online is a signal that online education has well and truly arrived," said Joshua Kim, director of digital learning initiatives at the Dartmouth Center for the Advancement of Learning and a blogger for Inside Higher Ed.
"For those of us in the online education game, Harvard Business School rebranding to embrace online is a great development," said Kim. "We still fight to have the quality of online education be recognized as on par with residential education."
But the real story of the rebranding from HBX to Harvard Business School Online "will not be the name, but where Harvard Business School plans to go with online education in the next few years," he said.
For nonelite institutions that rely on the income generated by their M.B.A. programs, the growth of Harvard Business School Online could be a problem, said Kim.
"The risk that the Harvard Business Schools of the world will potentially siphon off master's students is one that should worry everyone who cares about the long-term financial sustainability of colleges and universities beyond the wealthy few."
"An alternative credential from a top business school, one with a global reputation for excellence, may be perceived as having a higher value than a 'regular' degree, such as an M.B.A., from a school with a regional reputation," said Kim.
Validation for Students
Some students who completed HBX's CORe program are pleased about the name change.
Enrique Garcia-Rivera, principal scientist at biotech company nference, said that HBX required an explanation every time he mentioned it to employers.
"I think the new name will have a dramatic impact on the marketability of the program," he said.
Sheneka Balogun, former campus president at Vatterott Educational Centers (which recently closed) said she was "ecstatic" about the news.
"I know that it's going to validate even more for us the accomplishment of finishing a Harvard Business School program," she said. "I think it'll help us be taken a bit more seriously." Balogun said the HBX CORe program helped her to move into a senior university administration role, and prepared her for her MBA. 
Jenna Pollack, a choreographer and dancer, noted that even though the HBX certificate says Harvard Business School on it, changing the name to Harvard Business School Online would remove any doubt about the platform's association with the school.
All three former HBX students said that the CORe program helped them advance their careers. Pollack said she sometimes struggled to get proper compensation for her work.
"HBX gave me the tools I needed to feel confident in negotiations, to vouch for the things that I think need to change in the dance world," said Pollack. The program has helped her to apply for competitive grants and communicate with people from other disciplines. "Now I can speak their language," she said.