You have /5 articles left.
Sign up for a free account or log in.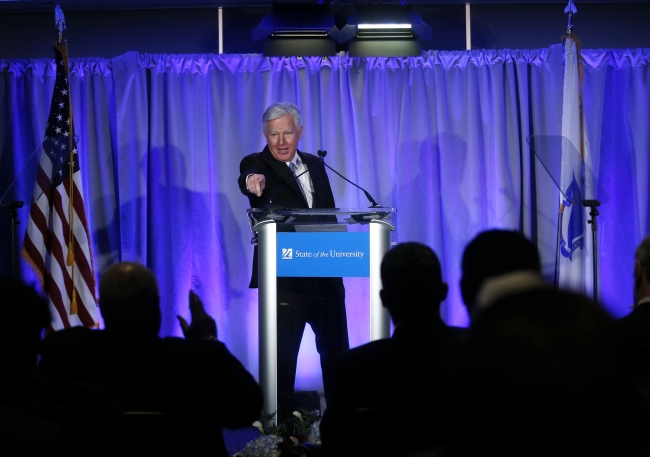 When University of Massachusetts System president Marty Meehan on Monday night announced plans to launch a new online college in the state, higher education observers lit up social media with a range of reactions: excitement, curiosity, puzzlement, frustration.
Meehan revealed the news with a bold promise that the system will aim to compete with nationally successful online education brands like Southern New Hampshire University, Penn State World Campus, Purdue University Global and the University of Maryland University College. He also pledged to support a broad population of unemployed and/or underskilled adults in Massachusetts and beyond who either never attended college or dropped out before graduating. That message echoes administrators in the California community college system as they prepare to launch a separate fully online institution of their own.
But many of the logical follow-up questions about details of the new Massachusetts institution don't yet have answers. Among them: how much it will cost, when it will launch, how many programs it will offer, what disciplines it will cover and how its offerings will stand out among established players that already enroll thousands of adults in the state.
Those answers will emerge as administrators spend the next few months consulting with faculty and staff throughout the system, according to Don Kilburn, CEO of UMass Online, which serves as a centralized clearinghouse for online programs at four of the system's five campuses.
"We are moving as quickly as we possibly can," Kilburn said.
The Massachusetts higher education landscape has been beleaguered for several years. Numerous small private colleges have closed or been acquired. Enrollment in general has declined sharply as more education providers emerge. Demographic shifts portend a declining population of potential traditional-age college students in the coming years. Millions of adults are finding themselves without critical modern workplace skills or access to opportunities to acquire them. Many of these issues are nationwide, but Massachusetts is feeling them more acutely than most.
Most of the system's existing online programs serve traditional-age students and supplement residential offerings. But expanding into the adult market will bring new challenges. Successful primarily online institutions like SNHU and Purdue Global spend millions of dollars on marketing to students; UMass could struggle to keep pace. Kilburn acknowledged the marketing budget is likely to be "significant," though he's optimistic that spreading the word about the new online college will raise awareness of the system's campus programs as well.
Public university initiatives can fall prey to political maneuvering and administrative turmoil, as was the case in Illinois and Florida. Massachusetts governor Charlie Baker has recently expressed interest in online education, most notably by establishing a state task force on digital learning and work-force issues. That group, which includes Kilburn as a university representative, is expected to release a report later this year.
What We Know
A few specifics on the new online college are coming into focus. Unlike California's new institution, the Massachusetts online college will offer degree programs from the start, Kilburn said, though nondegree credentials and competency-based programs are also under consideration. Business, information technology and health care are among the potential programs, according to Kilburn.
The system's Board of Trustees has set a revenue goal for the new institution at $400 million -- over an unspecified amount of time, Kilburn said. The new college will have a name along the lines of UMass Plus or UMass Global, Meehan told Boston Herald Radio Tuesday. It will fall under Kilburn's UMass Online purview, and a chief academic officer will be hired to report to him, according to Kilburn.
The start-up costs could be steep. California allocated $100 million to fund its new online community college, as well as $20 million renewed annually. Meehan said he plans to draw on university reserves as the institution gets going and then pay them back with interest once it's sustainable. "We're certainly not going to ask for state money or anything like that," Meehan said Tuesday.
The institution may have help getting started from an online program management provider, administrators said this week. When pressed on the types of companies with which the system might partner, Kilburn said only that his team has been in talks with "multiple strategic partners."
An arrangement with an OPM -- a for-profit company that helps institutions scale online programs in exchange for fees or a share of revenue -- could prompt blowback at a public institution with a politically active, heavily unionized faculty.
For now, the system is banking on the strength of the UMass brand in state, regionally and nationwide, according to Kilburn. The system's trustees 18 months ago commissioned studies of potential students' brand loyalty to UMass. Meehan said Tuesday that more than half of surveyed Massachusetts adults enrolled online at out-of-state institutions said they would have preferred to enroll online at UMass if they'd had the option.
Southern New Hampshire University currently enrolls more than 15,000 Massachusetts residents in its online programs. Paul LeBlanc, the university's president, isn't sweating Meehan and Kilburn's competitive ambitions, though. "We need even more players," he told "Inside Digital Learning" Tuesday.
"The reality is we've got millions of Americans who need postsecondary degrees, and we don't have enough providers doing the work and we don't have enough graduates," LeBlanc said.
LeBlanc, who earned his doctorate from UMass Amherst, cautioned the Massachusetts system against "drinking the Kool-Aid" of their own brand to an extent that causes them to overreach and fall short of their ambitions. But he's been eager to host Meehan and Kilburn for several recent visits to discuss strategy, and he's optimistic that the online market can benefit from their entrance.
Major online players across the country have already begun snapping up Massachusetts adults. In addition to SNHU's 15,000, Arizona State currently enrolls 300; UMUC has another 230 and Penn State World Campus has 158, according to spokespeople for the respective institutions.
Upcoming Challenges
Public state institutions in Missouri and Louisiana have in recent months announced concerted efforts to dramatically expand online enrollment. Other states are likely following suit in an effort to address similar challenges.
The news also comes amid intercampus turmoil within the Massachusetts system. Faculty members at the system's Boston campus have argued that Amherst's recent acquisition of the shuttered Mount Ida College in the Boston suburbs ultimately pits UMass campuses against each other.
Apostolos Koutropolos, online program manager for the UMass Boston applied linguistics department, thinks the announcement of the new online college didn't acknowledge the two decades of achievements of UMass Online, which generates more than $100 million in annual revenue and enrolls more than 25,000 students in courses and programs.
"We are already competing with those other universities," Koutropolos said. "Distance education is nothing new at UMass."
Observers believe the system needs to identify a viable niche if it hopes to be competitive among established players and other potential new entrants to the market. Larry Ladd, director of the higher education practice at the consultancy Grant Thornton, points to California's focus on a competency-based model as a feature that distinguishes it from other offerings in the state. "The ones that have that rich and unique identity do best," Ladd said.
UMass also doesn't benefit from the freedom to innovate that has powered SNHU, Purdue Global and others, Ladd said. "A large-scale initiative in the Commonwealth of Massachusetts is more challenging than it would be in an equivalent initiative in a private university," he said.
The focus on revenue during early announcements of the college rankled some observers, like Robin DeRosa, director of the Open Learning and Teaching and Collaborative at Plymouth State University, in New Hampshire.
"Thinking of public higher education as a competitive market seems to me the wrong approach," DeRosa wrote in an email. "Public universities need to partner across institutions, and even across state lines, to collaboratively serve our populations, and state and federal legislators need to realize that if we privatize our approaches to saving public higher education, we will actually be killing our public educational infrastructure."
On the other hand, UMass already has a track record of academic programs with a physical presence, which could be valuable if some programs at the new UMass college would end up benefiting from an in-person component, according to Michael Horn, senior partner at Entangled Solutions, a higher education consultancy.
"That regional plug-in where you put community and support as well as connections to employers could be the next wave of innovation in this space that helps many more students benefit from the online experience they're accessing," Horn said.