You have /5 articles left.
Sign up for a free account or log in.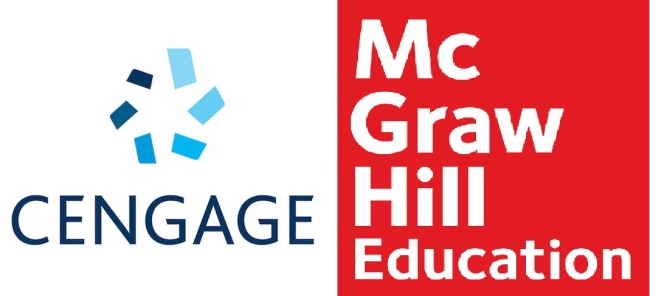 Publishers Cengage and McGraw-Hill Education Wednesday announced plans to merge and operate under the name McGraw Hill.
As two big players in an industry with few players at the top, the merger is significant. In addition to changing the dynamic between the biggest publishers, the merger could also represent a significant upheaval for college instructors and students who rely on Cengage and McGraw-Hill Education content.
As competitors, McGraw-Hill Education and Cengage have many products that overlap, and observers will be watching closely to see which products the company chooses to invest in going forward.
Rather than one company acquiring the other, the merger is a meeting of equals. Both Cengage and McGraw-Hill's shareholders will retain 50 percent of the new company, which will be led by current Cengage CEO Michael Hansen.
The composition of the leadership team of the new company is likely to comprise staff from both entities, but it has not yet been announced.
Assuming the deal receives regulatory approval from the Department of Justice, the new company could be formed as early as the first quarter of 2020, Hansen said in an interview.
Hansen and Nana Banerjee, CEO of McGraw-Hill Education, said their companies shared a vision for affordable course materials and a focus on developing digitally enhanced learning platforms.
Hansen said he saw the merger as an opportunity to bring platforms such as McGraw-Hill's ALEKS -- an adaptive online learning tool focused on math -- to a much wider audience.
"Every student should have access to these programs," he said.
Both Cengage and McGraw-Hill have weathered a difficult decade in a rapidly changing textbook industry. Both publishers have moved away from traditional textbook models. Rather than selling print textbooks, the publishers now have rental programs to reduce the number of books that can be resold in the used book market.
instead of selling to individuals, the publishers now sell to whole classes at once through inclusive access deals -- where students are billed for digital textbooks as part of their fees. Mike Hale, vice president of education for North America at VitalSource, a digital content provider, said he expects the new publisher to expand these deals. 
A lot of the problems the companies experienced were self-inflicted, Hansen said. "The price increases on the sticker prices of textbooks were unconscionable," he said. When students stopped buying textbooks because of high prices, publishers increased prices to make up the difference -- a cycle that ended up hurting the publishers. Both Hansen and Banerjee said that focusing on affordability for students is the right way forward.
"I think we have both taken that message to heart," Hansen said.
There is a lot of overlap not only in the companies' content but also in staff positions and multiple office locations, particularly in the Midwest, Hansen said.
"We've got to do this very carefully," he said. His philosophy is to "do no harm" to customers, communicating any changes in support for textbooks or digital products as early as possible.  
As the deal is subject to the companies making a cost savings of $300 million it seems highly likely that many layoffs will occur. But Hansen said nothing had yet been decided. Where there are two office locations in the same city, "we might move into one bigger location," he suggested.
Banerjee said with a bigger market share, the company will be able to invest more in developing innovative products.
"The key thing for us, and what's truly exciting, is that we'll be able to create a truly 21st-century learning experience," Hansen said.
A New Duopoly
The Cengage/McGraw-Hill merger would create a company that would approach top dog Pearson in scale -- creating a new duopoly in the publishing world, said Alastair Adam, co-CEO of FlatWorld, a publisher of low-cost textbooks.
With sales representatives of Cengage and McGraw-Hill no longer competing, there will be less pressure to keep prices low, Adam said.
He predicted some rivalry between Pearson and the new company but doesn't believe it will result in a price war.
"The two of them will largely have the market to themselves. It doesn't make sense to compete and harm each other," he said.
Adam said there will likely be "enormous instability" at Cengage and McGraw-Hill leading up to the merger. With so many functions duplicated, staff in HR, accounting, sales, editorial and elsewhere will be jockeying to keep their jobs -- a situation that could "turn tricky quite quickly," he said.
"The last thing anybody will be doing is thinking about their customer base," he said.
The chaos of the merger could present an opportunity for Pearson to gain some market share, Adam said.
"Life just got really complicated for Michael Hansen," he said. "The company will be spending a lot of time focusing inward. If Pearson is rational and doesn't panic, I think they have a window."
Pearson declined to comment on the merger, but Ken Michaels, CEO of Macmillan Learning, another large publisher, said he felt confident about his company's position.
"The higher ed market is currently undergoing a tremendous amount of change," Michaels said. "As a family-owned and privately held company, Macmillan Leaning is a trusted brand that has long been focused on student achievement and affordability, and because of that we are well positioned to weather the change."
For smaller publishers, such as FlatWorld, the merger could be a good thing, Adam said.
"As the contrast between the two big incumbents decreases, the difference between their offerings and open or low-cost textbook options becomes even more stark," he said.
Thad McIlroy, a founding partner at publishing consultancy Publishing Technology Partners, said there have been rumors of a merger between Cengage and McGraw-Hill for a few years. "The market is shrinking rapidly," he said.
Both Cengage and McGraw-Hill have strong leadership, but both are "saddled with vast amounts of debt," which has throttled their capacity to thrive, said McIlroy. He characterized the merger as "two weak companies coming together to become a less weak company."
Though the merger will be a "distraction" for people who work there, he doesn't think it will be debilitating. "These companies have been going through a lot of reorganization. It's a well-honed science."
For small publishers, the merger is "great news. I'd be popping corks," said McIlroy. But he imagines Pearson is "hanging up the black bunting."
"They're having a tough time -- they've had tremendous upheaval. They have emerged as a smaller entity."
Looming Price Increases?
Once the dust has settled, Adam predicts the merged company will attempt to go public -- something that McGraw-Hill has reportedly twice failed to do.
"Success for the equity holders would be an IPO and an exit to get their money back," said Adam.
Whether the merger will be deemed a success for authors, professors and students is less clear, he said.
"If you're a professor or an author, you want a company that's easier to do business with," Adam said. "If you're a student, you want a textbook bill each semester that is lower than it is today."
By focusing on digital courseware, the merged company will continue down the path of trying to squash the used book market -- which is bad news for students, said Adam.
"This is all about taking out the used book market. If you do that, you control pricing," he said.
John Bond, a scholarly publishing consultant and founder of Riverwinds Consulting, said the merger is not good news for "students, readers, customers, instructors, authors or other publishers."
"At the end of the day, it is likely only a good thing for the long-term shareholders of Cengage and McGraw-Hill," said Bond. "Publishing is not served best by fewer, larger companies."
It's unlikely that the merger will be blocked on antitrust grounds by the Department of Justice in the current antiregulatory environment, said Bond. Adam agreed.
Moving forward, the companies may be required to sell off or sunset some products if the Justice Department decides they would collectively represent too much share of the total market, said Adam. Hansen said it was too soon to determine which titles or products would be impacted by these negotiations.
Kaitlyn Vitez, director of the U.S. Public Interest Research Group's Campaign to Save Student Aid, said she worried not only about price increases as a result of the merger but also about what happens to all the student data the companies have gathered.
Vitez doesn't buy Hansen's pledge that content will become "radically more affordable" as he told the Wall Street Journal.  
"Unless Cengage and McGraw-Hill completely change their business model, embracing open textbooks and free content, I can't see how things will change," she said. "We're just perpetuating the same problems."
Bond foresees more mergers and acquisitions in the publishing industry, "but perhaps not to this size and scope."
"The most interesting development will be to see how this accelerates (or not) Cengage's subscription model," said Bond.
Expansion of Cengage Unlimited
Joe Esposito, senior partner at publishing consultancy Clarke & Esposito, said he is also interested to see how Cengage Unlimited will evolve as the McGraw-Hill titles are added.
"This is a very big development," said Esposito. "It has the potential to restructure the textbook business, as it may make the aims of the Cengage Unlimited plan more viable."
The value of the Cengage Unlimited offer -- $119.99 a semester for access to Cengage's entire catalog -- hinges on students being assigned multiple Cengage texts by their professors. With content from just one publisher, the Unlimited offer was limited, said Esposito.
"Now, with the McGraw material, Cengage Unlimited (which will certainly be renamed) could push the offerings of other publishers to the margins. This could lead to more consolidation. It will certainly lead to downward price pressure," he said. Adam disagreed -- he suspects that when the McGraw-Hill content is rolled into the Cengage Unlimited package, the company will raise the subscription price.
It would be difficult for Pearson, which has a huge market share, to replicate the Unlimited model, as "most of the margin they would be taking would be taken from themselves," said Esposito.
That doesn't mean, however, that others won't try to replicate the Unlimited model. Hansen acknowledged that there are several companies working to put together a subscription offer with content from multiple publishers. So far, it seems most publishers have been hesitant to participate, but Hansen said he would welcome a little competition.