You have /5 articles left.
Sign up for a free account or log in.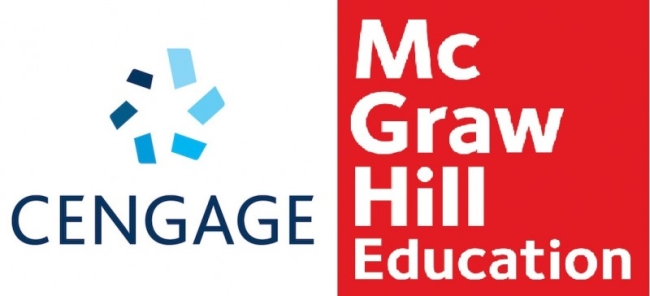 Consumer advocacy groups, along with more than 40 student government organizations, separately called on the U.S. Department of Justice Monday to block the proposed merger of publishers Cengage and McGraw-Hill Education. The move is a reflection of the significant concern among consumer and student groups about the merger.
In a letter to the department drafted by the U.S. Public Interest Research Group and signed by student government organizations, the groups noted that the merger would create a publisher so big that its only real rival would be Pearson. They also argued that the merger would "consolidate more power" with a small handful of publishers, reducing competition and ultimately raising prices for students.
"Because there are so few publishers, and because faculty choose books on behalf of their students, the normal rules of supply and demand have broken down," the letter says.
A key concern raised by the students is that the new publisher would quickly move to eliminate the used book market. When the Cengage and McGraw-Hill Education merger was announced in May, leaders of the companies said the new publisher would focus on developing digitally enhanced learning platforms. Publishers say these platforms provide a better learning experience for students, but they also have the added bonus of allowing publishers to take back market share previously lost through the sale of secondhand books.
Over time, it is possible the new publisher, which will be called McGraw Hill, may follow in Pearson's footsteps by phasing out the sale of print textbooks and shifting to a "digital first" strategy. The students argue that if they can't resell their course materials, it will hurt those who already struggle to afford texts.
"We have many classmates that have skipped buying the access code and are doomed to fail the class," the letter says. "By reducing the need to compete, and then using access codes, subscription services and 'inclusive access' to strong-arm students into buying materials, Cengage and McGraw-Hill will be able to continue their decades-long pattern of raising prices.… From our perspective as the primary consumers of textbooks, this merger will allow skyrocketing prices to continue unchecked."
A second letter to the Department of Justice opposing the merger on a legal and economic basis was made public on Monday. It was drafted by the Open Markets Institute and signed by U.S. PIRG, the Economic Policy Institute and several other consumer advocacy groups, as well as a handful of professors.
The Open Markets Institute suggested in the letter that together Cengage and McGraw-Hill Education would control at least 41 percent of the higher education textbook market -- matching Pearson. The letter argued that the merger would substantially lessen competition between companies, making it "unlawful under long-standing antitrust law."
Sandeep Vaheesan, legal director at the Open Markets Institute, and Kaitlyn Vitez, director of U.S. PIRG's higher education campaign, said they hoped the letter would encourage the Department of Justice to consider the impact of the merger on students.
"We're optimistic that we will hear back from the DOJ and get the opportunity to talk more about what this means for students," said Vitez.
Vaheesan said the merger could also hurt academic authors and editors, because the market would lose a major employer. 
"We have a market that is already very concentrated, and that concentration has led to price increases above inflation," he said. "This merger would only accelerate those trends."
Open access advocacy group SPARC has also opposed the merger. Nicole Allen, director of open education for SPARC published a Q&A on the merger on Monday with "answers to common questions and an update on what we're doing to stop it."  
"Over the past two months, we've been working with industry and antitrust experts to build a complaint against the merger, which we intend to file with the DOJ's antitrust division," wrote Allen. "If approved by federal regulators, the merger would reshape the U.S. higher education course material market as a duopoly -- with potentially dire consequences in terms of price, access and control of student data." 
Representatives of McGraw-Hill Education and Cengage said in an emailed statement that they remain confident the merger will benefit their customers and are working closely with the Department of Justice to complete the merger-review process.
Given that the merger was announced in May and does not appear to have progressed, it seems likely that the DOJ requested additional information from the companies about the proposed merger, said Vaheesan. Cengage and McGraw-Hill did not confirm whether this is the case.
The publishers still expect the merger to take place in early 2020, subject to customary closing conditions.
Michael Hansen, CEO of Cengage, told Inside Higher Ed in May that the merger would create quality, affordable products for students.
"The price increases on the sticker prices of textbooks were unconscionable," he said, adding that both publishers had "taken that message to heart."
Cengage reports that its all-you-can-read subscription model Cengage Unlimited saved students more than $60 million during the 2018-19 academic year. McGraw-Hill Education reports that its inclusive access programs saved students $55 million in 2018. On a website promoting the merger, the publishers say they plan to expand these programs, offering "more affordable options for students." 
Nick Sengstaken, chief of staff of the student government executive branch at the University of North Carolina at Chapel Hill, is skeptical that the merger will result in lower prices for students. Digital course materials might be sold at a "discount" off the sticker list price, but used books are often cheaper and still have a resale value, he said.
"Students are starting to wake up to these issues," said Sengstaken. "Textbooks and course materials are too expensive. They limit students from being able to do other things, such as -- to be blunt -- eating."
He said more than 350 UNC professors have signed a textbook pledge to select affordable textbooks for students. Sengstaken and other students are also working to change the university's "opt-out" policy for inclusive access deals into an "opt-in" model that would allow students to shop around for cheaper alternatives. He also advocates for the use of open educational resources. 
"I'd much rather have an OER textbook in print than a digital product," he said.